Asparagus Potato Salad with Tomato Caper Salsa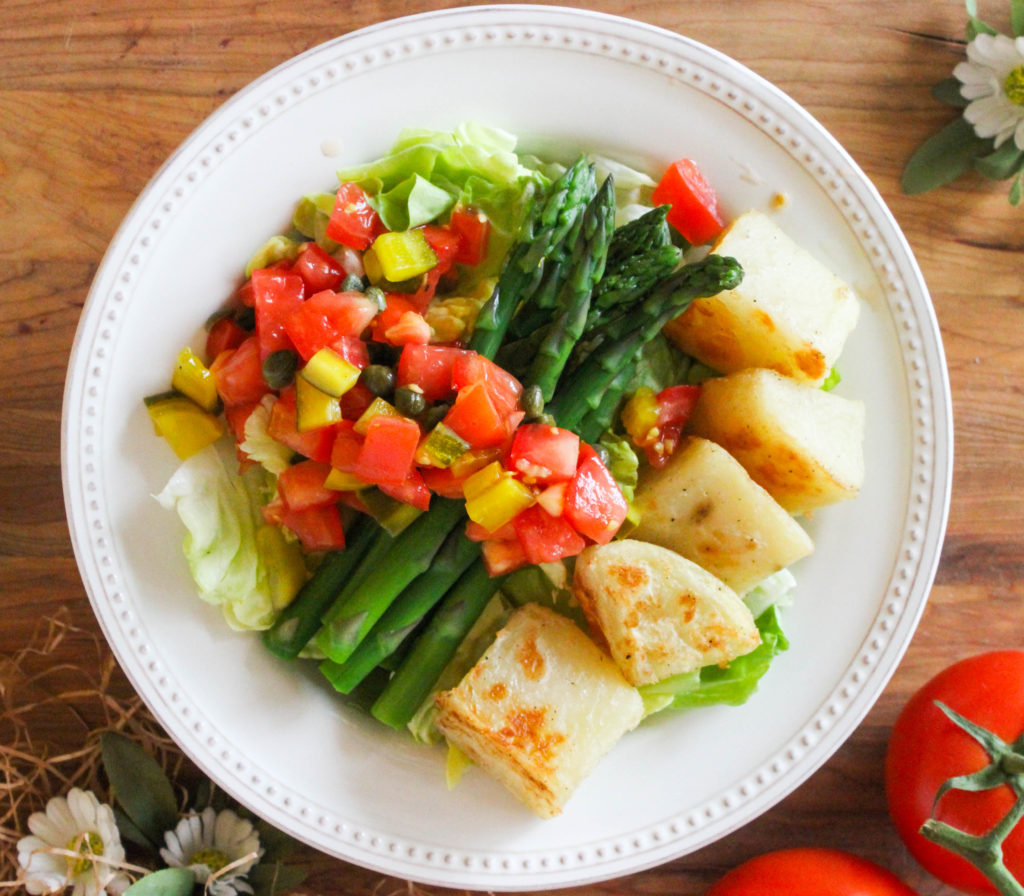 We LOVE this salad!!!!!
I know what you might be thinking, either this is the greater ever flavor combination, or the worst. I was definitely someone who thought it was the worst. I was visiting my parents in Israel and my mom took me to the Tishbi winery for lunch. I was looking at their menu and finally decided on the asparagus salad which was a butter lettuce topped with asparagus, tomato, capers, pickles, fried potatoes, and hard boiled yet (but hold the egg cause I don't want chicken periods). I was really skeptical but it was one of the only things on the menu that I could eat and I figured I would venture out and try something new.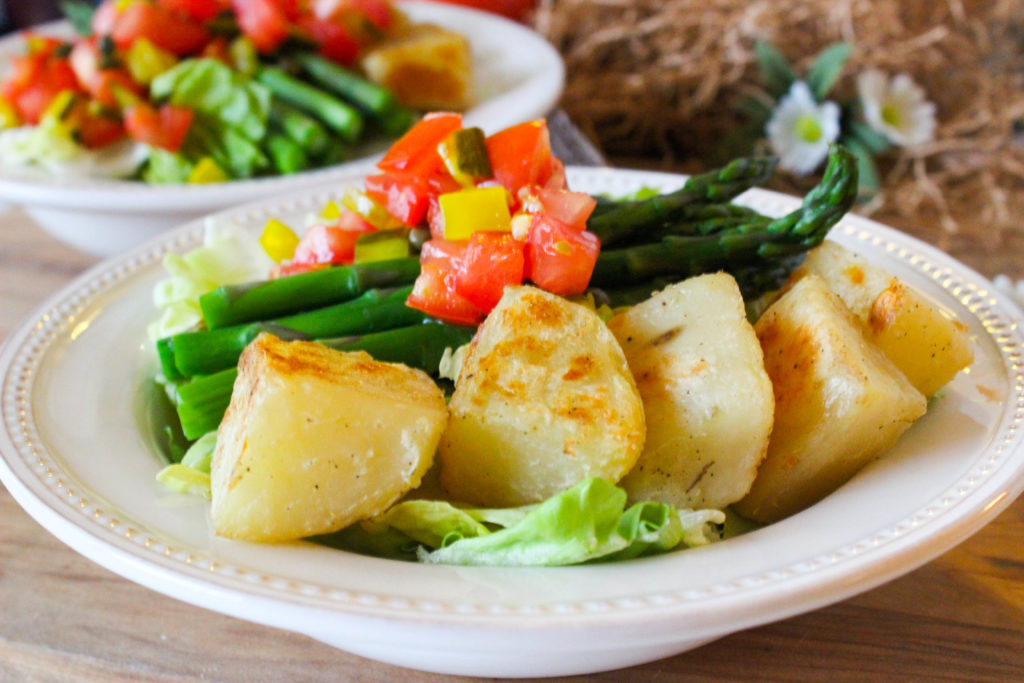 It was SO AMAZING! The flavors were things that I would have never put together myself but somehow it all just…worked. You get a ton of texture in this salad from the lettuce, asparagus, and salsa, but then you get a creamy and crispy satisfying bite from the potatoes. You might think "whoa, pickles, tomatoes, capers, AND lemon juice? Talk about an acid nightmare" but I PROMISE you, it is not acidic at all! It's actually somewhat sweet. Make sure the pickles are bread and butter or else you might get too much tang, but the caper add more salt than anything, the tomatoes add freshness, and then the lemon just brings it all together.
I've made this salad maaannnyyy times and usually oven fry the potatoes. Aka, I use sooo much oil to ensure a really crispy potato. However, I'm trying to lessen my oil intake so I aimed to make this salad oil free! That's right my friends, no oil and still tastes amazing! The secret to making delicious potatoes with no oil is par-boiling them! You then shake them in a colander until the outsides start to get starchy and blister, then you bake them on a pre-heating pan and then get nice and browned on the outside, and they are little pillows on the inside. Literally, they melt in your mouth and taste amazing! If you want to make them EXTRA cripsy, use olive oil to coat the potatoes before baking. Otherwise, I recommend you at least spray the parchment with some non-stick spray just to be sure.
If you do use oil in your diet, I would recommend adding 2 teaspoons into the tomato salsa, and then coating the potatoes in olive oil before cooking. HOWEVER, either way, they ultimately taste VERY similar. So if you can say no to extra fat, then do it!
We love huge salads so this recipe usually just feeds the 2 of us. However, if you place all ingredients in a large bowl and serve it to a crowd for dinner, it would work as well! Whatever you do, you have to try this salad. It's so fresh and perfect for a light and tasty dinner :).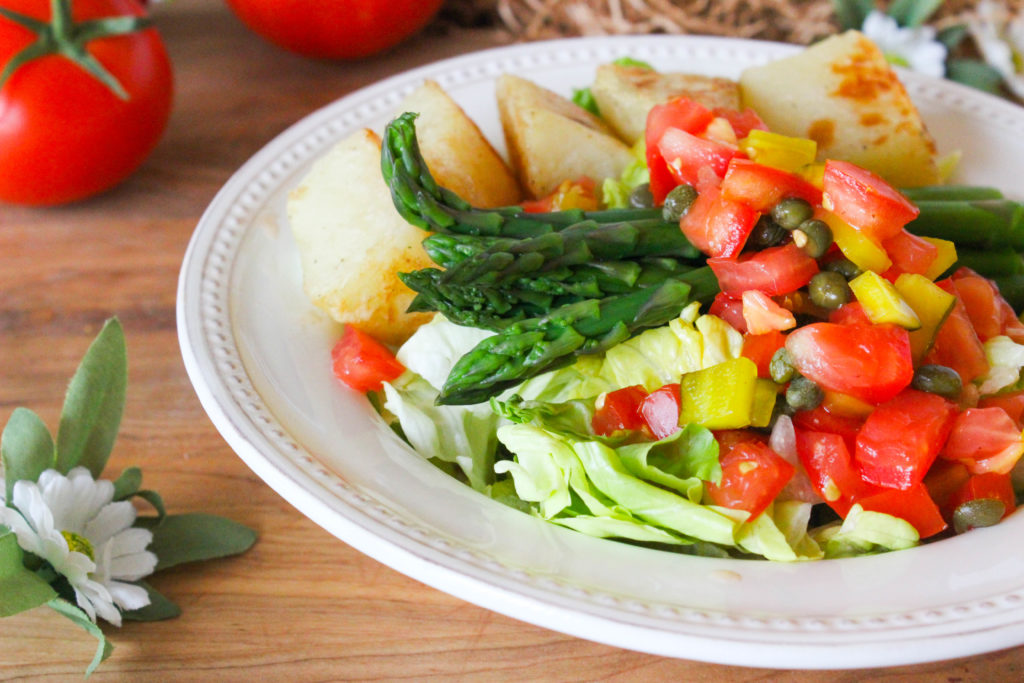 Asparagus Potato Salad with Tomato Caper Salsa
Serves 2-3
Ingredients:
1 bag butter lettuce (about 6 cups)
1 bunch asparagus
2 russet potatoes
2 medium sized hot house tomatoes
2 tablespoons capers
1/4 cup bread and butter pickles, chopped
1/2 lemon
salt and pepper to taste
Preheat oven to 425. Place a baking sheet in the oven to heat up.
Peel your potatoes and cut them into medium sized chunks. Place into a pot of COLD salted water and bring to a boil. Boil potatoes for 3-5 minutes until they begin to become tender. Drain the potatoes in a colander and sprinkle liberally with salt, pepper, and garlic powder. Then, shake the potatoes vigorously in the colander as to blister the outsides (this will help them crisp). Remove hot pan from the oven and cover with parchment paper (spray with non-stick spray – optional). Place the potatoes on the tray and bake for 30 minutes, turning the potatoes every 10-15 minutes.
Chop your tomatoes and place in a medium sized bowl. Add the capers, chopped pickles, juice of 1/2 a lemon, and salt and pepper to taste. Set aside (the juices will turn into the salad dressing).
Blanch the asparagus by placing in a pot of boiling water for 1 minute, then removing to a bowl of ice water.
Once the potatoes are done, assemble the salad by placing the butter lettuce on the bottom and topping with potatoes, asparagus, tomato caper salsa, and use the juice from the salsa for the dressing. Enjoy!