Basil Cream Rigatoni with Shrimp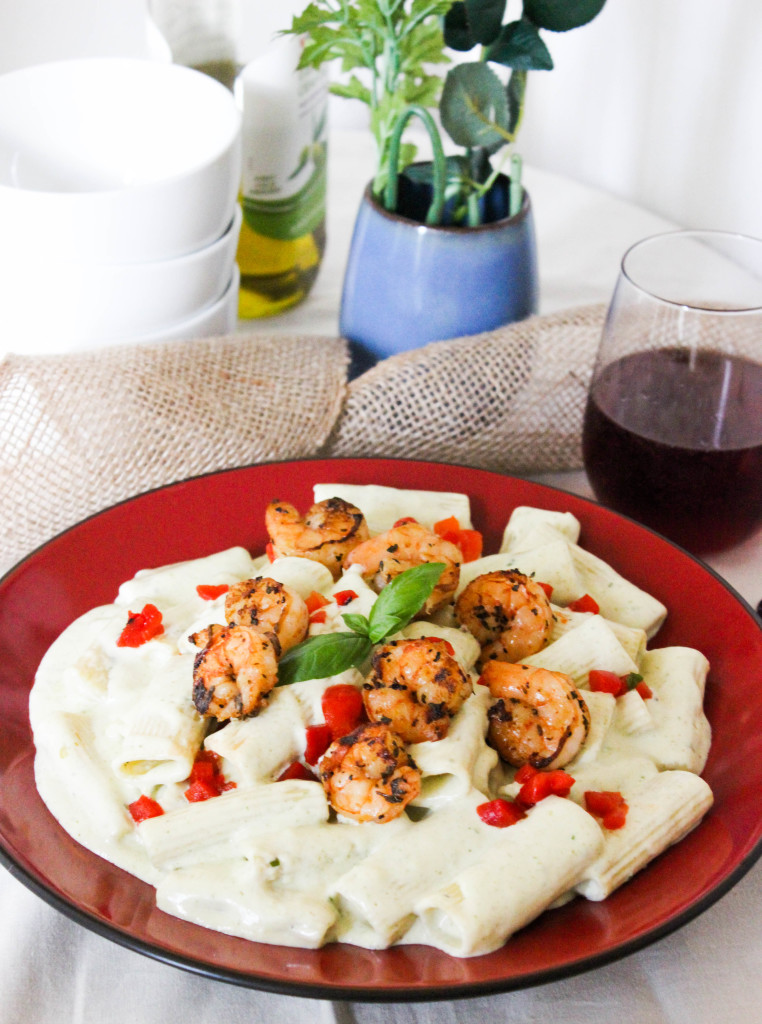 At work, we made  ALOT of cream sauces. Herb cream, tomato cream, sage cream, the list goes on. I never realized how easy it actually was to make a cream sauce and the fact that I had been doing it all wrong. I usually started with making a rue, whisking the melted butter and flour in the pan, then slowly adding milk. Yeaaaahhhh, that takes too long and sometimes your sauce can curdle. Here's the easiest way to make a cream sauce.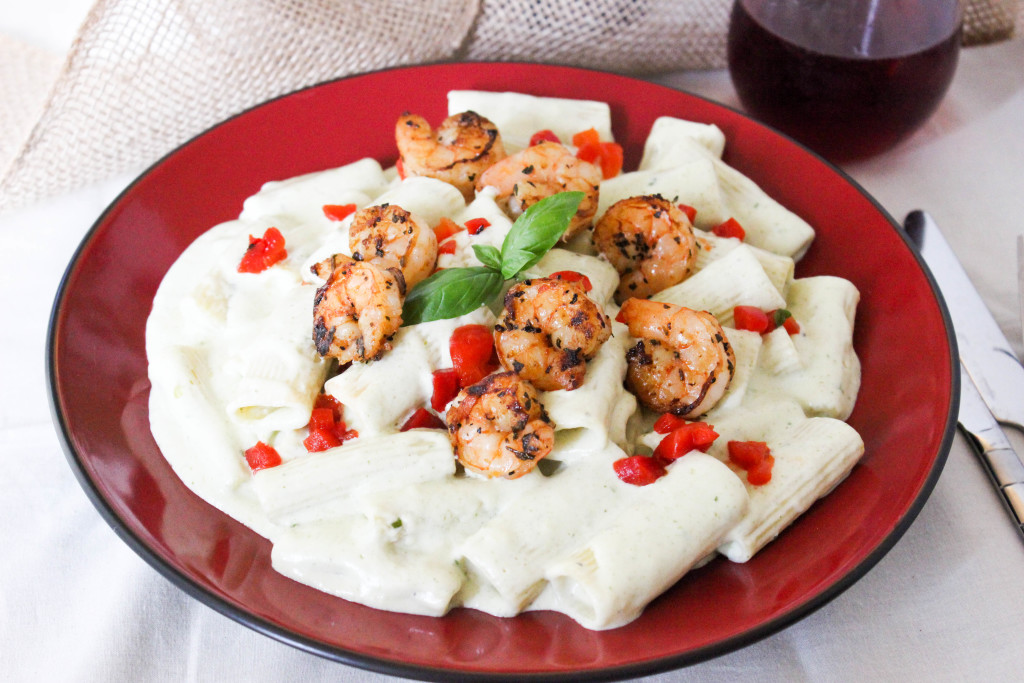 Sauté some onion in olive oil until golden. Add garlic and sauté for 2 more minutes. Dump and whole bunch of cream in and let it simmer. Then add whatever you want, simmer longer, then blend with a hand mixer. See? Sooooo much easier than making a rue and sitting there stirring and adding ingredients slowly. I guess it's true what they say that you learn more at work than you do in school. #duh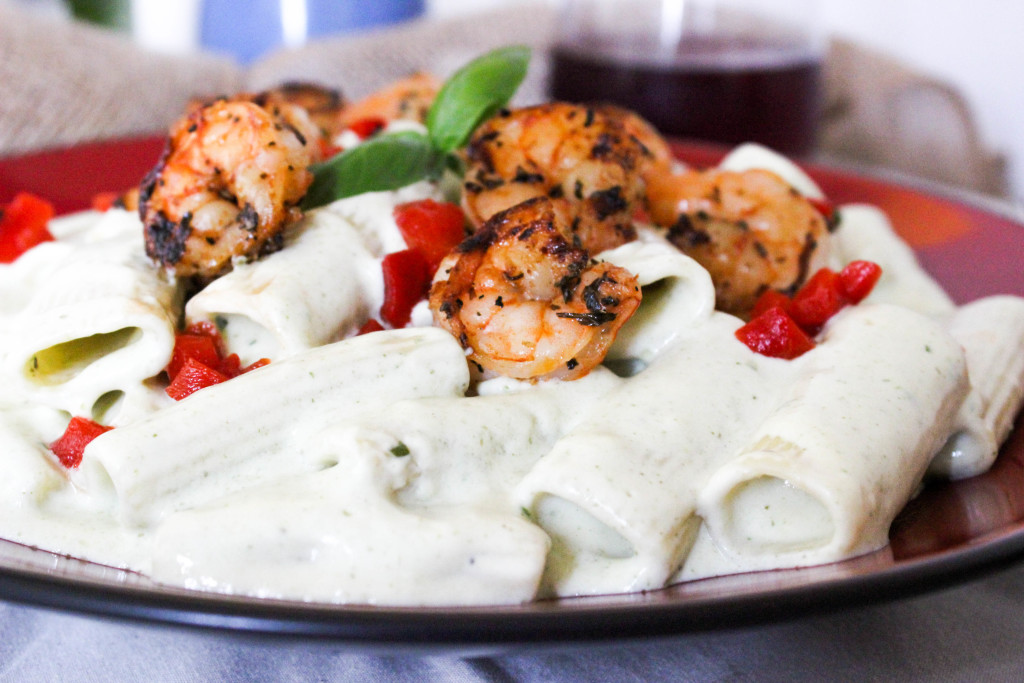 I loved the recipe. I was recipe testing with some friends over who were only supposed to be at our house for an hour before going home for dinner. However, after making this recipe, we pretty much ate the whole thing. It's so rich and creamy with a fresh basil taste. The rigatoni is perfect as well because the sauce gets inside each piece to coat it. The shrimp on top gives some added texture and also a fresh bite. Try this recipe! It's too easy to pass up.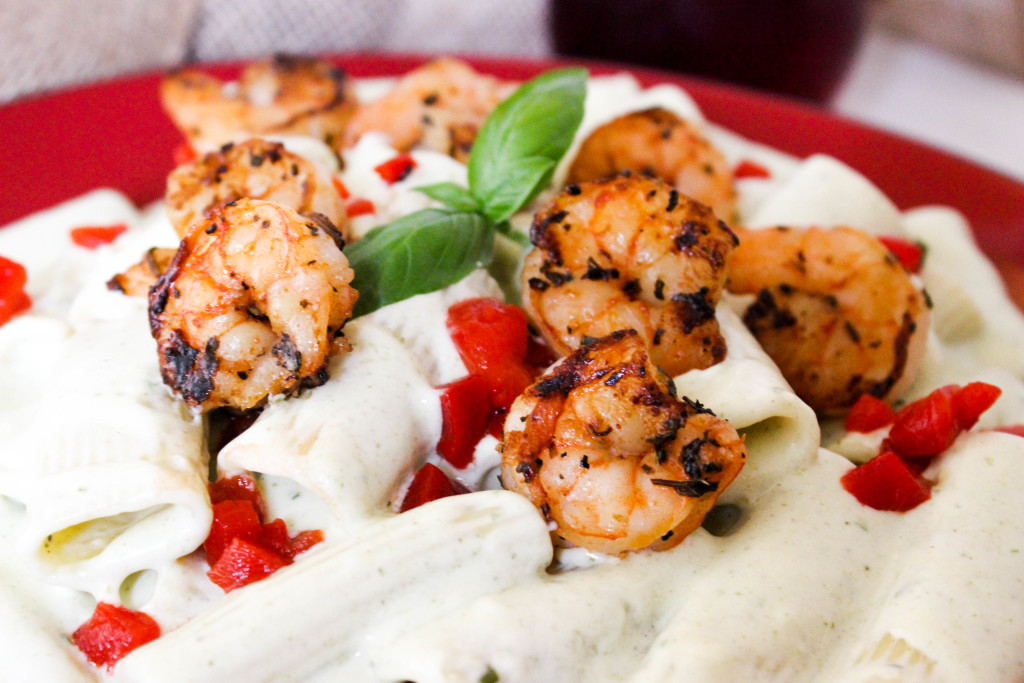 Basil Cream Rigatoni with Shrimp
Ingredients:
1 pound rigatoni pasta (or any pasta)
1 pint heavy cream
1 quart half and half
1/4 c onion – small dice
3 cloves garlic – minced
1 cup fresh basil
1/4 cup corn starch
1/4 cup water
salt and pepper to taste
1/2 pound shrimp
1/4 cup olive oil
1/2 teaspoon paprika
1/2 teaspoon garlic powder
1/2 teaspoon dried basil
1. Boil pasta according to package directions
2. In a large pot, sauté onion and garlic until fragrant. Add heavy cream and half and half and bring to a boil. Add salt and pepper to taste and fresh basil. Continue to boil/simmer for about 5 minutes. Remove from heat
3. Using a hand blender, puree cream sauce until smooth. Return sauce to a boil.
4. In a separate bowl mix corn starch with water until completely dissolved. With sauce at a boil, whisk in corn starch mixture. Sauce will begin to thicken immediately. Continue to boil for another 2 minutes. Pour over pasta
5. Marinate shrimp in oil, paprika, garlic powder, and dried basil. Sauté shrimp until cooked (or skewer and place on grill until cooked).