Black Bean Soup
Sometimes you just need soup…
You know it's fall when you find yourself scrambling to find a sweater in the morning before you leave for work. This has been happening more times than not lately which I do not like! I have to admit that I am definitely not a fan of the cold and would much rather be hot. However, I do love me some cozy sweat pants at the end of the day.
When it starts to get chilly, I crave soup. This soup is hearty, easy, flavorful, and healthy! Perfect for a night in or even as a side dish to a nice taco dinner :). We actually ate this soup the same night I made my bell pepper bruschetta and it was a perfect, light combo that filled us up and kept us nice and warm.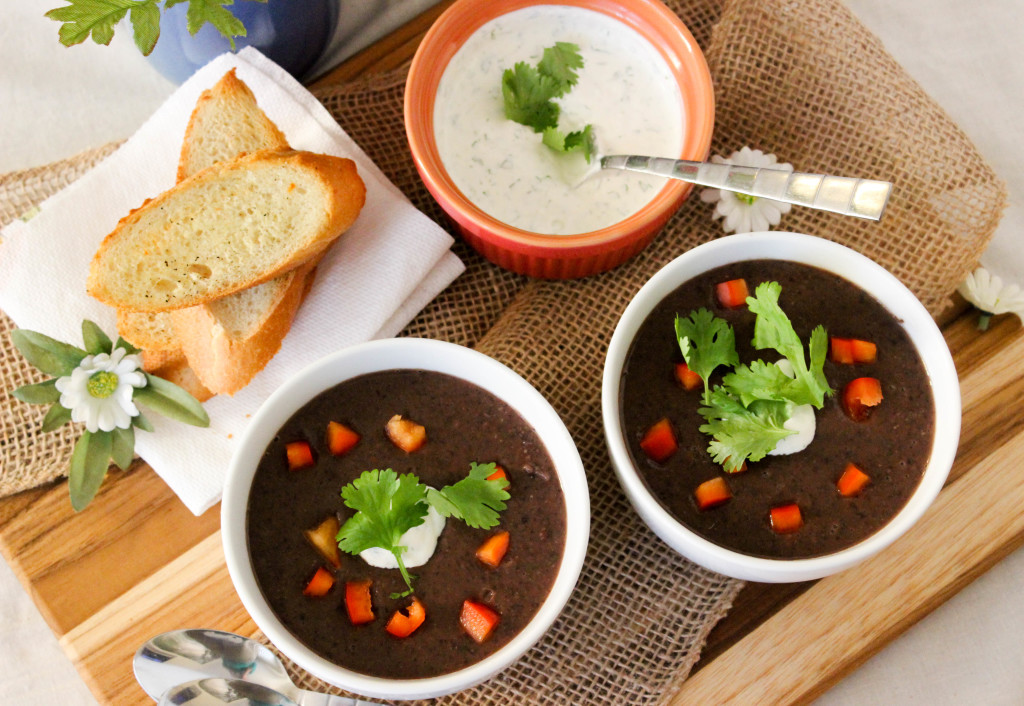 What's really great about using black beans as a base for soup is that it can take on many different flavors. My favorite are cumin, coriander, and lime with a touch of cilantro but you could definitely go spicy and add a ton of jalapenos, make it more of a taco soup and not blend it then add peppers and crispy corn tortillas… I mean you can really do anything!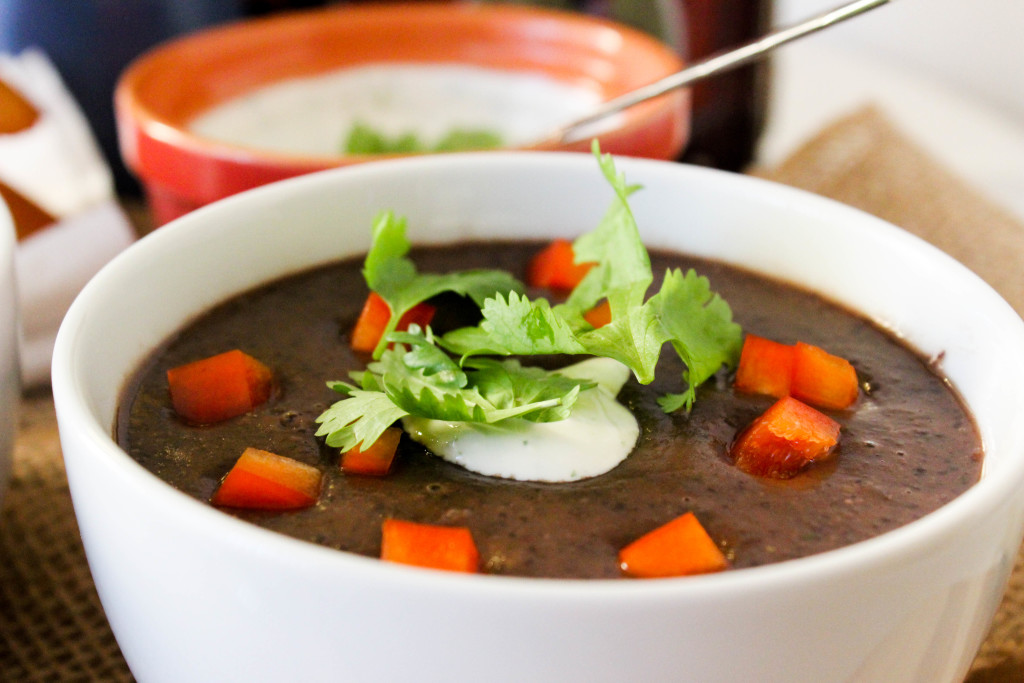 Black Bean Soup
Ingredients:
2 tablespoon oil
1/2 onion – medium dice
1/2 red pepper – medium dice
1/2 green pepper – medium dice
3 garlic cloves – chopped
1 tablespoon cumin
1 tablespoon coriander
1 teaspoon oregano
3 cans of black beans with the liquid
3 cups vegetable stock
juice of 1/2 lime
1/4 cup cilantro
salt and pepper to taste
Cilantro lime sour cream:
1/2 cup vegan sour cream
zest of 1 lime
juice of 1/2 lime
2 tablespoons chopped cilantro
salt and pepper to taste
Make the sour cream topping – combine all ingredients in a bowl and set aside
In a large pot, add the oil, onion, peppers, and garlic. Sweat the veggies until just translucent. Add in the spices and stir for about 1 minute until oil is absorbed
Add beans, stock, lime, and cilantro. Bring to a simmer and simmer for about 10 minutes until beans are soft
Using a hand blender, blend soup until creamy. Top with sour cream.