Black Forest Cake Trifle
Black forest cake will always have a special place in my heart. It always makes me think of my mom as growing up this was her specialty. Granted, she made it using a boxed cake mix and canned cherry pie mix, but it was somehow always so spectacular that you would think every piece of it was home made.
This was the cake that we had for birthdays, special events, or even just because. Being a true chocoholic, I usually ended up eating about half of if by myself and then would constantly sneak more pieces out of the fridge (the truth comes out, mom! That's where all the cake went).
Having eaten this cake so many times, I knew I had to veganize it so I could still enjoy all the deliciousness. I made this trifle for mother's day this year and we loved it! While I did use canned cherry pie filling, just like mom, I used my favorite vegan chocolate cake recipe and coconut whipped cream. It was spectacular! This cake does serve a lot of people, so make sure you have a crowd to feed, unless you want to eat it all.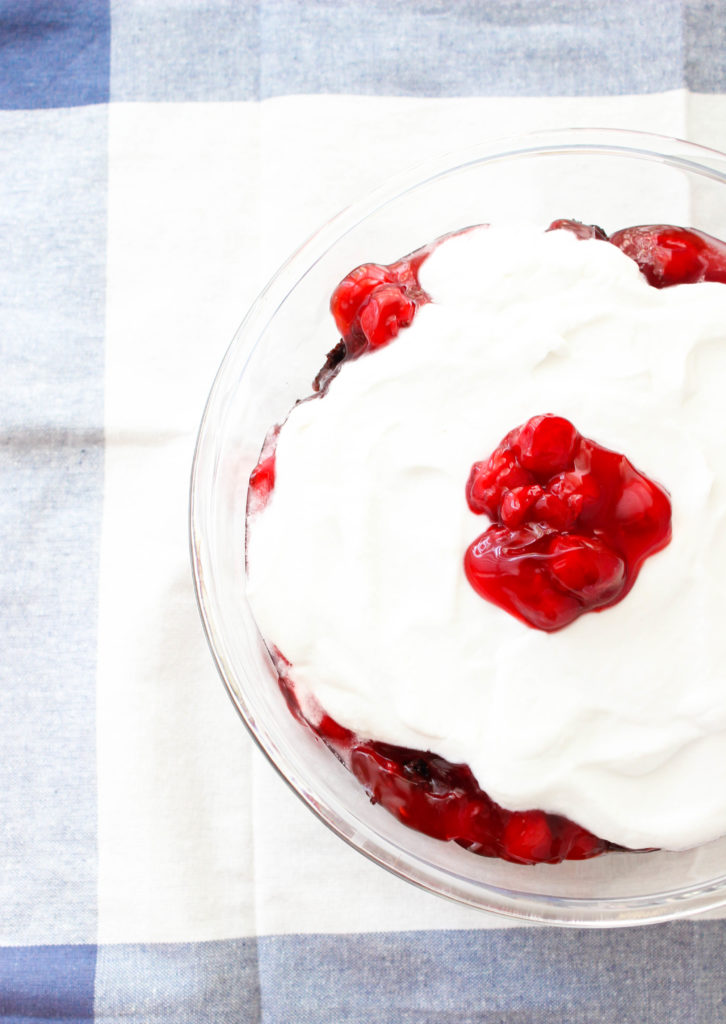 Black Forest Cake Trifle 
Ingredients:
2 cans cherry pie filling
2 cans coconut cream (refrigerated overnight)
For the cake:
1 1/2 cups water
1/2 cup coconut oil
1/2 tablespoon apple cider vinegar
1/2 tablespoon vanilla extract
1 3/4 cup sugar
2 cups flour
1/2 tablespoon baking soda
1/4 tablespoon salt
1/2 cup cocoa powder
Add dry ingredients to the mixer and mix until fully combined
Combine the wet ingredients in a separate bowl and add to the dry. Mix until completely smooth (about 3 minutes). Split batter into 2 6 inch cake pans
Bake at 350 for 25-30 minutes
Make the coconut whip:
Open coconut cream cans after being refrigerated and scoop out only the solid parts — save the water for smoothies!
Use a hand mixer or Kitchen Aid to whip until fluffy – about 2-3 minutes.
Assemble the trifle:
Let the cake cool completely and then cut into large squares.
Alternate layering cherry pie filling, cake squares, and whipped coconut cream until bowl is full.
Serve immediately or store in fridge for up to 3 days.