Chickpea "Tuna"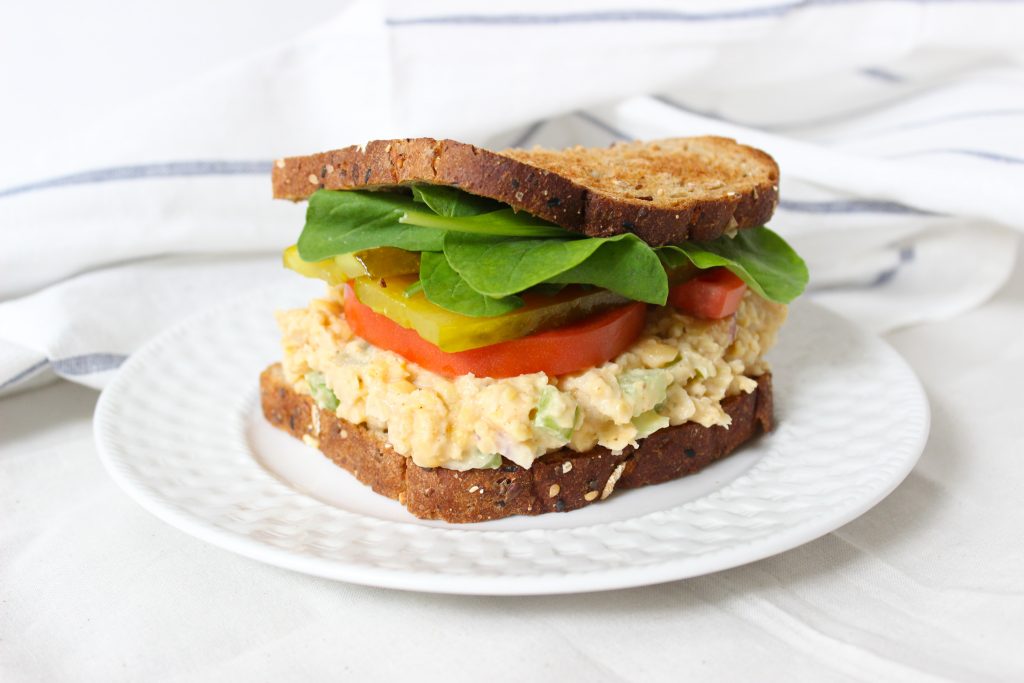 I grew up eating tuna sandwiches almost everyday. My dad would make us cheesy tuna melts, my aunt would always make us tuna for lunch when we visited her, and it was one of the first things my sister and I learned to make as kids. We loved tuna so much, that we even risked the smell to have them packed in our lunch boxes.
Tuna is one of those staple foods that is easy and cheap so when I became vegan, I relinquished myself to be done with tuna forever. That was until I discovered chickpea tuna and now I'm hooked once again! I love the salty, lemony flavor that can be used in sandwiches, served with crackers, or even a dip with apples. It doesn't last very long in our house as we are big snackers, so it makes the perfect feel good snack to keep us full and satisfied!
Chickpea "Tuna" 
Ingredients:
3 cans chickpeas – rinsed and drained
1/4 cup small diced red onion
1/2 cup small diced celery
1 tablespoon old bay seasoning
juice of 1 lemon (about 2-3 tablespoons or more to taste)
3-4 tablespoons vegan mayo (or more to taste)
salt and pepper to taste
Additional add ins to consider: capers, pickles, apple chunks
Add the chickpeas to a large bowl. Using a potato masher or the back of a fork, smash the chickpeas until you get a coarse mixture. You don't want them all smashed completely, but we do want them smashed enough that they begin to stick together.
Add in the rest of your ingredients and mix well until combined
Serve in a sandwich, with crackers, in lettuce wraps, or whatever you desire!