Chili Lime Sweet Potato Black Bean Tacos
I'm on a bit of a sweet potato kick lately…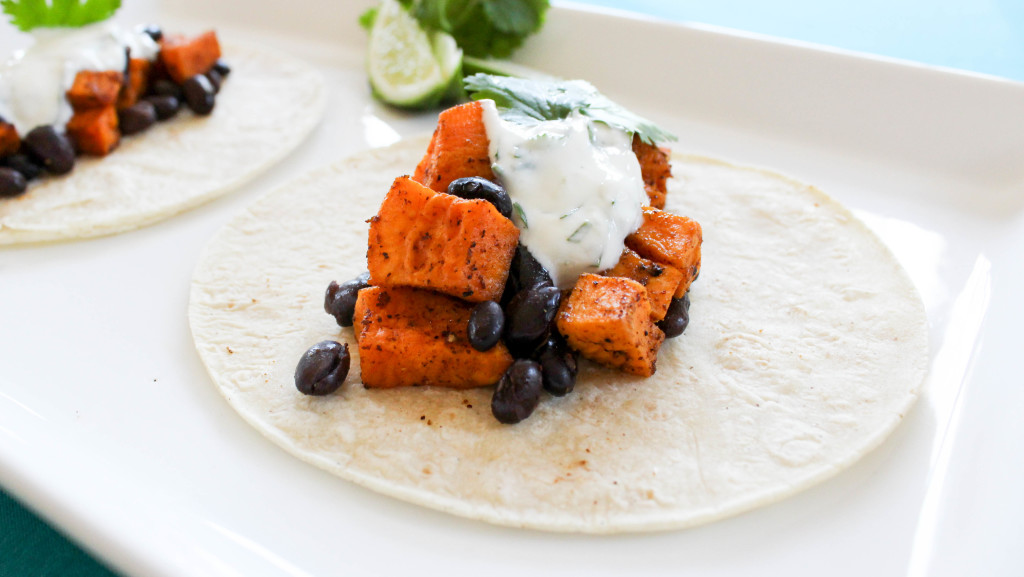 When I used to live in Denver, I was surrounded by vegetarians. It definitely added to my culinary creativity and made eating out a new adventure. Not surprisingly, there are a lot of vegans/vegetarians in Denver which means lots of delicious options for eating out. We used to go to a place called The Watercourse where the entire menu was vegan/vegetarian friendly! The first time we went, I ordered the sweet potato and black bean tacos. The second time we went, I ordered the exact same thing.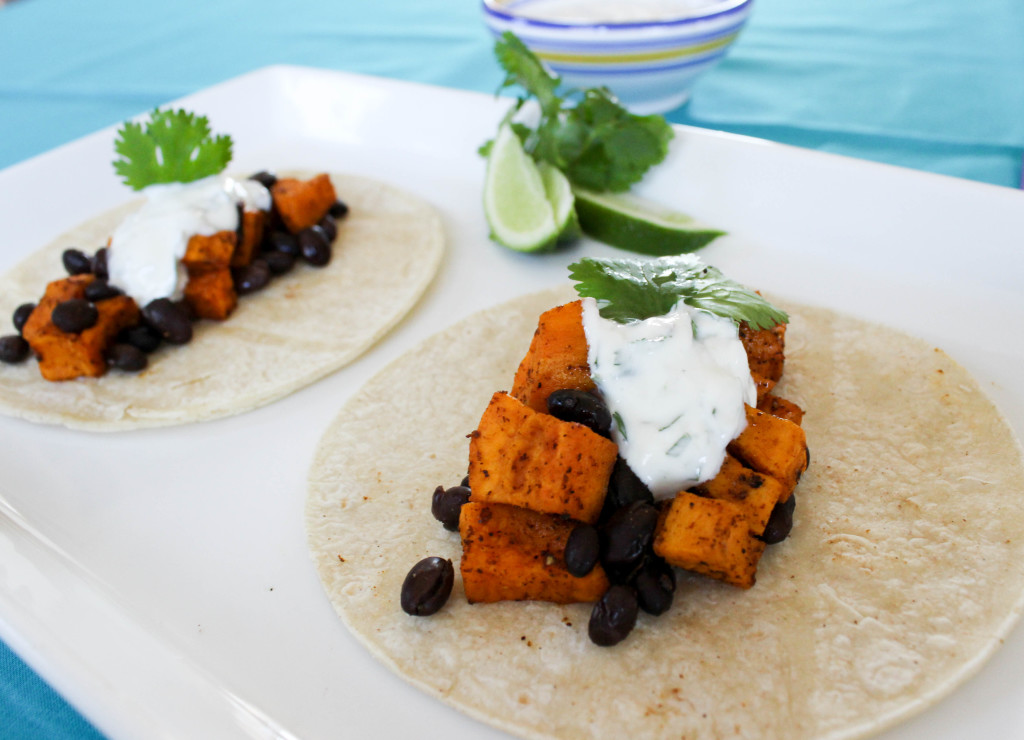 I tried to re-create the recipe at home because I was going through withdrawals and while I didn't copy it exactly, I think I found a vegan taco that I could make regularly. The secret for me is to heavily spice the sweet potatoes. By giving them a lot of flavor, you don't have to spice the beans or anything else — they pretty much stand on their own. At The Watercourse, they added a lime slaw to their tacos. I opted to go for a cilantro lime sour cream instead.
These are actually really great on the go because they don't have to be refrigerated for a long period of time (assuming you didn't put the yogurt on it). You can also use the filling in other recipes too! How convenient.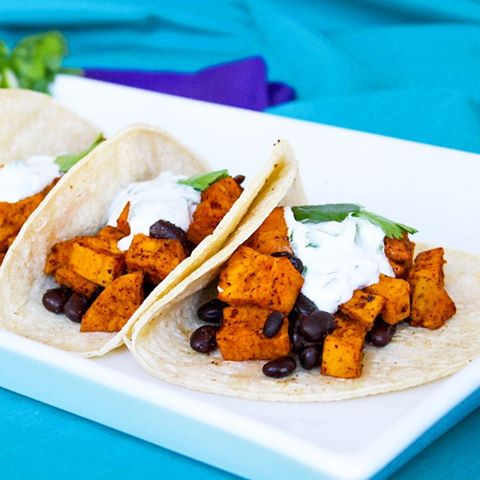 Chili Lime Sweet Potato Black Bean Tacos with Cilantro Lime Yogurt
Ingredients:
2 large sweet potatoes – peeled and cut into cubes
3 tablespoons olive oil
1 teaspoon chili powder
1/2 teaspoon cumin
1/2 teaspoon coriander
1/4 teaspoon paprika
2 limes – juice and zest
salt and pepper to taste
1 15oz can black beans
1/4 cup vegan sour cream
2 tablespoons chopped cilantro
Corn tortillas
1. Make the sour cream – combine the sour cream, cilantro, zest and juice of 1 lime, and salt and pepper to taste. Mix well and place in the fridge.
2. In a large bowl combine sweet potatoes, oil, chili powder, cumin, coriander, paprika, salt and pepper, and juice and zest from the second lime. Mix well and then lay flat on a baking sheet and bake for about 45 min at 375
3. Once the sweet potatoes are done baking, move to a bowl and mix with black beans.
4. Heat the corn tortillas in the microwave or pan, then add the filling and sour cream!