Vegan Chocolate Almond Tart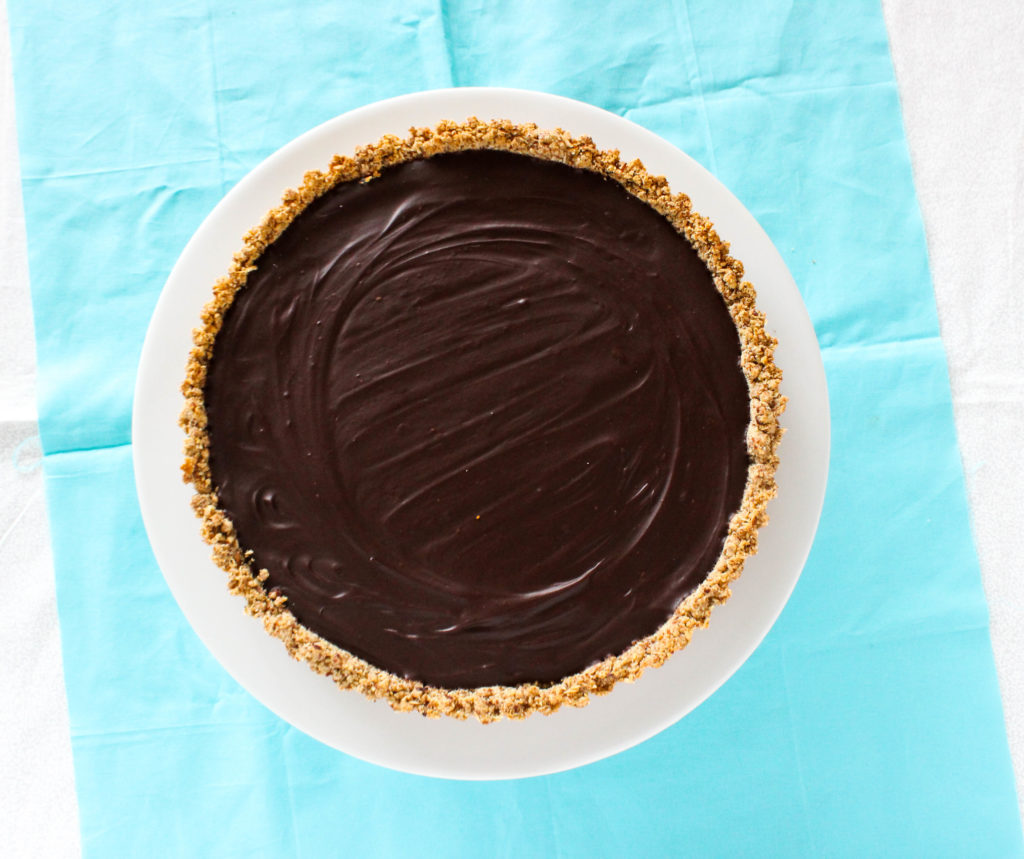 This tart is stupid easy and SO DELICIOUS AND DECADENT! All you need is 7 ingredients and you have the perfect sophisticated dessert for any occasion. The best part is that this tart is so rich that all you need is a little sliver to be sent into chocolate bliss so this tart can really feed a crowd! For a 9 inch tart pan, you can probably get about 16 good pieces. Paired with some coconut whipped cream, fruit, or vegan ice cream and you've got yourself the best thing in life.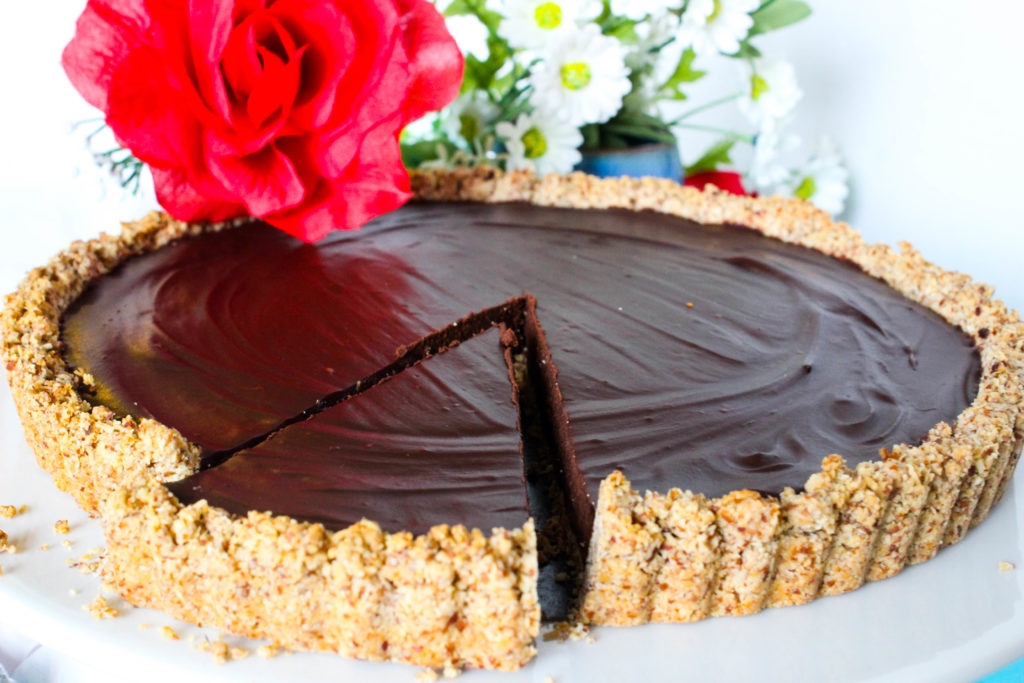 One of my favorite parts of this tart is the crust because it's gluten free! You don't have to worry about allergies or intolerances because this crust is one size fits all. Not to mention, it's firm but crumbly so you definitely get that texture in there. YUM!!! Then comes the chocolate. It's literally a thick THICK chocolate ganache but totally vegan because it's made with coconut milk and the darkest of dark chocolate. Are you drooling yet?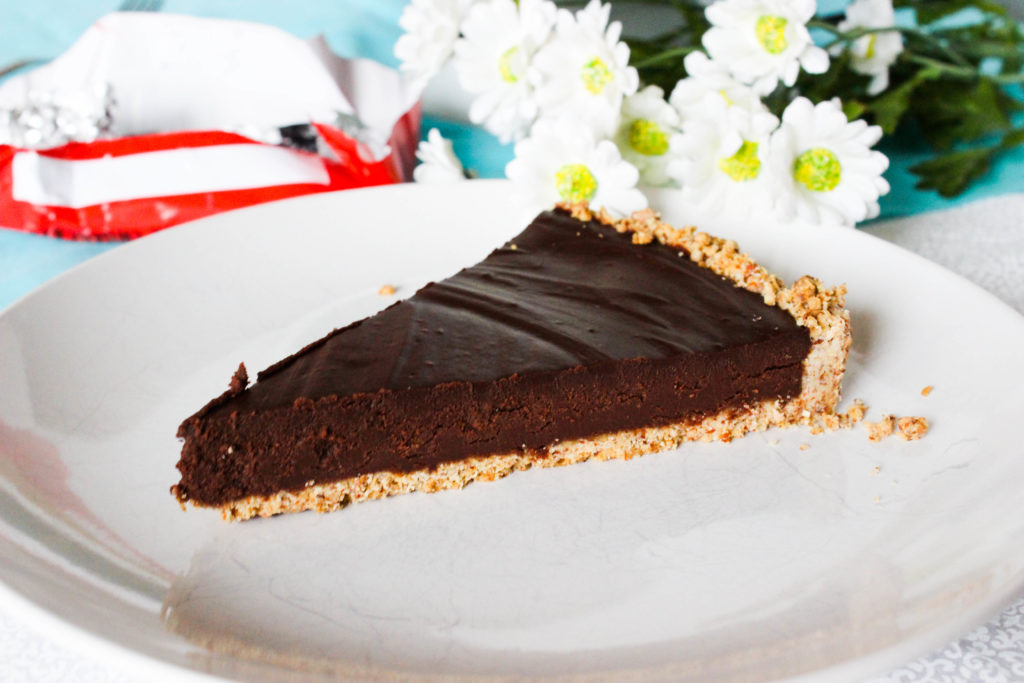 The recipe below is really simple, but this doesn't mean that it can't be spruced up! Try adding some flavored liquor into the chocolate or even orange zest to fancify it. You could even swirl some of my salted coconut caramel into the top for extra richness. Want a different flavor crust? How about some cinnamon… ya feel me? The limit does not exist (#meangirls) for what you can do with this decadent tart. Try it the next time you're going to a function and don't forget to tag me on social media. I want to see this beauty EVERYWHERE!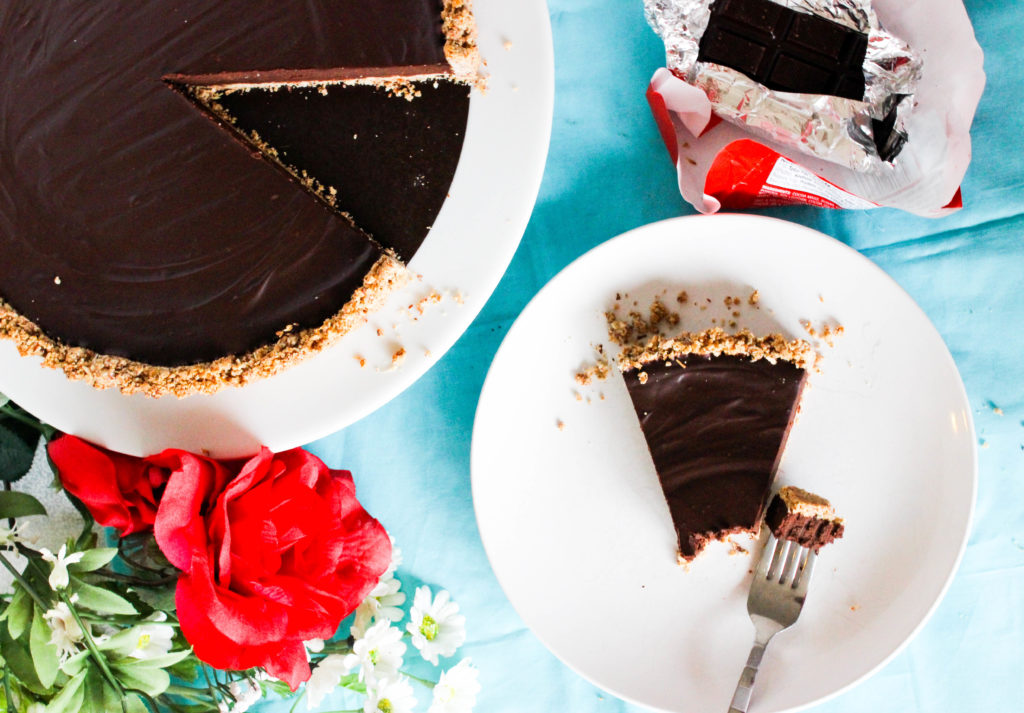 Chocolate Almond Tart
Ingredients:
3 cups almond meal
3 tablespoons melted coconut oil
3 tablespoons maple syrup
1/3 cup desiccated coconut
1 cup coconut milk
1 teaspoon vanilla
1 pound dark chocolate chips/vegan chocolate
Preheat oven to 350 degrees
In a bowl, combine the almond meal and coconut. In a smaller bowl, melt the coconut oil and the maple syrup together, then pour over almond meal/coconut mixture. You might not think that you have enough liquid, BUT YOU DO! Keep mixing until the dry are coated with the wet and when you pinch a small bit together, it sticks
Dump almond meal mixture into a 9 inch tart pan. Using the bottom of a measuring cup, press the mixture down into the pan and make sure you get up the sides as well! Bake for 18-20 minutes — until the edges and middle begin to brown. Cool to room temperature
Place your chocolate chips in a heat safe bowl. In a small pot, heat the coconut milk and vanilla together until it begins to simmer. Pour coconut milk over chocolate chips and let sit for 3-5 minutes — do not mix right away!
Mix the coconut milk and chocolate mixture after letting sit until smooth. Pour into tart pan and spread evenly. Place in the fridge for 1 hour or until solid.