Chocolate Crinkle Sandwich Cookies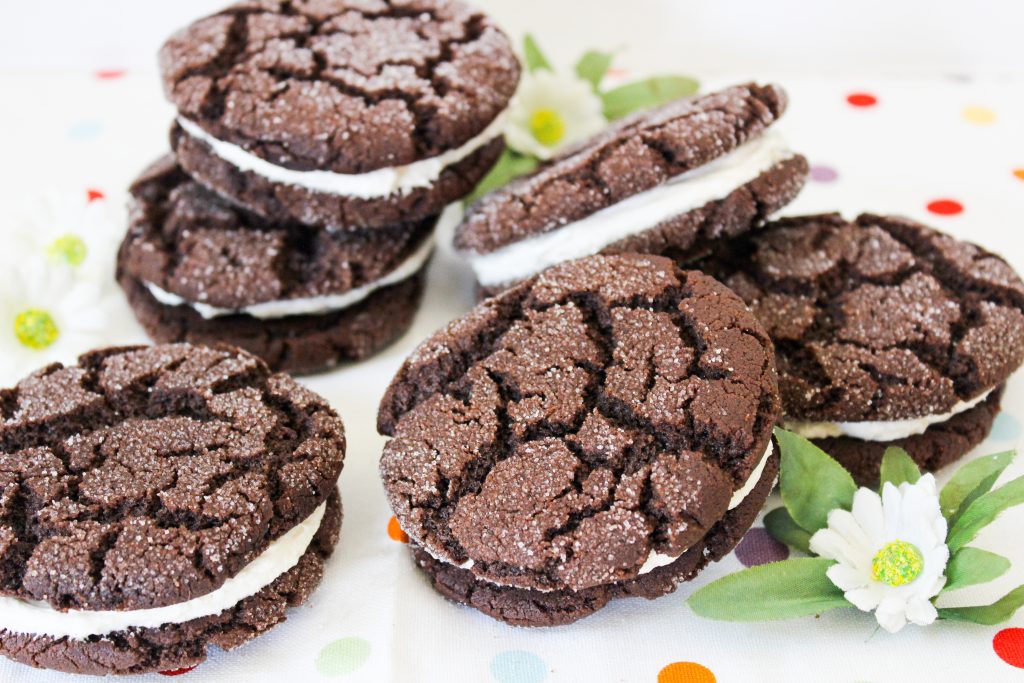 I don't know about you, but my family is a chocoholic household. Any pint of ice cream that comes in, cookie that gets bought, or chocolate bar within sight gets DESTROYED — as long as there is chocolate in it. We've even had fights over it…yes, fights over chocolate. (I know you know what I'm talking about).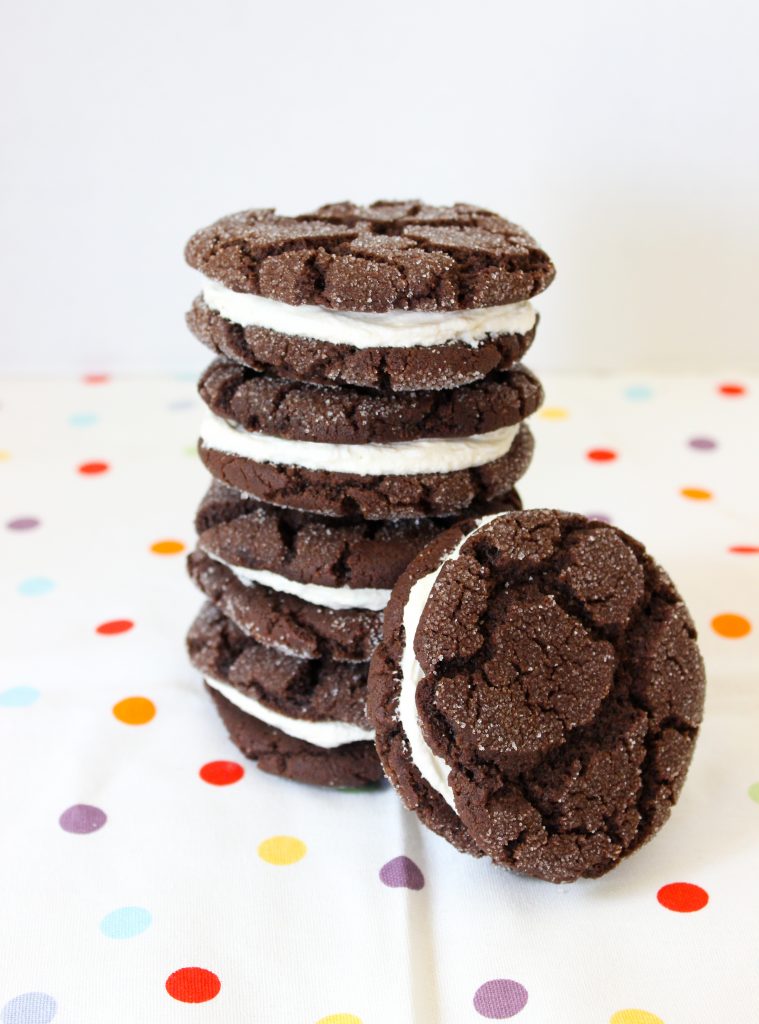 I've wanted to make this recipe for a long time and have finally had some time to make it happen! The base of this cookie comes from my Mexican Hot Chocolate Snickerdoodles recipe which I LOVE. It's a sweet and spicy cookie that is such an unsuspecting crowd pleaser. However, I wanted something a little bit different. So I removed all the spices and sandwiched the cookies around vanilla buttercream and YUM!!!!! I went to take some treats to the neighbors and my dad said "not the chocolate cookies though" (lol). I guess they are THAT good.
Chocolate Crinkle Sandwich Cookies
Makes 7-8 large sandwiches or 12-15 smaller sandwiches
Ingredients:
1 2/3 cups flour
1/2 cup cocoa powder
1 teaspoon baking soda
1/4 teaspoon salt
1/2 cup canola oil
1 cup sugar
1/4 cup maple syrup
3 tablespoons almond milk
2 teaspoons vanilla
For rolling in sugar – 1/3 cup sugar
Vanilla Frosting:
1 stick vegan butter (8 tablespoons)
1 2/3 cups powdered sugar (might need a little bit more depending on consistency)
1 teaspoon vanilla extract
1 tablespoon almond milk
1. Pre-heat oven to 350
2. Whisk together flour, cocoa powder, baking soda,  and salt
3. In a separate bowl whisk oil, sugar, syrup, milk, and vanilla
4. Pour wet ingredients into dry and mix until combined
5. Take a tablespoon of dough and roll into a ball, flatten slightly and then dip one side of the cookie in the extra sugar. (for larger cookies, use about 1.5-2 tablespoons of dough)
6. Place on a baking sheet sugar side up and bake for about 9-12 minutes. Cool completely
Make the frosting – in a stand mixer, whisk your butter until light and fluffy. Add in the powdered sugar 1/3 a cup at a time. Then add in your vanilla extract and almond milk. If the texture is still a little bit too "wet", add more powdered sugar 1 tablespoon at a time.