Chocolate Raspberry Sprinkles Cake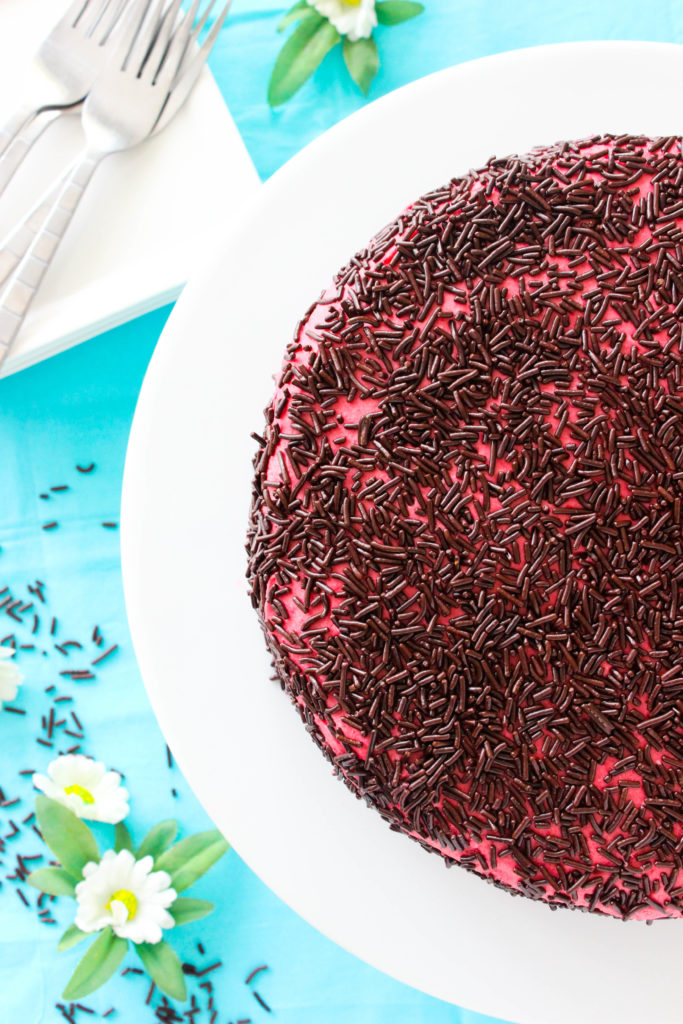 Ok, can we just talk about sprinkles cake for a minute? Specifically how there is always rainbow sprinkles cakes, but never chocolate sprinkles cakes!!! What's up with that? I know that rainbow sprinkles look awesome and fun, but …chocolate…
Whenever I see sprinkles cakes, I always crave sprinkles. I knew that eventually I'd have to make one for myself but I also knew that it needed to be chocolate. After working a dinner party one night where we made a raspberry chocolate cake, I thought that the addition of sprinkles would make it the PERFECT cake. I was right :).
This cake is a WOW. It's a little bit dramatic, it's tasty, and it's surprisingly easy to make. I love that the pink frosting pops through the sprinkles! I also love the texture that the sprinkles give the cake. It's a little crunch of chocolate that's totally unexpected. Try this recipe for a birthday party, or just a fancy dinner party!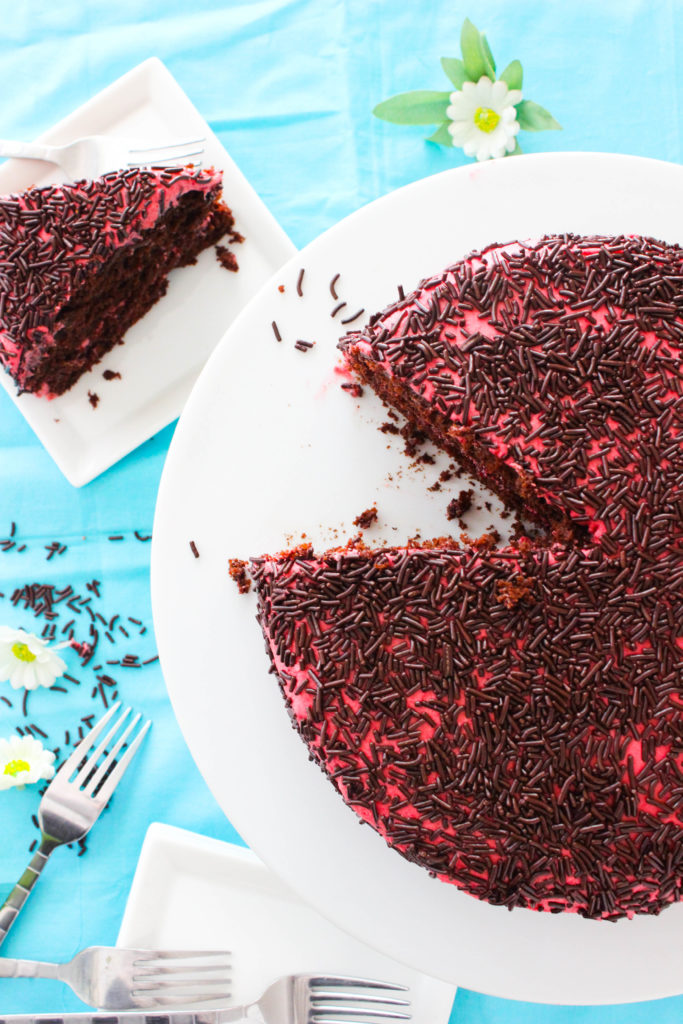 Chocolate Raspberry Sprinkles Cake 
Ingredients:
For the cake:
1 1/2 cups water
1/2 cup coconut oil
1/2 tablespoon apple cider vinegar
1/2 tablespoon vanilla extract
1 3/4 cup sugar
2 cups flour
1/2 tablespoon baking soda
1/4 tablespoon salt
1/2 cup cocoa powder
Add dry ingredients to the mixer and mix until fully combined
Combine the wet ingredients in a separate bowl and add to the dry. Mix until completely smooth (about 3 minutes). Split batter into 2 – 6 inch cake pans
Bake at 350 for 25-30 minutes
For the Frosting:
2 cups frozen raspberries
1/4 cup water
1/4 cup sugar
12 tablespoons softened vegan butter
3 – 3 1/2 cups powdered sugar
2 tablespoons almond milk
1/2 (or more!) cup chocolate sprinkles
Bring the raspberries, water, and sugar to a boil in a small pot. Reduce to a simmer and simmer for about 15 minutes. Cool to room temp. Press mixture through a strainer to remove the seeds.
In a mixer, beat the butter until smooth. Slowly add in powdered sugar 1/2 cup at a time until you reach 3 cups. Add in 6 tablespoons of the raspberry mixture (reserve the rest) and beat to combine. Taste and add more powdered sugar if desired. Finally, mix in the almond milk until smooth.
To assemble the cake:
Place one chocolate cake on the base and level out the top using a serrated knife. Spread the rest of the raspberry mixture evenly on the cake. Add enough raspberry frosting to cover the middle, then top with the other chocolate cake. Cover completely in the remaining frosting and then cover with sprinkles!