Cinnamon Cluster Scones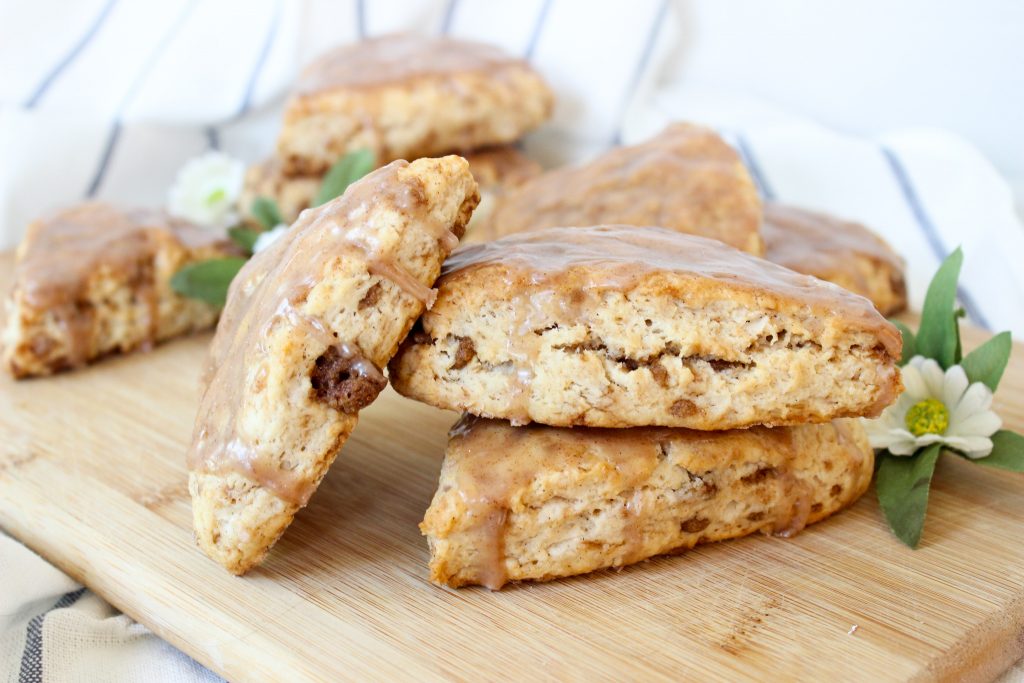 I'm all about everything cinnamon lately! Cinnamon rolls, coffee cake, apple cinnamon… you name it, I'm eating it! I'm also all about scones so it comes as no surprise that I'd mix the two together.
I came up with this idea after making a coffee cake recipe and I was LOVING the crumbly cinnamon later that dominated the top of the cake. I thought to myself, what if I took the crumbly mixture and added it to scones? The result — UNBELIEVABLE! I'm not even embarrassed to admit that I add FIVE scones that day.
They are sweet but not too sweet with loads of cinnamon clusters throughout. Then they are topped with a sweet cinnamon glaze. Truly spectacular. I can't wait to make these for the office, my friends, and/or neighbors…. but I'd have to not eat them all first.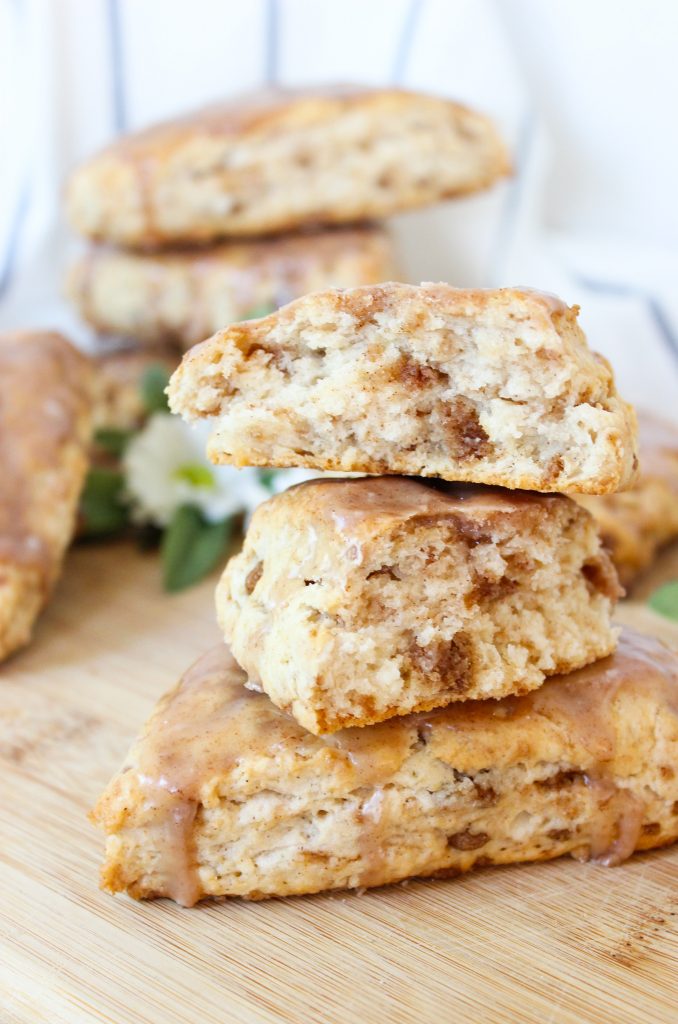 Cinnamon Cluster Scones 
*Makes 12 scones*
(adapted from Isa Chandra's 'Vegan with a Vengeance' cookbook)
For the Cinnamon Clusters
4 tablespoons vegan butter (soft
1 Tbsp. cinnamon
1/2 cup tablespoons flour
1/2 cup brown sugar
For the Scones:
1 cup + 2 tablespoons unsweetened almond milk
2 teaspoons apple cider vinegar
3 cups flour (AP)
2 tablespoons baking powder
3 tablespoons sugar
1/4 teaspoon salt
1 recipe for cinnamon crunch mixture (above)
1/4 cup coconut oil (solid)
1/4 cup canola oil
For the Glaze:
1 1/2 cups powdered sugar
1 heaping tablespoon cinnamon
2 tablespoons almond milk (or more as needed)
Pre-heat oven to 400 degrees
Make your cinnamon crunch mixture – combine ingredients together. Mixture will be crumbly and you want a combination of big a small pieces. Set aside.
Make your glaze – combine the powdered sugar, cinnamon, and powdered sugar in a bowl and let sit (when you let it sit longer, the powdered sugar breaks down so you don't get clumps!)
In a small bowl, stir together the almond milk and apple cider vinegar and set aside
In a large bowl, combine the flour, baking powder, sugar, and salt
Add in the coconut oil and "cut into the flour" using a fork (think of scrambling eggs. You'll want something that looks like dry sand — not sticky)
Gently stir in the cinnamon crunch mixture
Mix in the milk mixture and canola oil. You want to mix until just combined. It's ok if there is some clumps.
Flour your countertop (or a wooden board) and dump 1/2 of the dough onto the surface. Gently form into a circle and then cut into 6 pieces. Do the same for the other 1/2 of the dough. Place each piece on a lightly floured baking sheet (or on a silpat mat).
Bake for 15-18 minutes or until slightly browned on the top and firm. Cool for about 5 minutes before icing
Scoop a teaspoon of a time of the glaze and spoon over each scone. Go in order and keep doing this until all scones have a few layers of glaze. Let set completely.