Cookie Dough Pops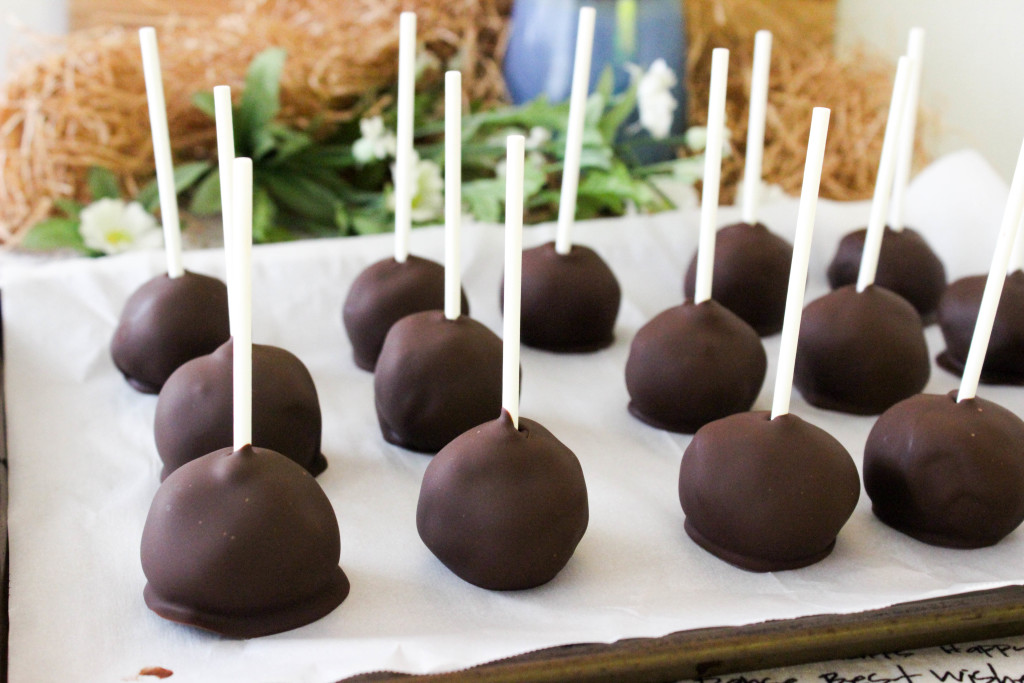 My sweet tooth never seems to go away. Lucky for me, my station at work is right next to the bake shop so I smell all the things they make all day long and get a front row seat to watch them bake. It also means that when there are extras, I get something. At work, they make cookie dough pops and I thought that they looked so freaking cute, and tasted even better! I decided that I needed to try to make these, so my quest for vegan cookie dough pops were born.
I love how chocolaty these are and how easy they are to eat. Two/three bites and you have the most perfect sweet tooth satisfier. They aren't healthy, but since they are so small, you won't feel guilty eating one… or two… or maybe three.
These would be so cute for a baby shower, wedding shower, or just a party. You can change up the chocolate coating on the outside to be different colors by buying those candy melts to make them match any occasion! Add sprinkles right after dipping them, or don't even dip them in chocolate… aka: eat the cookie dough straight ;P.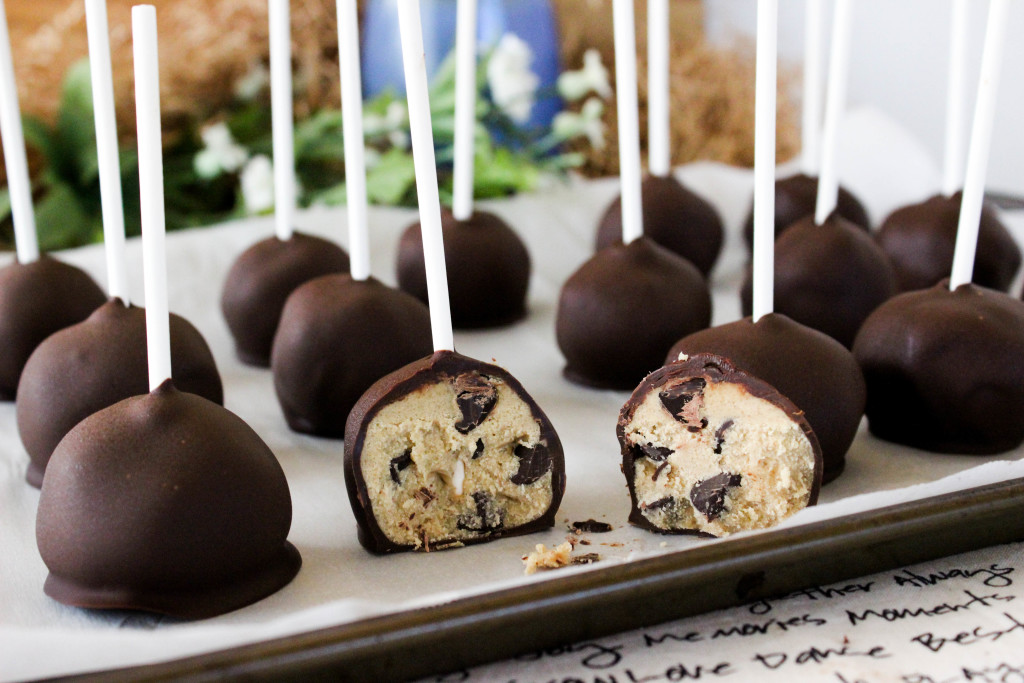 Cookie Dough Pops
makes 15-18 pops depending on size
Ingredients:
8 tablespoons vegan butter (like earth balance)
4 tablespoons white sugar
4 tablespoons dark brown sugar
1/2 teaspoon salt
1/2 teaspoon vanilla extract
1 1/2 – 2 cups flour (depends on your consistency)
3/4 cup vegan chocolate chips
Lollipop sticks
Chocolate dipping : 2 cups vegan chocolate chips + 1 tablespoon coconut oil – melt all in microwave for 30 second increments until smooth!
Cream butter and sugars together until smooth. Add in salt and vanilla and mix well.
Add in flour, in 1/2 cup increments until all combined. Stir in chocolate chips
Using a scoop (so they are all the same size), scoop out cookie dough onto a sheet pan lined with parchment paper. After scooping, roll each dough ball into a symmetrical ball.
Take your lollipop stick and dip in a little bit of melted chocolate, then insert into the middle of the cookie dough
Freeze pops for 30 minutes or until very firm.
Remove from freezer and dip completely in chocolate/coconut oil. Use a spoon to help you cover them completely and swirl the pop to let the extra chocolate drip off. Place back on parchment paper and freeze for another 10 minutes before serving!