Creamy Arugula Pasta Salad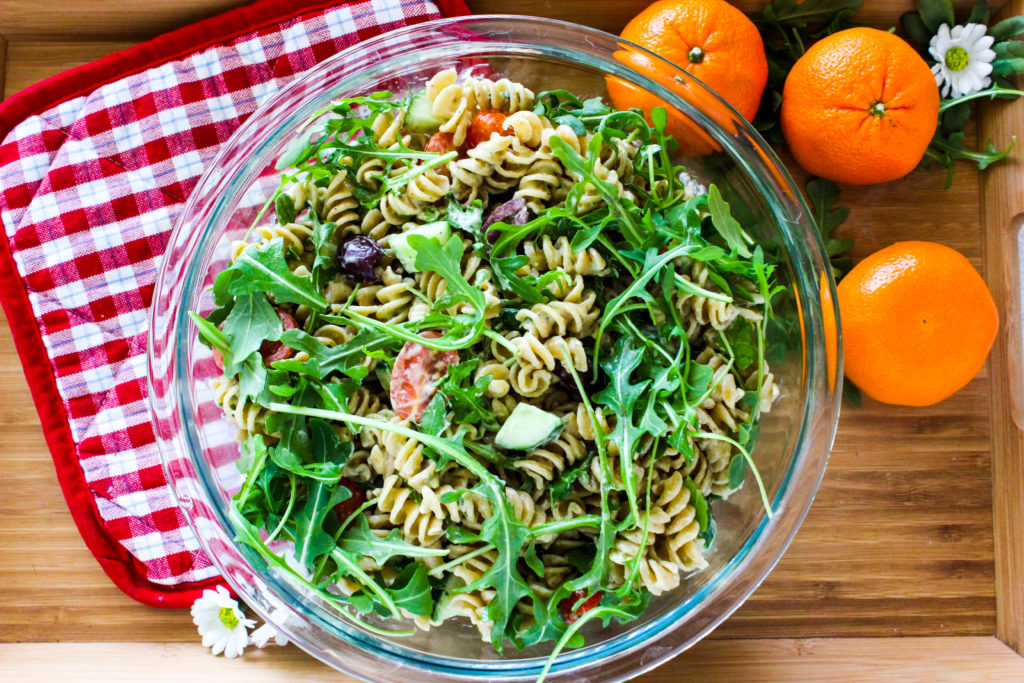 Vegan mayo. Something that I've always heard tastes good, but something that I would never buy. That is, until I was craving pasta salad… a creamy and veggie filled pasta salad. So naturally, I had to buy a jar. I went to Whole Foods and decided to go with the Earth Balance brand and I have to say, I was pleasantly surprised! I have never been a fan of mayo, but it's nice to know that there is an alternative out there for when I made pasta salad, or want a little bit on a sandwich!
Arugula. I've never been a fan of arugula honestly. I always thought it had a weird flavor, aka too spicy and that the shape of the leaves did not have an appealing mouth feel (if ya know what I mean). To sum it up, arugula was just awkward to me. However, I decided to spice up my life and put it in this pasta salad because I knew that it needed greens that packed a punch! Arugula was PERFECT! Now, I'm in love with arugula, the flavor and all. Arugula goes great in this pasta salad not only for the flavor, but it also stands up well to the moisture in the mayo meaning that it won't wilt even after a couple of days of being mixed in. Either way, I love arugula now.
Pasta salad. A classic. I love the idea of having pasta salad in the fridge for quick lunches, snacks, and sides when it comes to dinner. I made a half pound of pasta for this recipe and loaded it with veggies. I thought that I had made a lot, but 2 days later, we had almost eaten it all!! It was THAT good. We ate it with dinner, I ate it for lunch, and snuck bites of it through out the day! One thing that I love is the dressing. It's creamy AND tangy thanks to the fact that you make a little salad dressing first and then add the mayo to that. You get a ton of flavor that soaks into the pasta and veggies and makes it oh so delicious! This is a great addition to your weekly meals or to take to someone's house. We love this and hopefully you will too!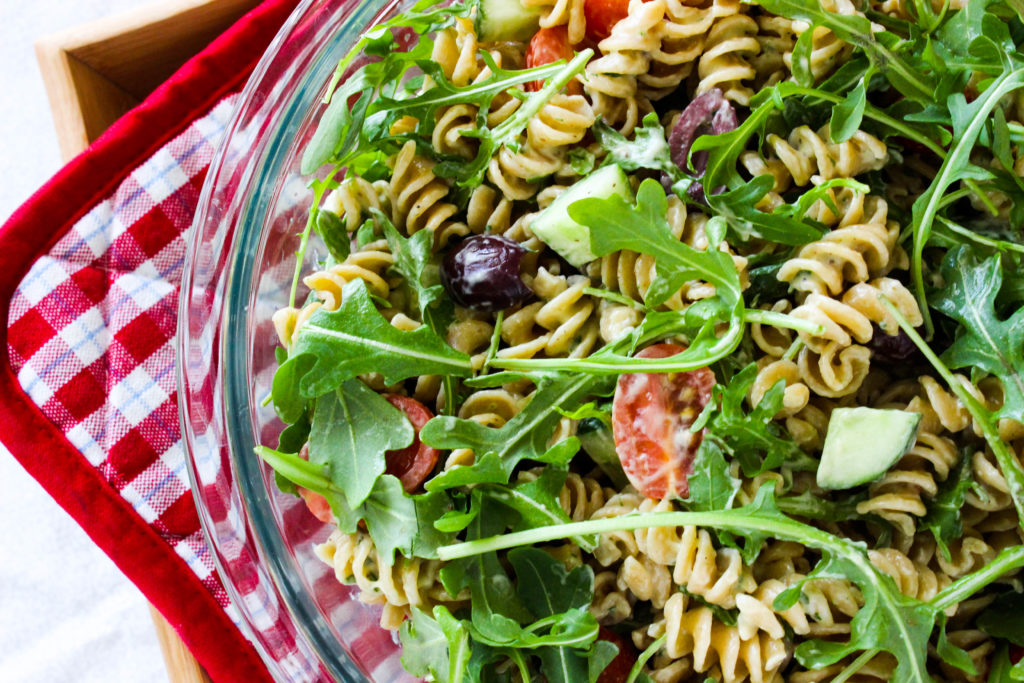 Creamy Arugula Pasta Salad
Ingredients:
1/2 pound of rotini pasta
1 cup chopped cucumber
1 cup halved cherry tomatoes
1/3 cup halved kalamata olives
3-4 cups arugula
2 cloves garlic
2 tablespoons Dijon mustard
2 tablespoons apple cider vinegar
1/4 cup olive oil
1/2 teaspoon celery salt
1/4 cup vegan mayonnaise
Cook pasta according to package directions. Drain and cool
In a blender, combine garlic, mustard, cider vinegar, oil, and celery salt together. Blend until combined and smooth. Add in mayo and pulse to combine (*note: If you like a thicker mayo pasta, double the amount of mayo so it doesn't soak into the pasta)
Pour mayo mixture on the pasta and mix well. Add in tomatoes, cucumbers, and olives. Mix well.
Layer pasta with arugula in a bowl until all pasta is used. Serve warm or cold!