Double Chocolate Chip Cookies
I'm the first to admit that I'm not the best vegan cookie maker. However, after discovering how to make a basic vegan cookie with my s'mores cookie, I now think that I am indeed THE SH*T at making vegan cookies (which I know is not true but please let me boost my ego at least for a couple of minutes). Since I'm a chocoholic, I took the base for that recipe, took out the graham cracker crumbs, and added cocoa instead to make them DOUBLE CHOCOLATE. Ummmmm perfection once again. I think I'm going to be making cookies a lot more now that I have a base recipe that I can trust.
The key for this recipe is to make sure you use a high quality cocoa powder. It definitely adds a lot of flavor. I used Anthony's Almonds brand of cocoa powder which is like $16 for 2 POUNDS! If you make a lot of chocolate things, then you need to invest in this cocoa. It's organic and gluten free which is a total win and it tastes like a rich dark chocolate. Mmmmmm chocolate.
I DEVOURED 2 cookies right out the oven and surrendered myself to the chocolate cookie gods! You get such a rich cocoa flavor and then you get this super melty chocolate in every bite. Pure chocolate bliss you could say. They might look not done when you take them out of the oven, but that's all part of it. They are done, I promise! You get a slight crunch on the outside but a super soft cookie in the middle! Seriously, amazing.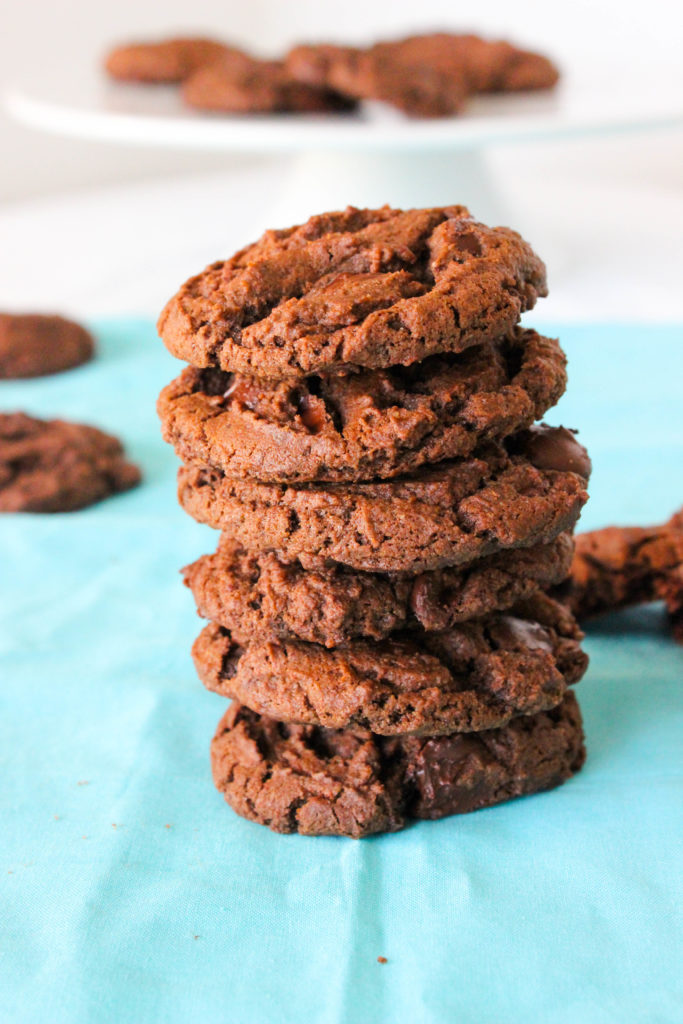 Want to get your own bag of organic cocoa powder from Anthony's Goods? Click here!!
Double Chocolate Chip Cookies
makes 18-20 cookies
Ingredients:
1 flax egg
1 cup flour
1/4 heaping cup cocoa powder
1 teaspoon baking soda
1/2 teaspoon salt
1/2 cup margarine/vegan butter – room temp
1/3 cup brown sugar
1/3 cup white sugar
1 teaspoon vanilla ext.
1 cup vegan chocolate chips
Preheat oven to 350 degrees
Combine dry ingredients in a small bowl and set aside
Cream together your butter and sugars until well incorporated. Add in vanilla and mix again. Finally, add in your flax egg and cream until incorporated
Dump in your dry ingredients and continue to mix until just incorporated. Stir in chocolate chips
Scoop cookies onto ungreased cookie sheet and bake for 11 minutes. Let cookies sit on cookie sheet for 1 minute until removing to cooling rack.