Easy 5 Bean Salad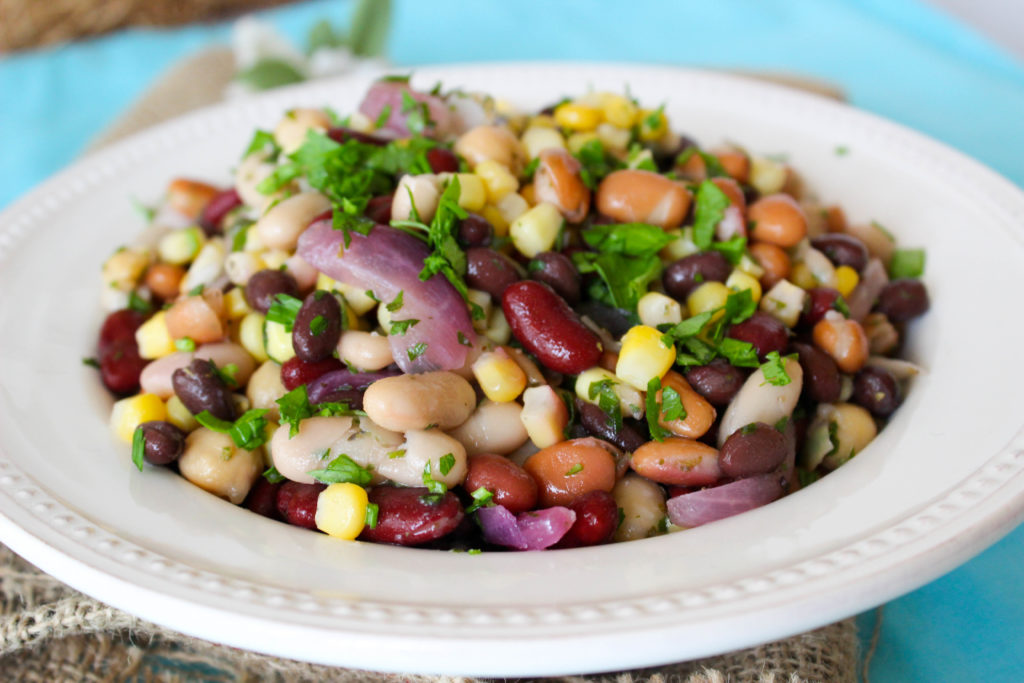 I have to admit that I can't take credit for this whole recipe.
When I started working at Whole Foods, I made a ton of friends who were vegan! I was so happy to find people that I could relate to on a food level and was excited to share recipes and be creative! Whenever we'd get together, we'd find ourselves in the kitchen making everything from large salads, pesto pasta, and paella…. and then subsequently eating it all #noshame.
When it was my birthday, one of my friends came over to give me a luscious raw chocolate cake, but she also brought some beans. At first I was skeptical because I was like — ok yeah, I've had beans before, but these beans were amazingggggg!!! So incredibly simple but so incredibly tasty and flavorful. Pretty sure we ate the whole bowl that included at least 3 cans of beans. I had her make it for me that day! However, we added some fresh herbs, more beans, and we caramelized the onions. It was so amazing! My boyfriend and I ate the whole thing in about 3 days.
It's such a great recipe to keep in the fridge for lunches, to add to salads, or even to take to potlucks! Not to mention, it will take about 5 minutes to make. Can't go wrong with a time saver like that.
Easy 5 Bean Salad
Ingredients:
1 can black beans
1 can chickpeas
1 can pinto beans
1 can kidney beans
1 can white beans beans
2 tablespoons capers
1 cup frozen corn
2 tablespoons dried oregano
Juice of 2 lemons (or 1 lemon 1 lime)
1 tablespoon fresh parsley
1 tablespoon fresh cilantro
salt and pepper to taste
1 red onion sliced
1 tablespoon olive oil
Drain and rinse all beans and dump into a large bowl. Add all other ingredients and mix well.
Saute red onion in olive oil until onion begins to brown. Let cool and add to the bean mixture —- Cooking the onion is optional! You can add it raw if you prefer a raw onion flavor
Serve cold!