Easy Potato Frittata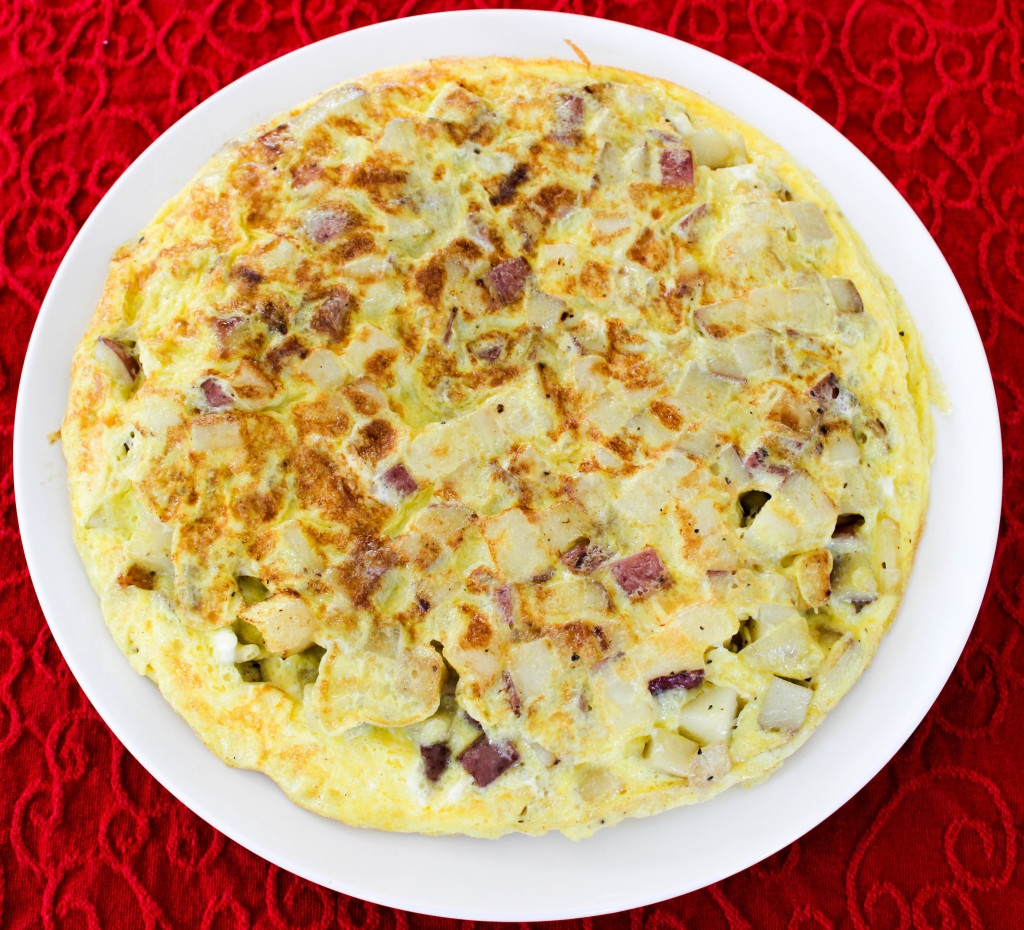 When we used to live in Spain, they served what was called a "Tortilla Española" which was essentially a potato frittata. However, they usually served it with a garlic aioli and was mostly eaten during lunch or dinner. What I thought was really weird, was that they would even put it in a sandwich! Talk about carbs on carbs! Who am I kidding… I'm totally into that…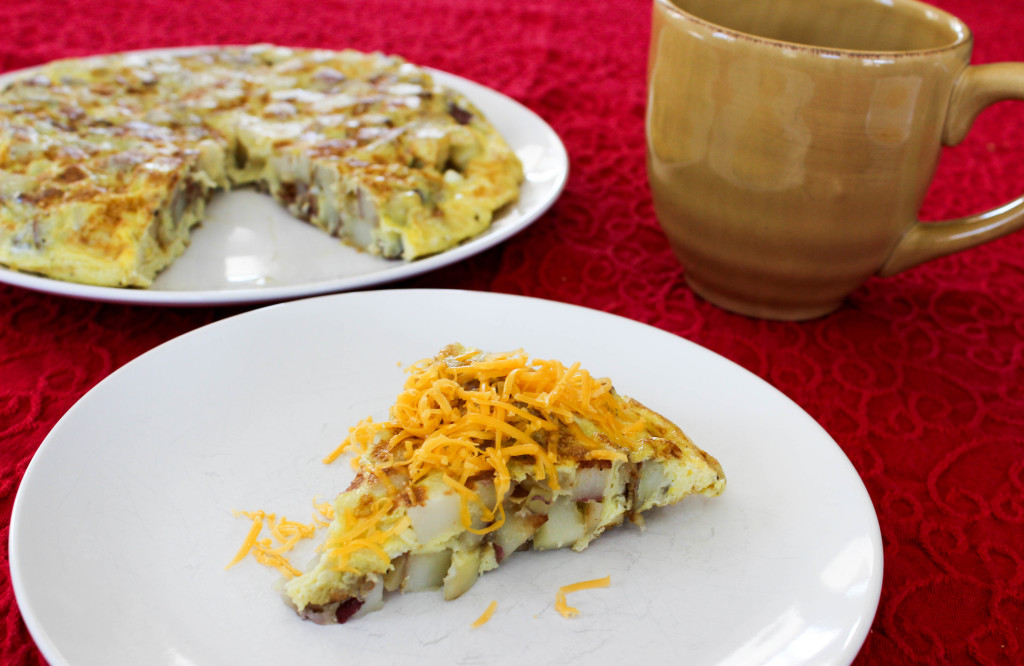 This is by far my favorite go to breakfast for a crowd. Not only does it come together in minutes, but it feeds a bunch of people and tastes delicious! You can also customize it however you want. You can add peppers, make a sauce to go on the side, or even serve as is with some other breakfast accompaniments like scones or muffins. I also like the idea of making one of these and leaving in the fridge for a quick go to breakfast or snack for the week. Meal prep anyone?
The only advice I would give is to make sure you have a plate that is big enough to fit over the pan to be able to flip the frittata. If you need to use a smaller pan, then do so, or else you will have difficulty flipping it. That is, unless you are a professional flipper and won't spill or break the frittata.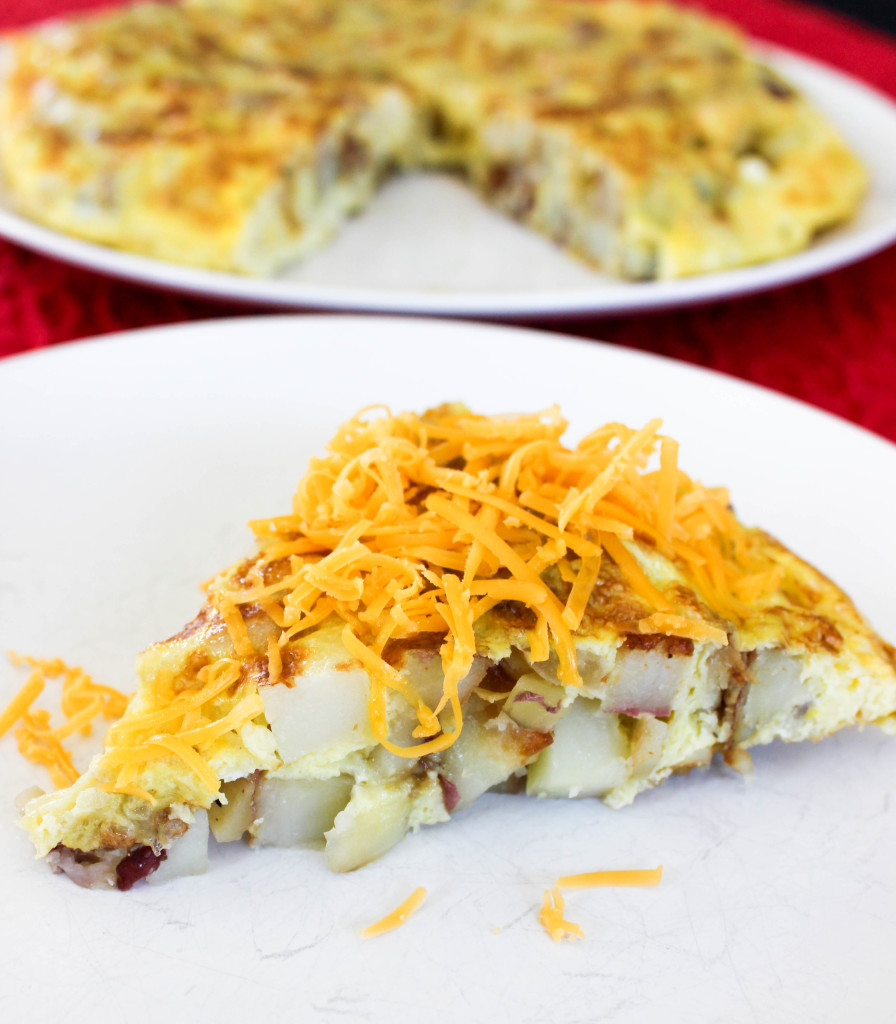 Easy Potato Frittata
Ingredients:
2 large red potatoes – small diced
3 tablespoons olive oil
1/2 cup onion – chopped (optional)
8 eggs
salt and pepper to taste
Shredded cheese – optional
1. In a medium sized sauté pan (about 9 inches) on medium heat, add the olive oil, onion (optional), and potato. Season heavily with salt and pepper, stir, and cover the pan. Stirring occasionally, cook until the potatoes are fully cooked (about 10-15 minutes)
2. In the mean time, whisk the eggs in a large bowl until all incorporated
3. When the potatoes are fully cooked, move them around so they create a layer on the bottom of the pan, turn the heat down to medium low, and pour the eggs on top. Cover the eggs and let them cook for a couple of minutes.
4. Take a spatula and gently work your way around the edges, lifting up a bit of the frittata and then tilting the pan to let the uncooked eggs run between your spatula and the pan. Do this in about 4 different places in the pan (it's ok if there are still uncooked eggs on top).
5. Let the eggs sit for another minute and then place a large plate over the top of the pan. In one swift motion (and using pot holders), flip the frittata onto the place. Then, slide the frittata back in the pan so the top side can cook – about 3 minutes.
6. Using a new plate, flip the frittata out the pan and serve from the plate! Sprinkle with cheese if you want.