Gluten Free Vegan Chocolate Chip Banana Bread
My family loves banana bread…. I mean LOVES it. We can easily eat a whole loaf within a matter of hours. From slices at breakfast with hot coffee, to mid morning and afternoon snacks, to dessert right after dinner — I'm telling you it gets devoured! 
It isn't too often that we even have the ripest bananas in the house (as we go through those pretty quickly too), but when we overbuy bananas and under eat them, the only thing to do with the leftovers is making banana bread. 
This banana bread is moist, fluffy, loaded with chocolate, and has an amazing banana flavor! The best part — 1 bowl clean up. I think anyone can rejoice about that!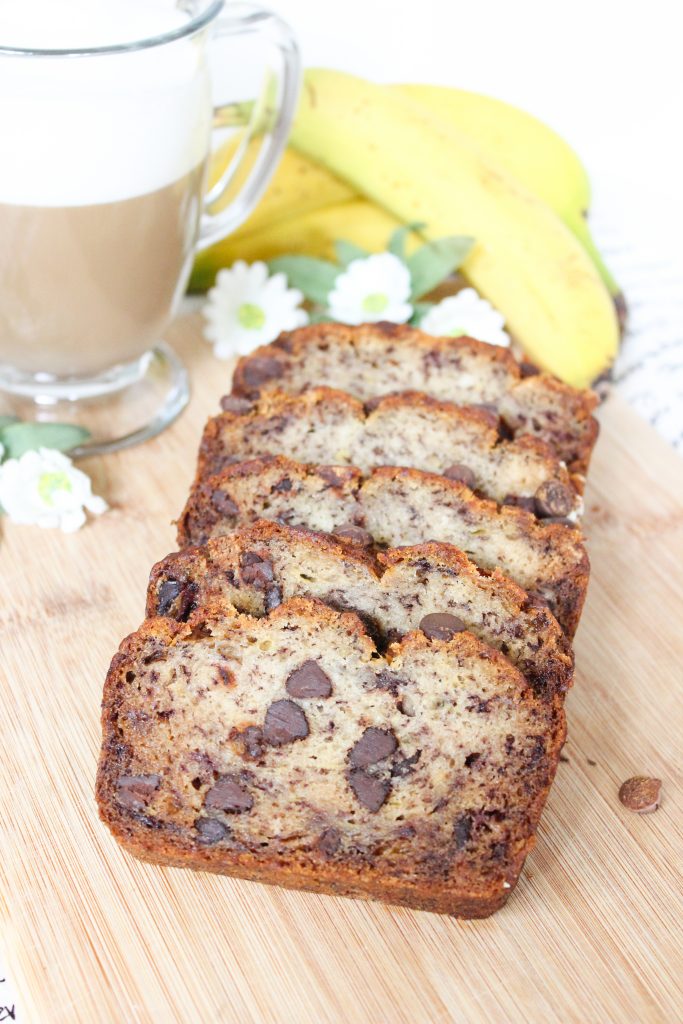 Gluten Free Vegan Chocolate Chip Banana Bread
4 ripe bananas (medium sized)
1/2 cup sugar
1/3 cup melted coconut oil or vegetable oil
1 teaspoon vanilla
1/4 cup water
1 teaspoon cinnamon (optional)
1 1/2 teaspoons baking soda
2 cups gluten free flour blend (I used Bob's)
Preheat oven to 350

In a large bowl, mash bananas until they resemble the consistency of baby food (a little chunky is ok)

Add sugar, oil, vanilla, and water and mix well

Add in the cinnamon, baking soda, and flour and mix well again

Pour batter into lightly greased loaf pan

Bake 60-70 minutes or until a toothpick comes out clean

Cool slightly before eating 🙂