Heirloom Tomato Flatbread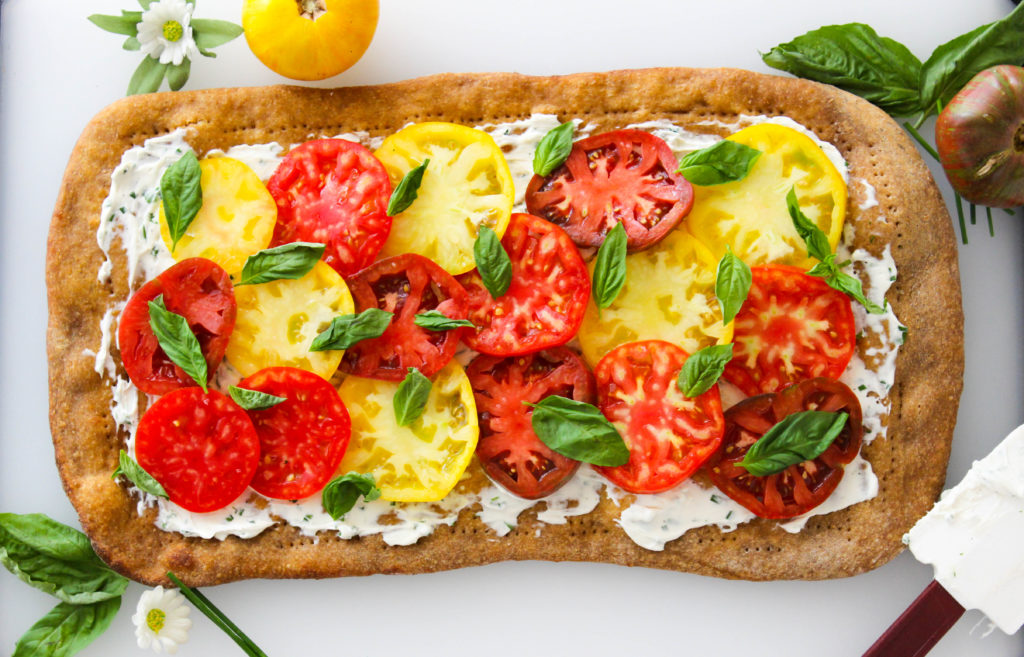 Summer is over, yes. Heirloom tomatoes are over, yes. However, flatbread lives on forever!!! Not saying that this recipe is ONLY applicable to heirloom tomatoes… I just like their color. Using regular tomatoes would work just fine — using ROASTED VEGGIES would work amazing– or just eating flatbread with herb cream cheese is definitely a possibility. However you want to work it, this recipe is totally adaptable to the seasons so that you can have a quick and easy snack/appetizer/lunch/dinner whenever you want it!
One thing that I've definitely been craving after going vegan was CREAM CHEESE!! The tangy, light and fluffy, spreadable goodness was all I ever wanted on a bagel with tomatoes. Are you drooling yet? I am.
Obviously, cream cheese is a huge no no while being vegan so I had to find alternatives. I tried almost every vegan cream cheese out there. While the Trader Joe's brand tasted the best, the consistency was too much like butter and just melted into the bagel! Kite Hill was not appealing to me, and that left Tofutti as pretty much the last option. Now, Tofutti definitely isn't terrible… to me it just doesn't taste 100% there yet. Then again, I have to give it some leeway because tasting like REAL REAL cream cheese is probably never gonna happen. I figured that if I could doctor it up with some fresh herbs that it might change the flavor just enough to make it work.
Boy was I right!! Adding FRESH herbs was an AMAZING transformation from the plain cream cheese! It brightened it up, added soooo much flavor, and consequently paired beautifully with the fresh tomatoes. Now picture this, herby cream cheese on a freshly baked flat bread (aka pizza dough), topped with fresh tomatoes and basil — heaven. We ate the WHOLE thing… and it was amazing.
I challenge you to try this and mix it up using veggies, tomatoes, or anything you can find really! Let me know what you did so then I can copy you 🙂
Heirloom Tomato Flatbread
Ingredients:
8 oz container vegan cream cheese (I used Tofutti)
3 tablespoons fresh chives
1/2 teaspoon garlic powder
salt and pepper to taste
1 tablespoon fresh parsley
1 store bought pizza dough (gluten free or not)
3-5 assorted heirloom tomatoes
fresh basil leafs
Preheat oven to 425. Roll out pizza dough and brush with olive oil. Use a fork, and puncture the dough so it won't bubble up. Place dough on a piece of parchment paper and bake into the oven for about 10 minutes. Cool slightly
Combine your vegan cream cheese with the chives, garlic powder, parsley, and salt and pepper to taste.
Spread cream cheese onto dough and top with tomatoes and fresh basil!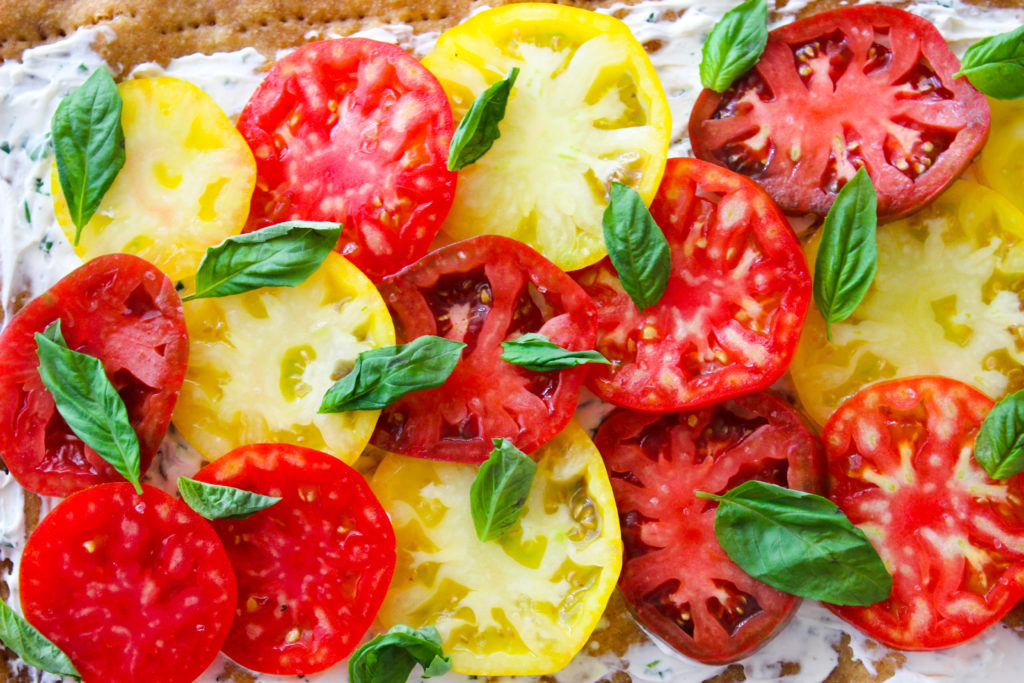 Save