Kitchen Sink Cookies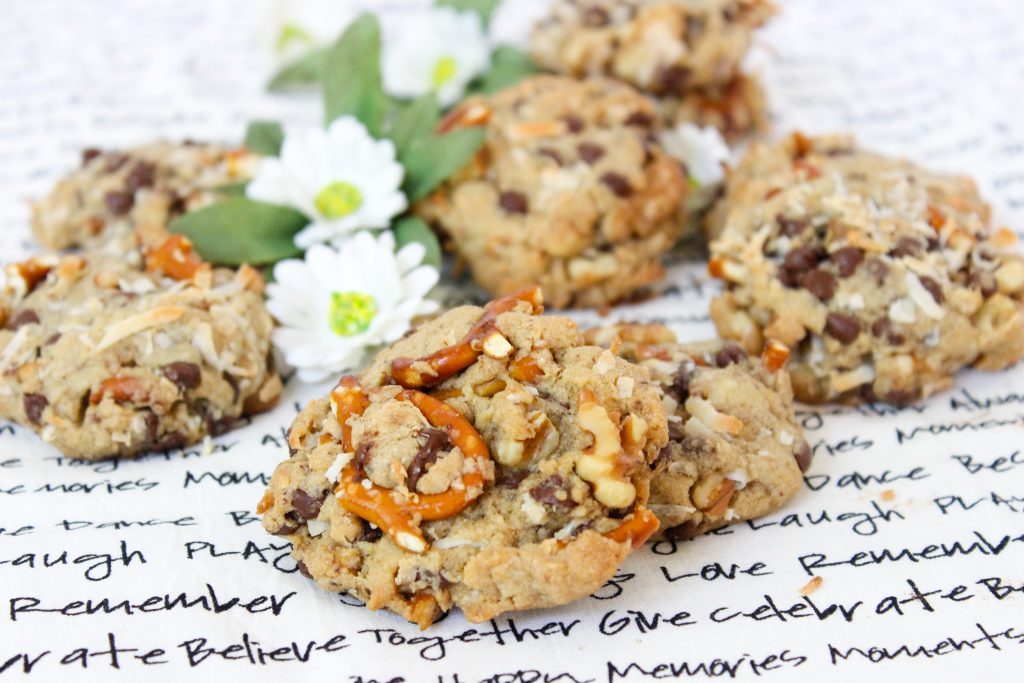 My family is straight decedents of the cookie monster as each one of us has the biggest sweet tooth in the world! Cookies, cakes, ice cream… all sugary treats disappear in a matter of hours. If you're a baked good, you're indeed in danger.
However, this does mean that culinary creativity flows freely in this kitchen as anything and everything gets eaten. These cookies are definitely in trouble as they are AMAZING! Salty, sugary, sweet, and totally addicting, these cookies are packed with anything and everything you have in your pantry that needs a new home.
Some ideas include, chocolate chips, toffee, candy pieces, nuts, coconut, graham crackers, marshmallows, pretzels, dried fruit… I mean the list goes on. That's what I love though is that these cookies are totally customizable! You can even split the dough base and have each person mix in exactly what they want — or just make them to your preference so no one else has to eat them :).

Kitchen Sink Cookies 
makes 18-20 cookies
Ingredients:
1 flax egg
1 1/4 cup flour
1 teaspoon baking soda
1/2 cup margarine/vegan butter – room temp
1/3 cup brown sugar
1/3 cup white sugar
1 teaspoon vanilla ext.
2 cups mix in's of choice – I used mini chocolate chips, sweetened coconut, walnuts, and pretzel pieces
Preheat oven to 350 degrees
Combine flour and baking soda in a small bowl and set aside
Cream together your butter and sugars until well incorporated. Add in vanilla and mix again. Finally, add in your flax egg and cream until incorporated
Dump in your dry ingredients and continue to mix until just incorporated. Stir in mix-ins
Scoop cookies onto un-greased cookie sheet and bake for 10-12 minutes. Let cookies sit on cookie sheet for 1 minute until removing to cooling rack.