Red Lentil Tikka Masala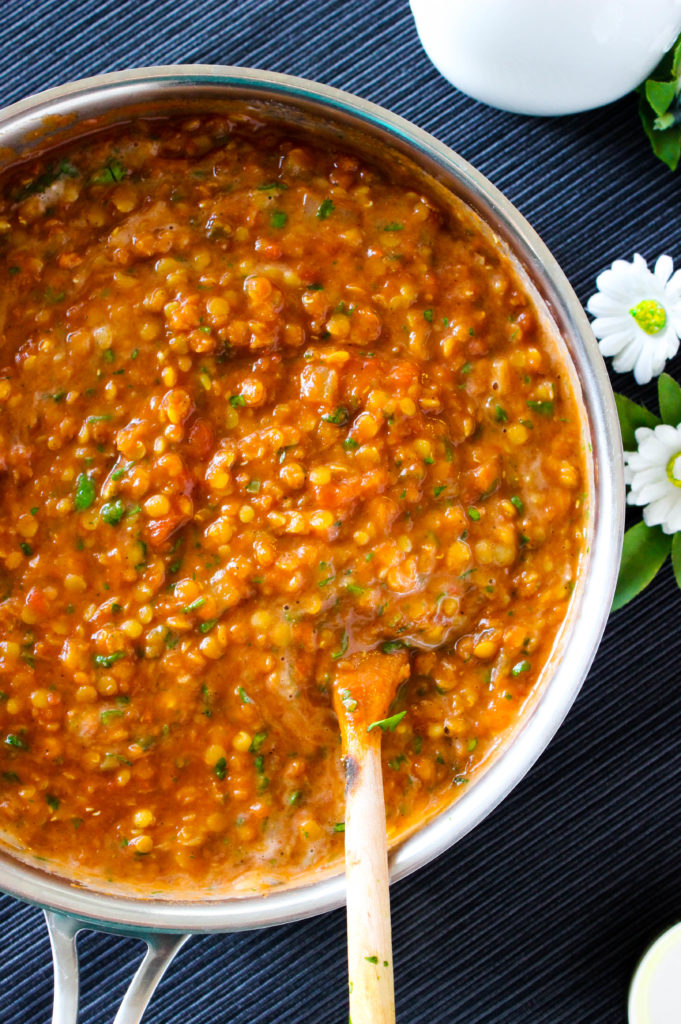 Working with a personal chef has definitely opened my eyes to making different cuisines at home. I like to say that I'm a pretty adventurous eater, but I tend to fall into the same old salad and pasta when it comes to my own meals.
She has a client who loves Indian food, specifically chicken tikka masala, and asks for it almost every time we go. After being tasked to make the recipe each time we went, I figured that it was probably a good time to start making it at home. Only problem — I don't eat chicken and can't eat yogurt either. What to do what to do!
I thought about making it with some sort of vegetable and then realized that I had a whole bad of red lentils in the pantry with no where to go. So I used that and it was FREAKING DELICIOUS! Guys — these flavors are on point, the texture on point, the satisfaction on point, everything about this recipe on point! This recipe makes enough for about 4-5 people but I ate it in about 3 days all to myself … just sayin.
This recipe is definitely something that I will be making more often as it is extremely easy, flavorful, and healthy! Try it and tell me what you think!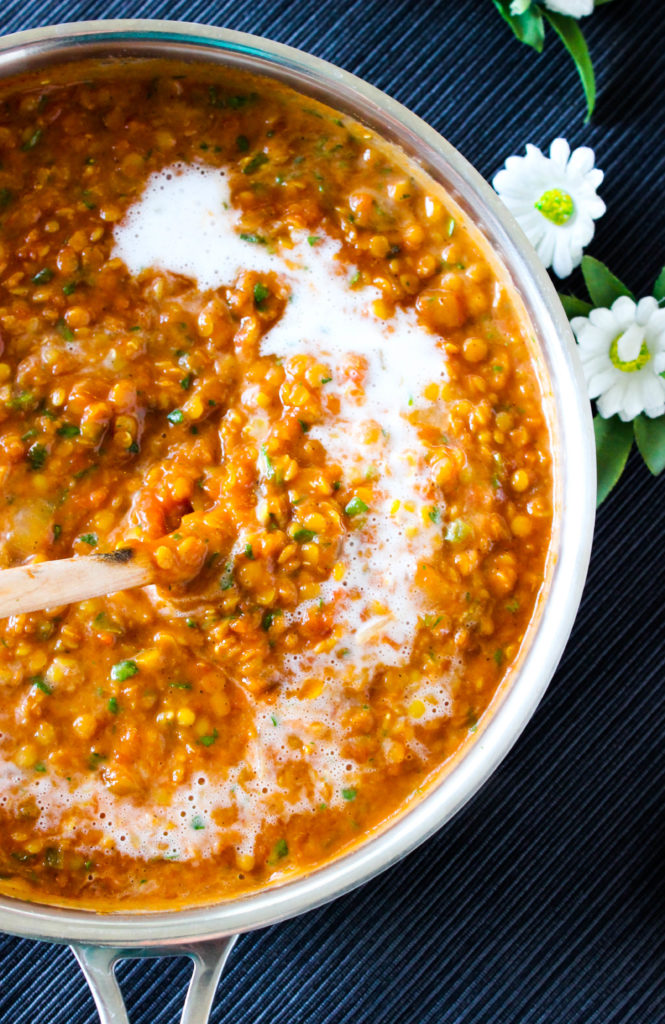 Red Lentil Tikka Masala
Serves 4-5
Ingredients:
2 tablespoons olive oil
1 medium onion – small dice
1 small Serrano pepper – minced (or jalapeno)
1 tablespoon grated ginger
3 garlic cloves – minced
1 tablespoon tomato paste
1 1/2 tablespoons garam masala
1 – 28 oz can crushed tomatoes
1 tablespoon coconut sugar
1 1/2 cups vegetable broth
1 cup red lentils
1/2 cup coconut milk
1/4 cup cilantro chopped
Salt and pepper to taste
Saute onion and serrano pepper in olive oil until just soft
Add in ginger, garlic, garam masala, and tomato paste. Stir until fragrant (about 1 minute)
Add your crushed tomatoes, coconut sugar, and vegetable broth. Stir well to combine then add the red lentils.
Bring mixture to a simmer, turn the heat down to a low simmer and cover. Cook for 25-30 minutes until lentils are tender
Stir in coconut milk and cilantro. Adjust seasoning as needed.