Roasted Fall Veggie Pasta with a Sage Cream Sauce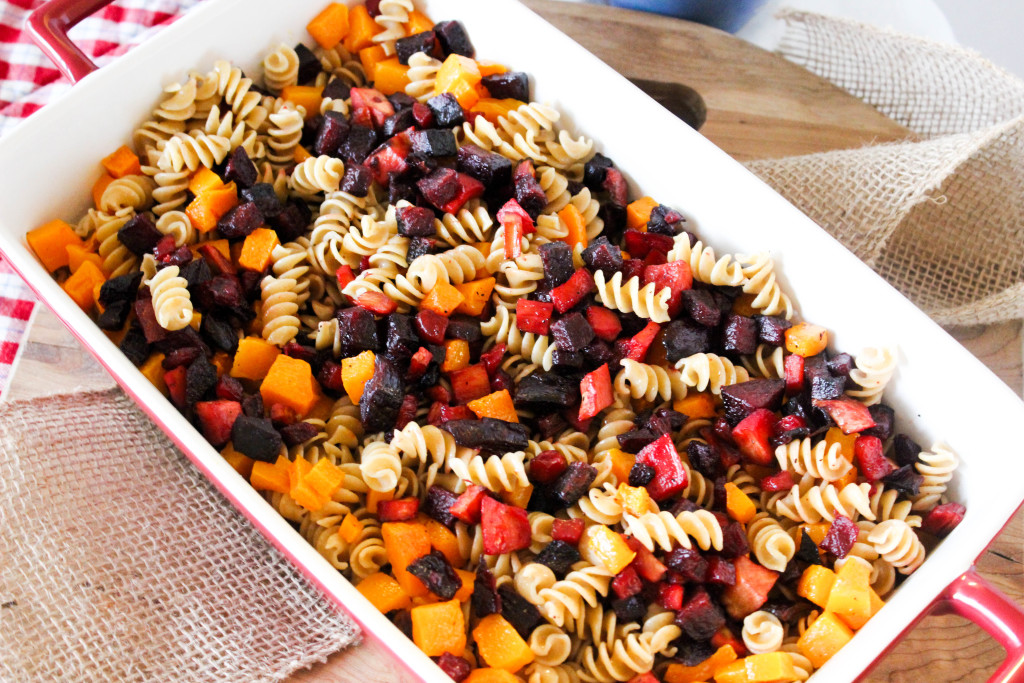 This. Is. My. Favorite.
I'm not a big fan of sage, at least I thought I wasn't. That was until I tried a sage cream sauce at work and I was HOOKED! I think the flavor is so original, warm, and homey which makes it incredibly addicting. I decided to recreate this cream sauce and pasta at home to make it vegan so that I could eat a whole bowl of it and not feel sick.
I made sure to make enough to have leftovers but after the first night, I wasn't sure we'd have any. I had 3 helpings and luckily there was leftovers. I remember going to class that day and being sooooo excited to get home to know that I could have this pasta for lunch and even more excited to know there was enough for the next day! Seriously was so amazing. Look how creamy this is!!!!
Roasted fall veggies are definitely popular around this time of year, but it's hard to find something to do with them besides make a salad. This is a perfect alternative to all those fall veggies and they meld so amazingly well with the sage cream sauce. If you are having vegans for thanksgiving, or even just over for a comforting dinner, this is absolutely perfect! I might consider making this for thanksgiving as it is so pretty sitting on a table and so incredibly comforting.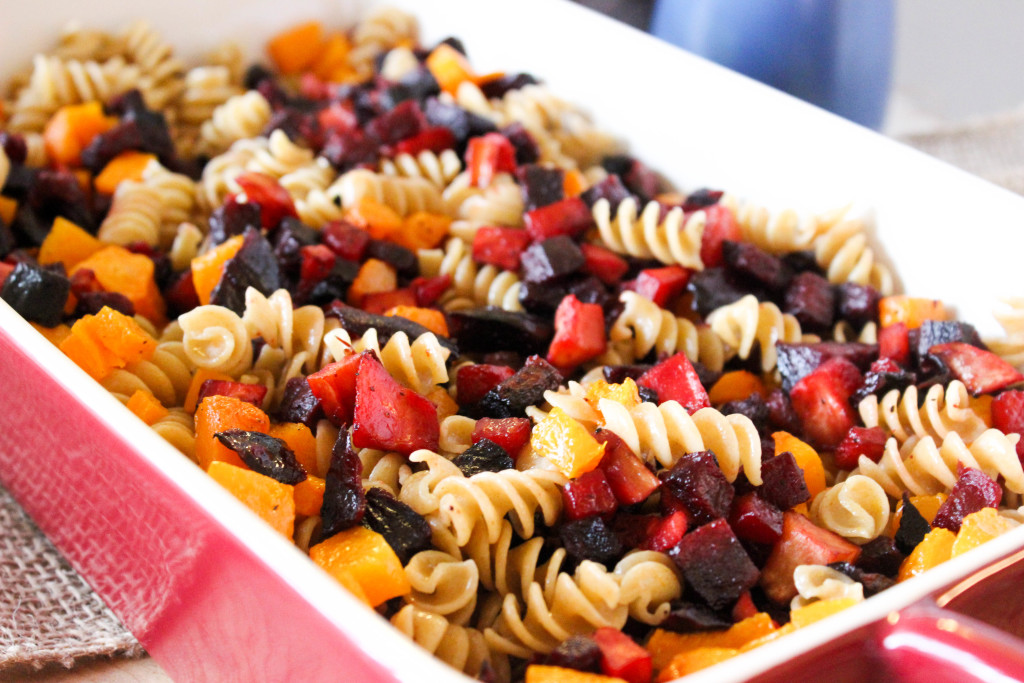 Roasted Fall Veggie Pasta with a Sage Cream Sauce
Serves 4-6
Ingredients:
1/2 cup chopped sage
1 large clove garlic
3 tablespoons olive oil
3 tablespoons flour
4 cups almond milk
2 tablespoons nutritional yeast (optional)
salt and pepper to taste
1/2 pound of pasta
3 cups roasted vegetables – beets, turnips, parsnips, and butternut squash
Cook pasta according to package directions. Set aside
Cook vegetables – preheat oven to 375. Cut vegetables into a small dice and roast with olive oil, salt, and pepper for about 40 minutes or until tender. Add to the pasta
Make the cream sauce – in a pot, heat olive oil. Add sage and garlic and sauté for about 3 minutes (you will see the sage go from a light green to dark green). Add the flour and whisk to combine with oil. Slowly pour in your almond milk, whisking as  you add.
Bring sauce to a boil, then reduce heat and simmer for about 10 minutes. Add nutritional yeast, salt and pepper. Using a hand blender, blend until sage is broken up and sauce is smooth (can also use a blender).
Combine sauce with the pasta and serve!