Roasted Tomato and Artichoke Pasta
I love pasta. I love pasta so much that I could eat it everyday, and I definitely have in the past. However, in an effort to not stuff my face with carbs consistently, I haven't been eating pasta that much, but that just means that I crave it all the time. So, once or twice a week I'll indulge in a huge bowl of pasta just to satisfy my "carb tooth". This pasta was definitely worth the wait.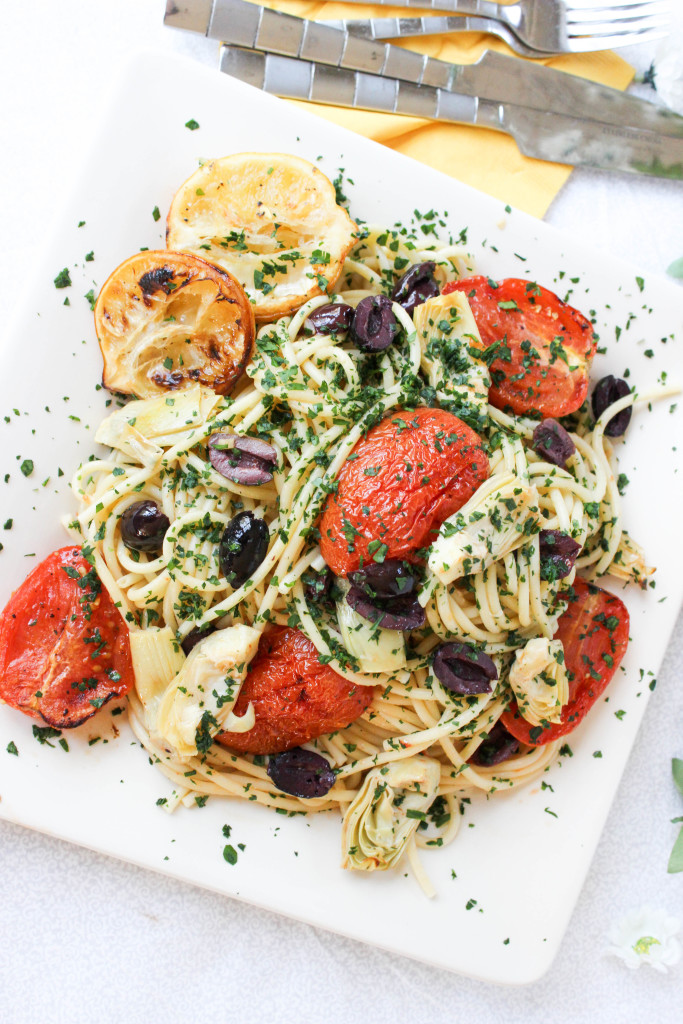 I love the idea of roasting vegetables simply because you throw them in the oven and let them be until they are ready. Easy right? Yes. At that point, all you have to do is boil the pasta and dinner is ready! For this pasta, I roasted the tomatoes, artichokes, and lemons, then sautéed the garlic on the side. Let me tell you, once you add the olives, the flavors are AWESOME! I'm a big fan of bold flavors (and lots of them) so this is definitely no exception to that rule. Not to mention, it's extremely colorful.
No, I don't care that it looks like a hot mess, because it tastes as good as Ryan Gosling's six pack abs look *wink*. In all seriousness though, this is a great pasta dish for spring, summer, feeding a crowd, just for yourself… I mean, it's extremely versatile. So throw those veggies in the oven and let's get roasting!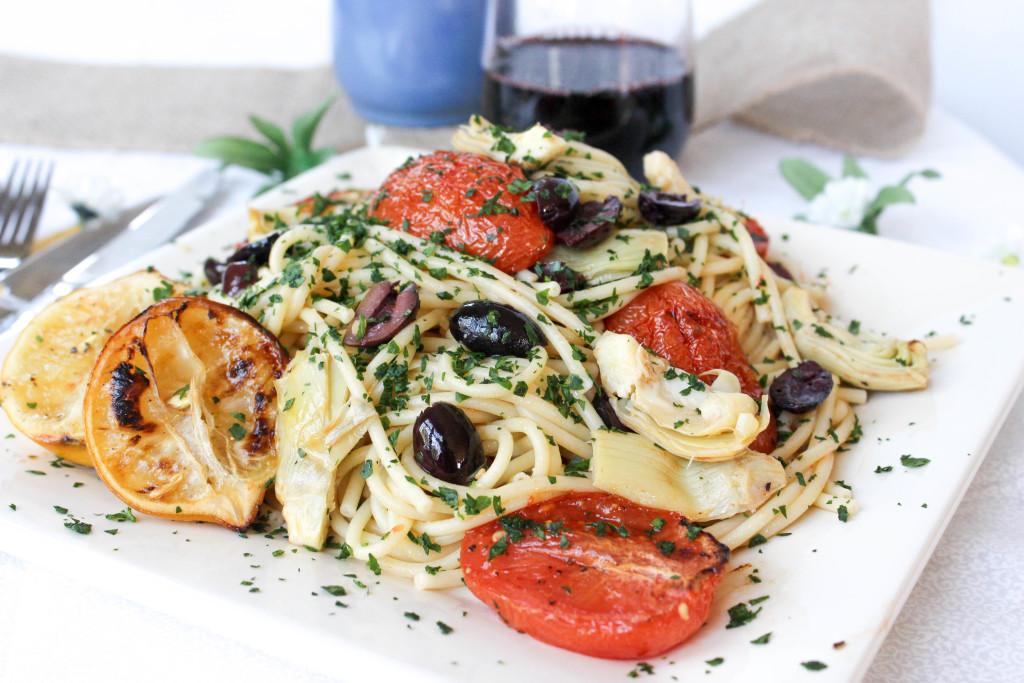 Roasted Tomato and Artichoke Pasta
Ingredients:
1 pound spaghetti
5 roma tomatoes
1 can quartered artichokes drained
2 lemons
1/2 cup kalamata olives
1/4 cup olive oil
6 garlic cloves – chopped
1/2 cup finely chopped parsley
salt & pepper
1. Pre heat oven to 400.
2. Cut tomatoes and lemons in half and place on a baking tray. Coat with olive oil, salt and pepper and place in the oven for 15 minutes. Add the artichoke hearts and continue cooking for another 20 minutes
3. In a small sauce pot, add chopped garlic and olive oil. Let steep on LOW (do not let it burn)
4. Cook your pasta as well while everything else is cooking.
5. Once the pasta is cooked and veggies are roasted, drain pasta and add tomatoes, artichokes, olives, and garlic oil to the pot
6. Sprinkle with parsley and serve immediately either with lemons on the side or drizzled on top.