Sesame Ginger Tofu Skewers with Peanut Dipping Sauce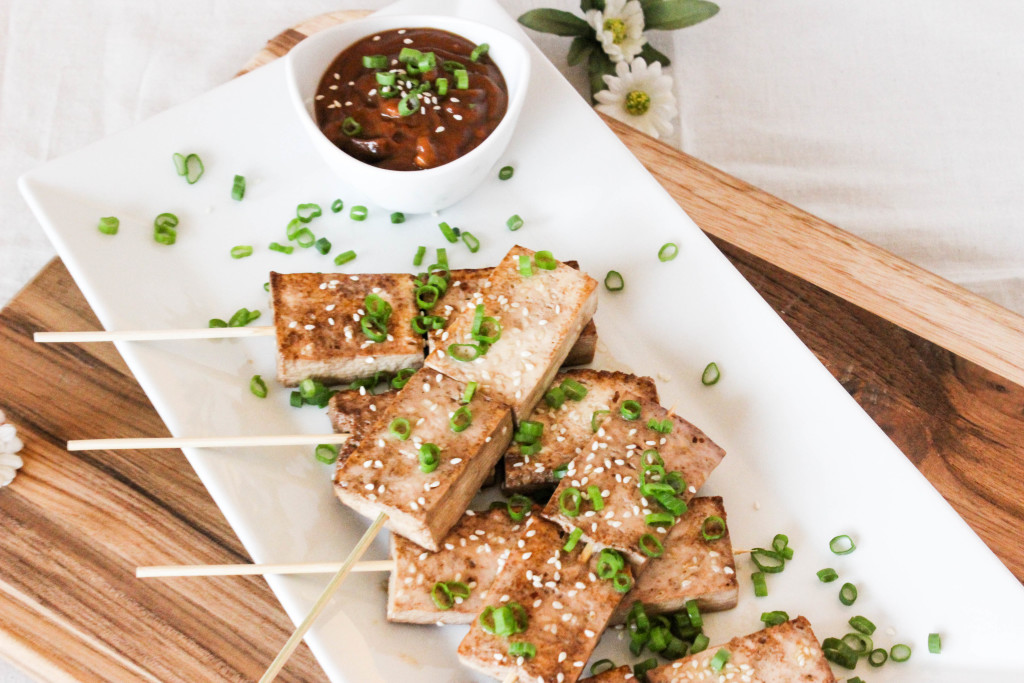 Talk about delicious tofu! I think that tofu gets a bad rep because people think it's boring, mushy, and just plain gross. I'll be honest, they aren't wrong, but they just haven't had tofu prepared properly! That's my opinion and I'm sticking to it!
I find that tofu is the most satisfying when it's marinated then seared. That way you get the crispy browned outside of tofu that is saturated with flavor. That is exactly how this recipe works. Just marinating the tofu for 5-10 minutes adds so much more flavor that wouldn't be there otherwise! It's like a little tofu sponge if you will.
However, my favorite thing about this recipe is the peanut sauce. You can use crunchy or smooth depending on what texture you want. Sometimes, I'll even put this peanut sauce over soba noodles with broccoli! Let me tell ya, that's delicious as well. Then again, anything smothered in peanut sauce has potential.
This recipe is great as an appetizer, for a party, finger food, or even as a meal! Try it with coconut rice, or even plain rice. You can't go wrong!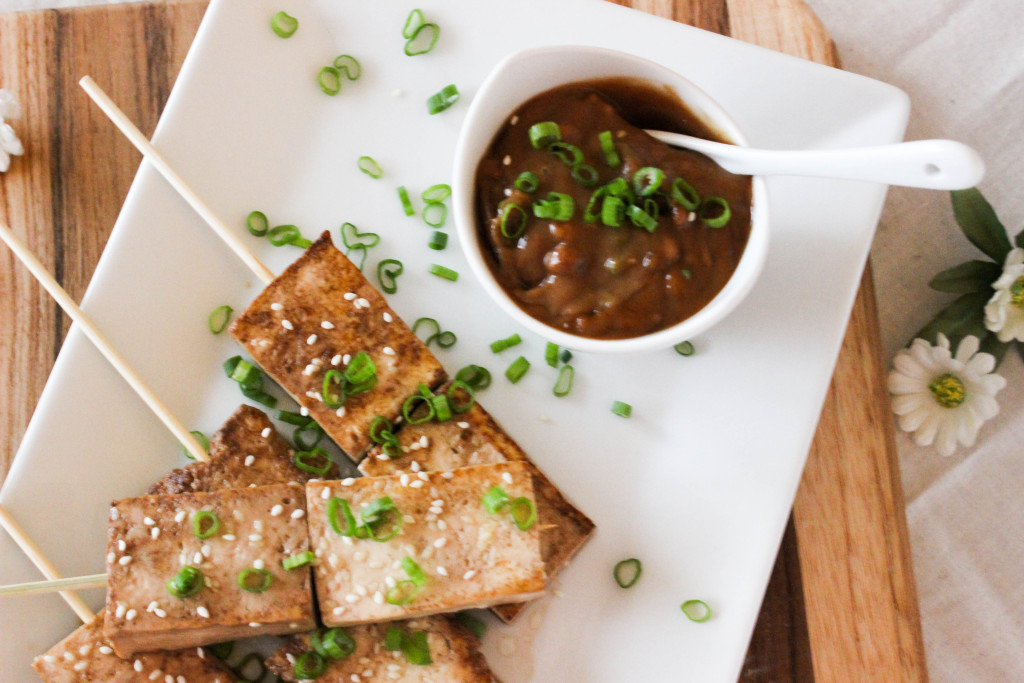 Sesame Tofu Skewers with Peanut Dipping Sauce
Ingredients:
1 pound tofu – cut into 12 pieces
3 tablespoons soy sauce
1/2 tablespoon sesame oil
1/2 tablespoon brown sugar
1/2 tablespoon sesame seeds
2 cloves garlic (very finely minced or 1 teaspoon garlic powder)
1/2 inch of ginger – grated
1 teaspoon sriracha (optional)
6 skewers
2 tablespoons oil for frying
For the sauce:
1/2 cup peanut butter
1/2 cup water
2 tablespoons soy sauce
2 tablespoons brown sugar
1 tablespoon rice vinegar
1 teaspoon sesame oil
Make the sauce: Combine all ingredients in a small sauce pot and bring to a simmer. Stir until all ingredients are combined, then remove from heat
Make the skewers: Marinate tofu in soy, sesame oil, garlic, sriracha, and sesame seeds for about 5 minutes. Heat a pan with oil and sear tofu on both sides. Remove from the pan and skewer 2 pieces of tofu onto eat skewer
*You could skewer the tofu before and then grill it as well. I always find it easier to skewer it after though.