S'mores Cookies
These cookies… YAAAASSSSSSS.
I've said it before and I'll say it again, I suck at making vegan cookies. For some reason, it just hasn't been working for me (kinda like that whole vegan brownie thing). Once in a while, I'll stumble upon some genius inspiration and make delicious cookies, but other times, I resign to the fact that vegan cookies are not my jam.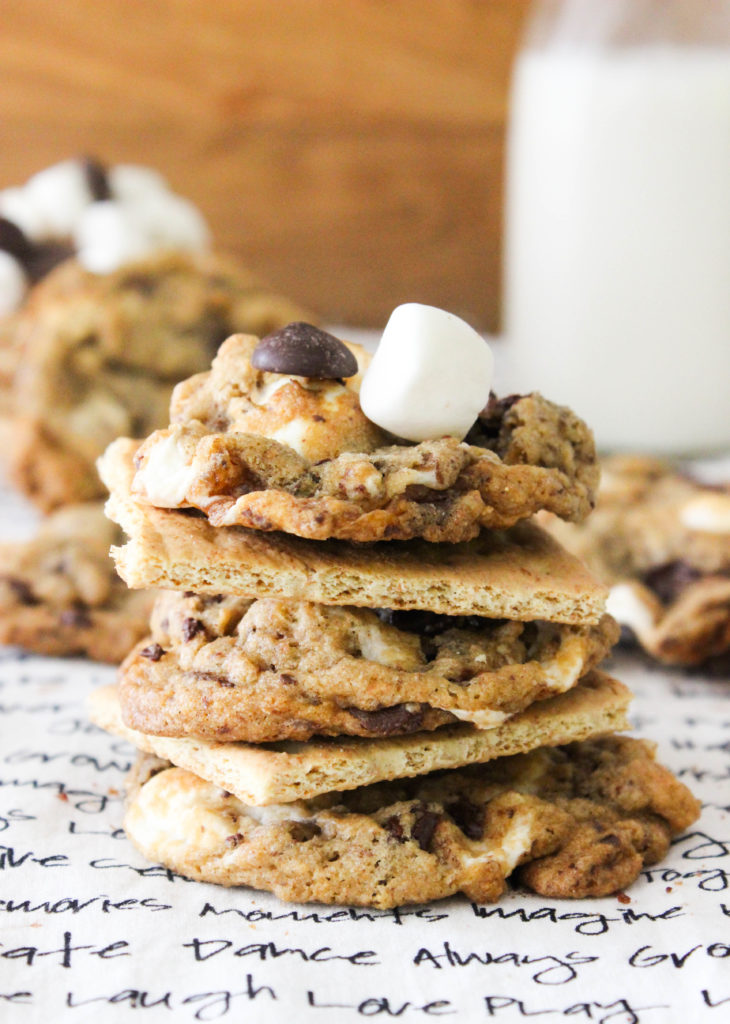 I was feeling quite bold and craving some good ol' choco chip cookies so I took to Pinterest to do some research … because everything on Pinterest works… not. I found a bunch of vegan chocolate chip cookie recipes and thought to combine some of them to make what I thought would work the best. But then… oh but then, I remembered that I had found VEGAN MARSHAMALLOWS during my most recent trip to Whole Foods. I didn't know what I was going to make with them when I bought them, but it turns out that I NEEDED them to make these cookies!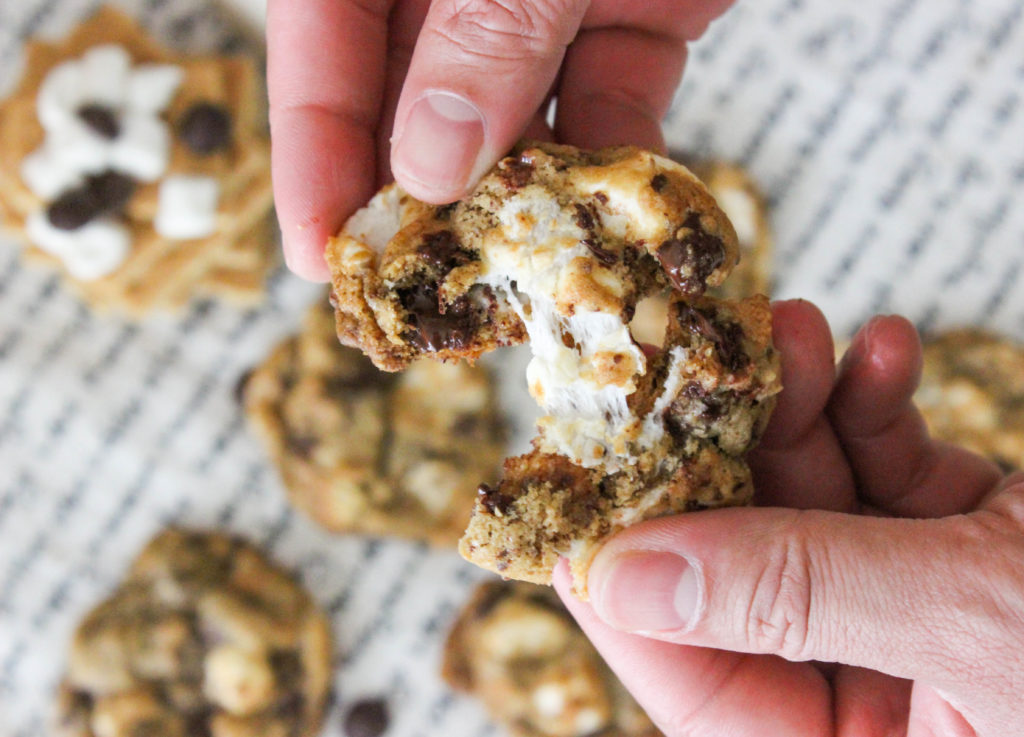 Using a basic chocolate chip cookie recipe and then making it into S'mores cookies was just genius. I've not only been craving a chocolate chip cookie, but I've also been craving s'mores. How perfect that this recipe came about :). Let me just say though, marhsmallows have a mind of their own when baking! You CANNOT control them! So don't be surprised if your cookies do not look like perfect circles because I promise you that will not happen.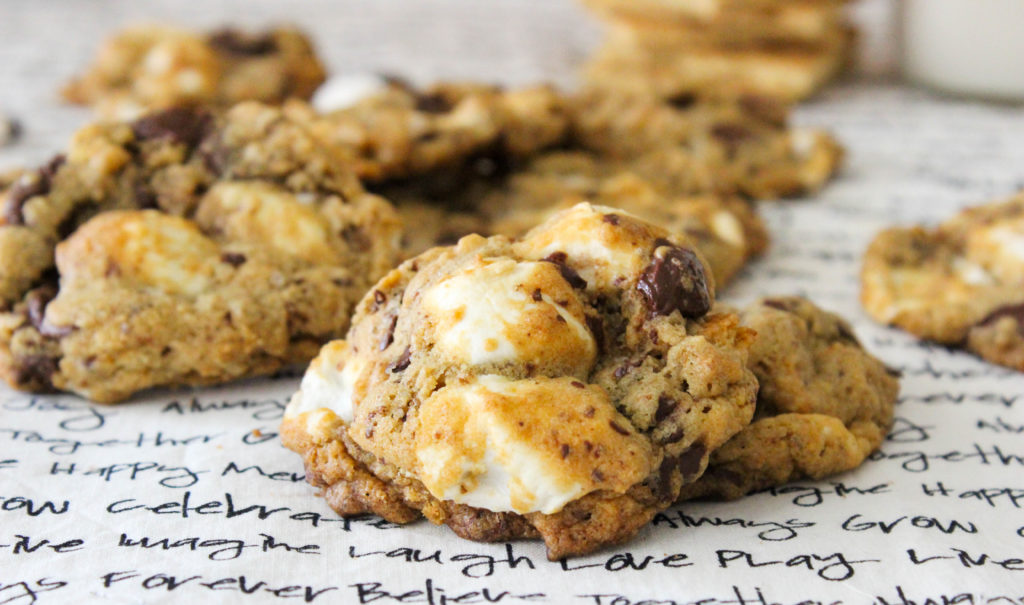 These cookies are SOOO GOOD! You get the graham cracker crunch, you get the melty chocolate, and then you get the gooey marshmallows all in a soft buttery cookie. Need I say more? The perfection is unmatched. We devoured a couple before I gave them away to my sister because I knew that we would eat them all if I didn't!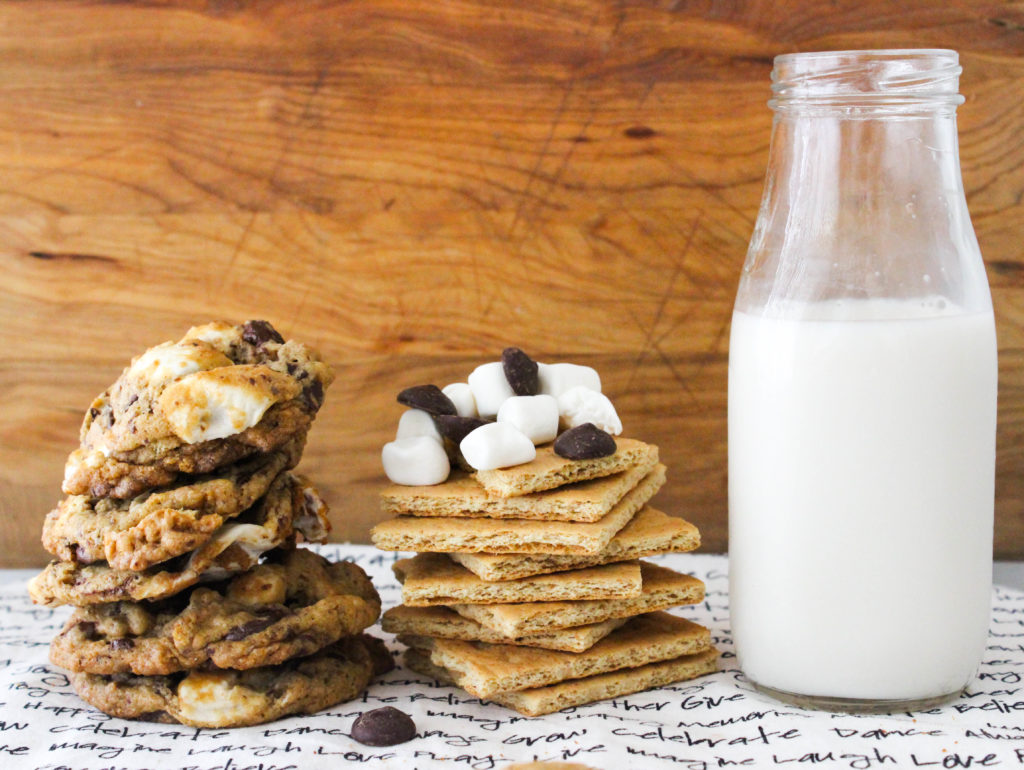 S'mores Cookies
Makes 18-20 cookies
Ingredients:
1 flax egg
1 cup flour
1/3 cup graham cracker crumbs (about 2 full sheets crushed)
1 teaspoon baking soda
1/2 teaspoon salt
1/2 cup vegan butter/margarine – room temp
1/3 cup brown sugar
1/3 cup white sugar
1 teaspoon vanilla ext.
2-3 graham cracker sheets roughly broken
1 cup vegan mini marshmallows (such as dandies brand)
1 cup vegan chocolate chips roughly chopped
Preheat oven to 350 degrees
Combine dry ingredients in a small bowl and set aside
Cream butter with sugars until all incorporated. Add in vanilla extract and combine again. finally, mix in flax egg
Dump in your dry ingredients and continue to mix until just combined
Stir in the graham crackers, marshmallows, and chocolate chips
Scoop onto slightly greased cookie sheet (will help the marshmallows not stick) and bake for 11 minutes. They will look not done, but let them cool on the cookie sheet for about 2 minutes before removing