Southwestern Stuffed Sweet Potatoes
I. Love. Carbs. Pasta, potatoes, bread, load it up!
When trying to eat healthy, it's important to understand the difference between complex and simple carbs. Complex carbs give you long lasting energy and include foods such as sweet potato, whole wheat pasta, and oatmeal. Simple carbs give you quick energy and include foods such as fruit. Needless to say, if you want to be fuller longer, you eat complex carbs. This recipe was developed based on that idea. I wanted something delicious that would also give me some long lasting energy.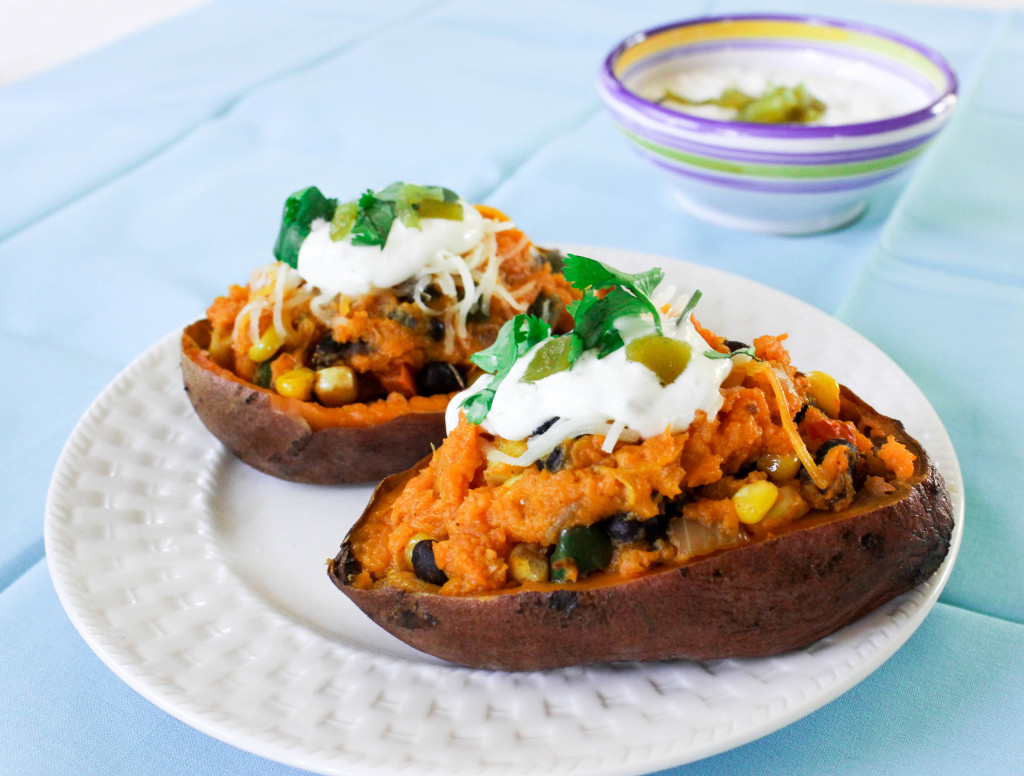 I absolutely love sweet potatoes. Not only is it a great energy booster, it's also a great canvas for unique flavors.  In this recipe, you're not simply taking a sweet potato and patting it with butter, you're adding chili powder, veggies, and lime to make it taste like something you've never had before. Not to mention, topping it off with a green chili sour cream! While sour cream might not be AS good for you, it's not going to hurt you either.
Both my mom and sister raved about this recipe so that means that it's definitely approved…I think.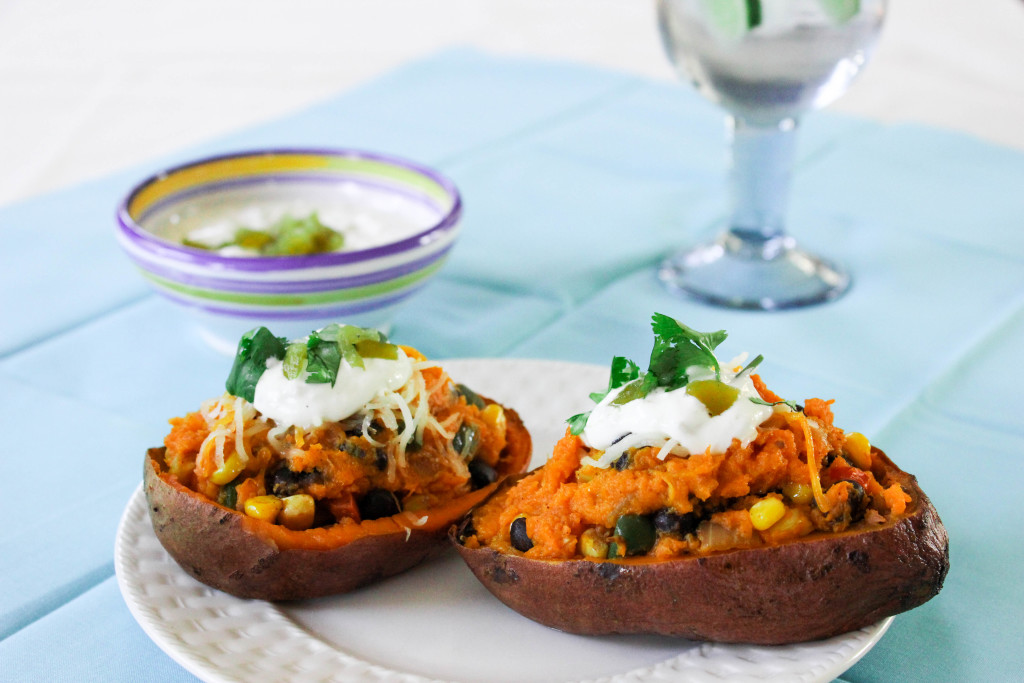 Southwestern Stuffed Sweet Potatoes with Green Chili Sour Cream
Ingredients:
2 medium sized sweet potatoes
1/4 cup red pepper- diced
1/4 cup green pepper- diced
1/4 cup onion- diced
1 glove garlic- diced
1/2 cup corn
1/2 cup black beans
1 teaspoon chili powder
1 lime – zest and juice
salt and pepper to taste
4 tablespoons sour cream
2 tablespoons roasted green chili (from a can)
1. Make the chili sour cream- stir sour cream with chili's and place in the fridge.
2. Pre-heat oven to 375
3. Rub the sweet potatoes with olive oil and salt until fully coated — you're going to eat the skins so you want it to be nice and seasoned
4. Bake the sweet potatoes until tender – about 1 hour.
5. Make the filling – in a sauce pan combine the peppers, onion, and garlic. Cook until translucent.
6. Add the chili powder and garlic – cook for about 2 minutes
7. Add the corn, beans, and lime. Mix until all combined well. Take off heat
8. Take the sweet potatoes out of the oven and cut in half lengthwise. Scoop the flesh out of the sweet potato (keeping the skin in tact) and add to the vegetable mixture. Stir well.
9. Add the sweet potato mixture equally into the skins and cook for about 10 more minutes.
10. Serve with cheese and chili sour cream!