Spiced Black Bean and Roasted Jalapeno Guac Tostadas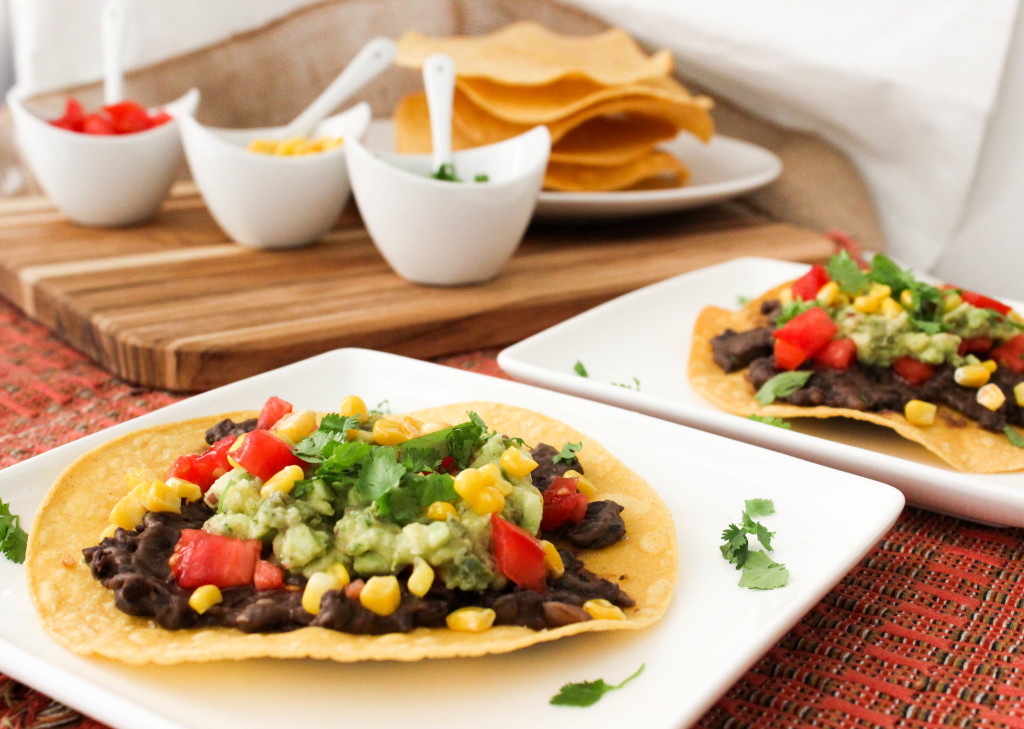 I love this recipe so much. It came together in about 20 minutes, was so easy, and tasted AMAZING! There are so many layers of flavor that come together and combine so well to create the perfect tostadas. I love tostadas especially after we've had tacos just because it's a different way to use the corn tortilla and also it's less likely to break (which is probably my biggest pet peeve ever!).
I love this bean recipe more than anything. I put it in tacos, on tostadas, eat it for breakfast, and even put it on my pizza instead of sauce! Seriously, it's that amazing. I'd also be tempted to use it as a dip, or even just eat it on it's own, let's be honest here. After you make these beans, I GUARANTEE that you will never buy canned refried beans ever again. I don't think my family has bought a can in about 5 years after it used to be a staple in our pantry. Trust me on this…. I got this!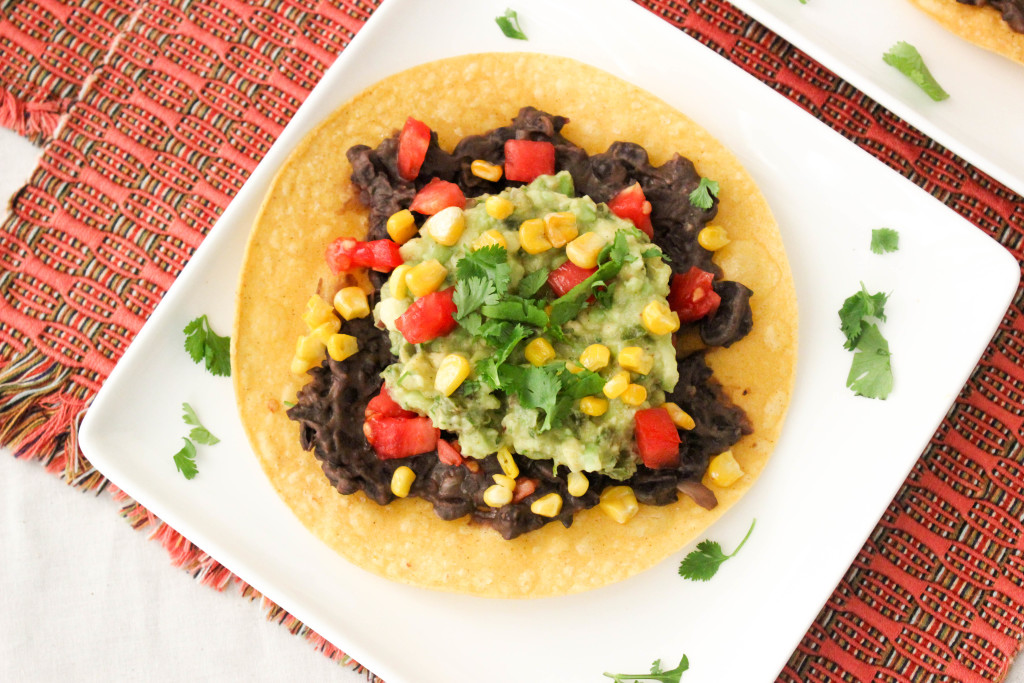 Spiced black bean and roasted jalapeno guac tostadas
Makes 4-6 tostadas
Ingredients:
For the beans:
1 -14 oz can black beans with liquid
1/2 onion- small dice
1 garlic cloves – crushed
1 teaspoon salt
1 teaspoon cumin
1 teaspoon coriander
1/2 teaspoon thyme
2 tablespoons olive oil
Sauté onion in olive oil until translucent. Add in garlic and spices. Stir 1 minutes. Add in the beans with the liquid and stir to combine. Let simmer until juices reduce by 1/2
Using a potato masher (or food processor), mash the beans until you get a smooth consistency. Note: you can mash 1/2 way to leave some texture.
Serve on tostadas
For the Guac:
2 avocados – diced
2 tablespoons finely diced red onion
1 tablespoon chopped cilantro
1/2 teaspoon garlic powder
1/4 teaspoon paprika
salt and pepper to taste
1 jalapeno
juice of 1/2 lime
Roast the jalapeno – cut it in half and deseed it. Place on a baking sheet (sprayed with cooking spray) at 375 for 10 – 15 minutes. Dice small
Mix all ingredients together.
Extra ingredients:
4-6 Corn tortillas, lightly fried (or baked)
lettuce
tomato
sour cream or cheese (if not vegan)
roasted corn
cilantro