Sweet Potato and Chicken Sausage Hash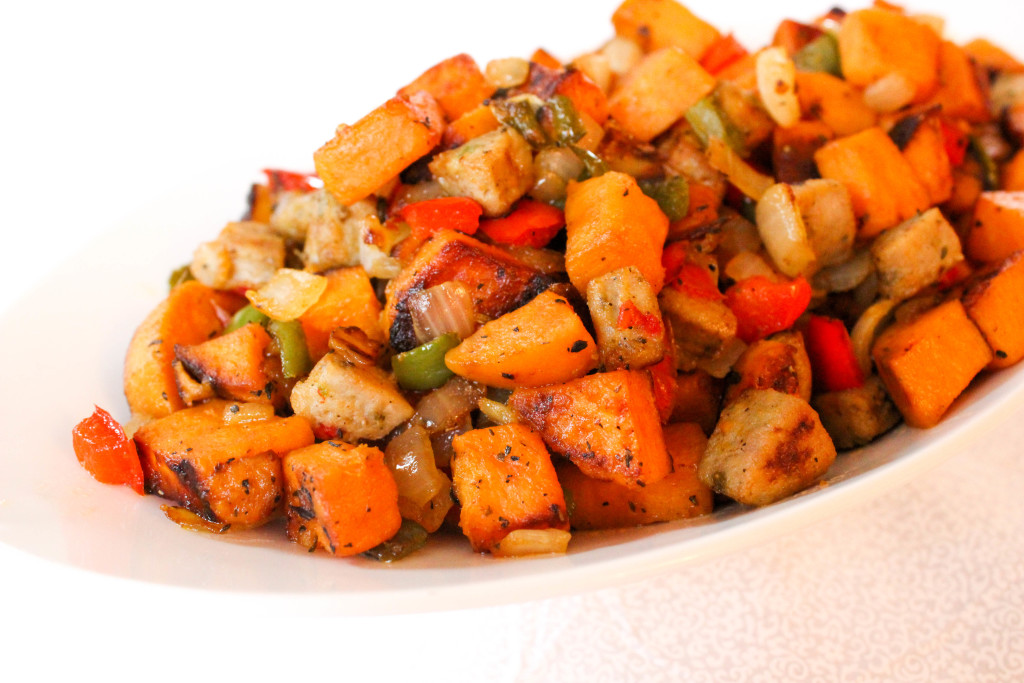 Let's keep this post short and sweet, shall we?
This recipe was 100% inspired by my good friend Mana. We met working at 24 hour fitness and became friends quickly through folding towels and talking fitness. I only got to spend a couple of times with her when she cooked, but she is an amazing chef! She loves the presentation of it all, and loves that she's never served her husband on paper or plastic plates (except for once lol). She posted a picture of this recipe on instagram and I had to ask her how to make it! I change a couple of things to fit my taste but it came out delicious! Perfect for breakfast with eggs, nice and savory :).
The sweet potatoes give you a nice boost of complex carbs to keep you going throughout the day, a couple of veggies with the peppers (could definitely add others), and protein from the sausage! Look for sausage that has low sodium, or even one without the casing! I saw them the other day at the store and they are yummmmmm.
Check out her blog, Indulgent Style Kitchen, where she cooks healthy and delicious cuisines that are easy to create and beautiful to eat.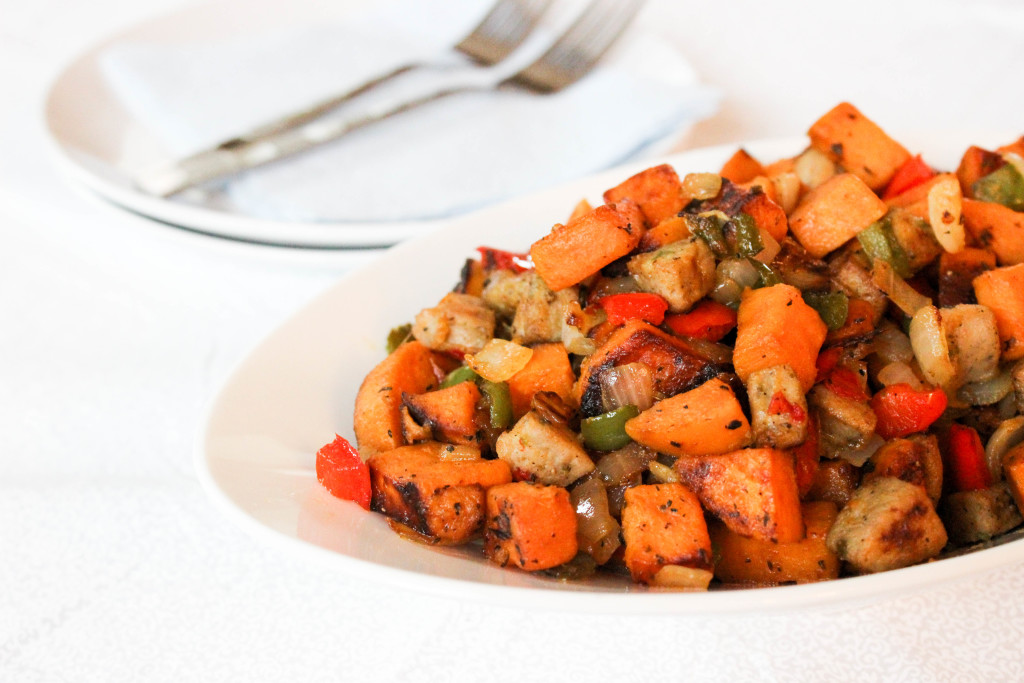 Sweet Potato and Chicken Sausage Hash
Ingredients:
1 large sweet potato – small dice
2 chicken Italian sausages – diced
1/2 red bell pepper – chopped
1/2 green bell pepper  – chopped
1/2 cup chopped onion
2 garlic cloves – minced
salt and pepper to taste
2 tablespoons olive oil
1. In a large pan, heat the oil and sauté the sweet potato until almost tender. This should take about 10 minutes. You can add a little bit of water to help it steam a little bit but this is optional
2. Add the onion and bell peppers and continue cooking until vegetables are soft.
3. Add the sausage and garlic. Stir well to make sure all is incorporated and then let it cook for about 5 more minutes until the flavors meld together
4. Add salt and pepper to taste – serve immediately!