Triple Chocolate Cheesecake Bites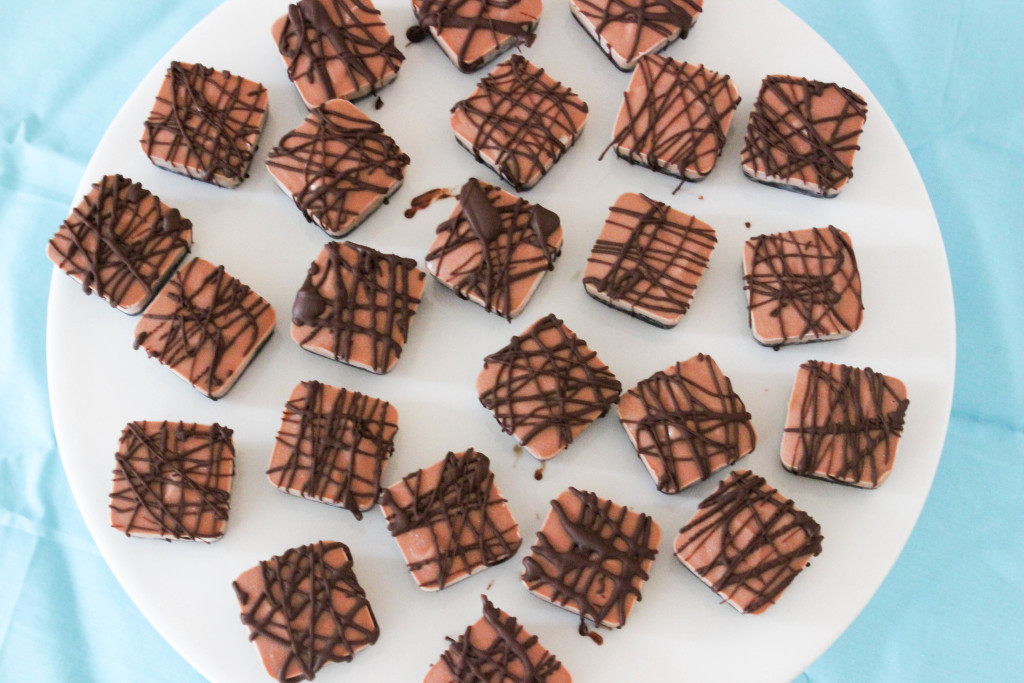 Ok ya'll. I'm officially obsessed with vegan "cheesecake"…especially the chocolate variety.
I've only tried making vegan cheesecake one other time which was my raspberry orange cheesecake and while I did enjoy those flavors and textures, this triple chocolate variety is out of this world! There are chocolate cookies in the crust, melted chocolate in the mix, and just for more chocolate I drizzled it on top! Basically I created a chocoholics dream, just sayin'.
These literally, LITERALLY, melt in your mouth. The crust is a little chewy from the dates which adds a great texture, then you get the creamy chocolate center, and the crunch from the chocolate on top. The only thing that absolutely sucks about this recipe is the time spent waiting for the cashews to soften while they soak #teartear.
For this specific recipe, I wanted to make little bites so I used a silicone mold that I found at a crafts store for relatively cheap. The silicone makes it really easy to pop them out once they've been in the freezer which is a super perk. However, if you don't want to invest in a silicone mold, you can use an 8×8 pan lined with parchment, OR use mini cupcake tins but make sure to make little tabs out of parchment so you can pull them out easily. Either way you choose to do it, they'll still be delicious.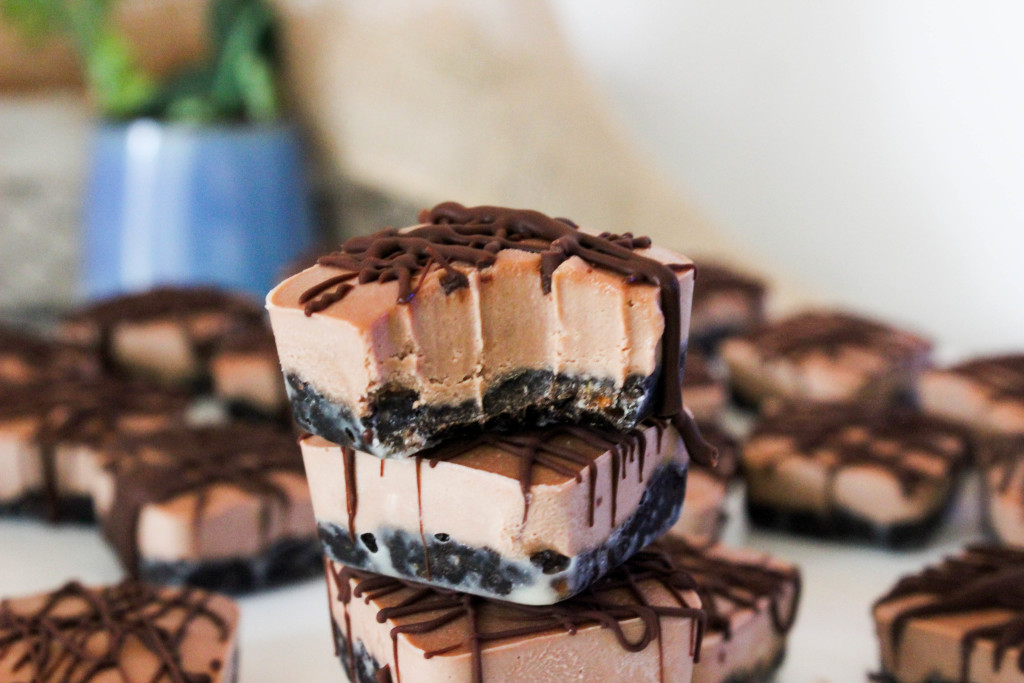 Triple Chocolate Cheesecake Bites
Makes about 24 small bites
Ingredients:
8 chocolate sandwich cookies
10 medjool dates (soaked for about 5 minutes with pits removed)
1 tablespoon coconut oil
1.5 cups cashews – soaked for 2 hours in hot water
1/2 cup coconut cream
1/4 cup maple syrup
1/4 cup melted coconut oil
1/4 cup melted chocolate
An extra 1/4 cup melted chocolate for topping
Make the crust: Blend cookies, dates, and coconut oil in a food processor until it begins to come together. Equally divide crust into 24 silicone molds, or small muffin tins. Press firmly
Make the filling: Combine cashews (drained), coconut cream, maple syrup, coconut oil, and chocolate in a blender until completely smooth. Divide evenly into the crusts.
Freeze bites for at least 3 hours or until very firm. Remove from molds and place on a piece of parchment paper. Drizzle with melted chocolate. Store in the freezer!