Vegan Chocolate Cupcakes with PB Swirl Frosting
FINALLY a successful vegan chocolate recipe! I've tried about 4 different recipes to satisfy my chocolate craving and surprisingly non of them worked :(! I always wonder why my desserts never turn out the way the recipe intended, and doesn't even look like the pictures that I find! Maybe I did something wrong in the process, maybe I was too impatient! Whatever it is, I messed up on 4 different recipes before this one.
Most vegan chocolate recipes I found had some type of dairy free milk mixed with vinegar to essentially make a buttermilk. I found that those recipes left my cupcakes with a somewhat 'jello' texture that was plain gross. This recipe however, does not use milk, but water instead. AKA- cheaper and a fluffier cupcake!
I use this recipe for almost every cake that I make. If you follow me on instagram, you'll see that I used it to make a salted caramel frosting covered chocolate cake which was ridiculously good (using my salted coconut caramel). This is legit the perfect chocolate vegan cupcake/cake recipe and I promise you you'll agree with me.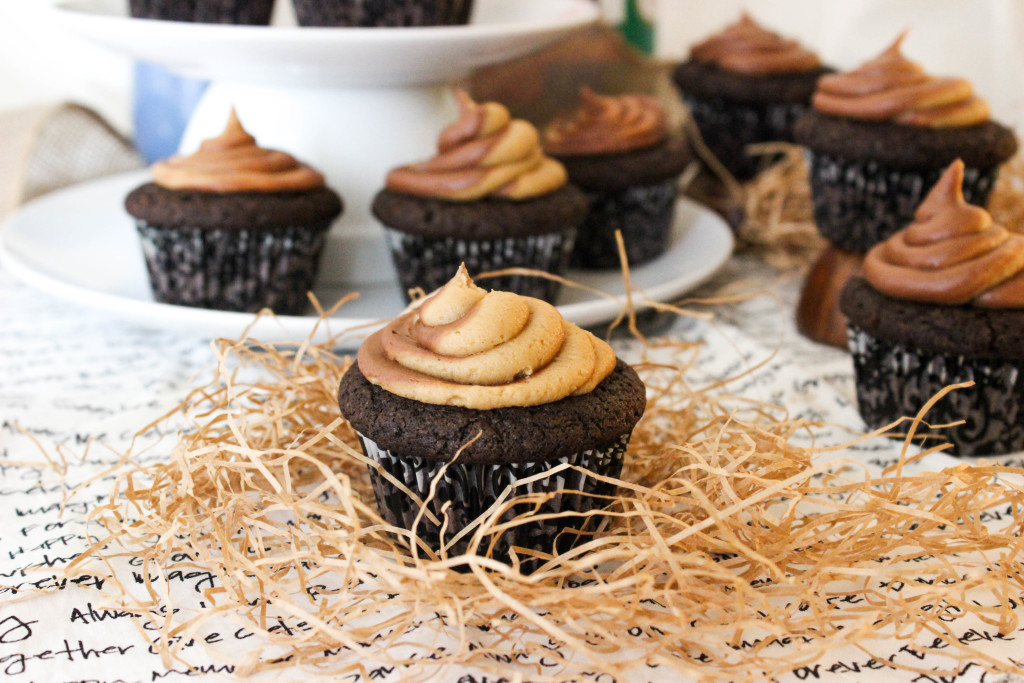 Vegan Chocolate Cupcakes with PB Swirl Frosting
Makes 12-15 cupcakes
Ingredients:
For the Cupcakes:
1 1/2 cups water
1/2 cup coconut oil
1/2 tablespoon apple cider vinegar
1/2 tablespoon vanilla extract
1 3/4 cup sugar
2 cups flour
1/2 tablespoon baking soda
1/4 tablespoon salt
1/2 cup cocoa powder
Add dry ingredients to the mixer and mix until fully combined
Combine the wet ingredients in a separate bowl and add to the dry. Mix until completely smooth (about 3 minutes)
Bake at 350 for 25-30 minutes
For the PB Swirl Frosting:
PB Swirl:
3 tablespoons margarine
2/3 cup peanut butter
1 tablespoon almond milk
3/4 cup powdered sugar
Cream margarine with peanut butter. Slowly add in powdered sugar until smooth. Whisk in almond milk at the end
Chocolate Swirl:
5 tablespoon margarine
2 tablespoons peanut butter
2 tablespoons cocoa powder
1 tablespoon melted vegan/dark chocolate
3/4 cup powdered sugar
Cream margarine and peanut butter. Slowly add in powdered sugar and cocoa powder until smooth. Beat in melted chocolate until combined.
In a piping bag, add the peanut butter frosting to one side, and the chocolate swirl to the other side.