Vegan Fried Risotto Balls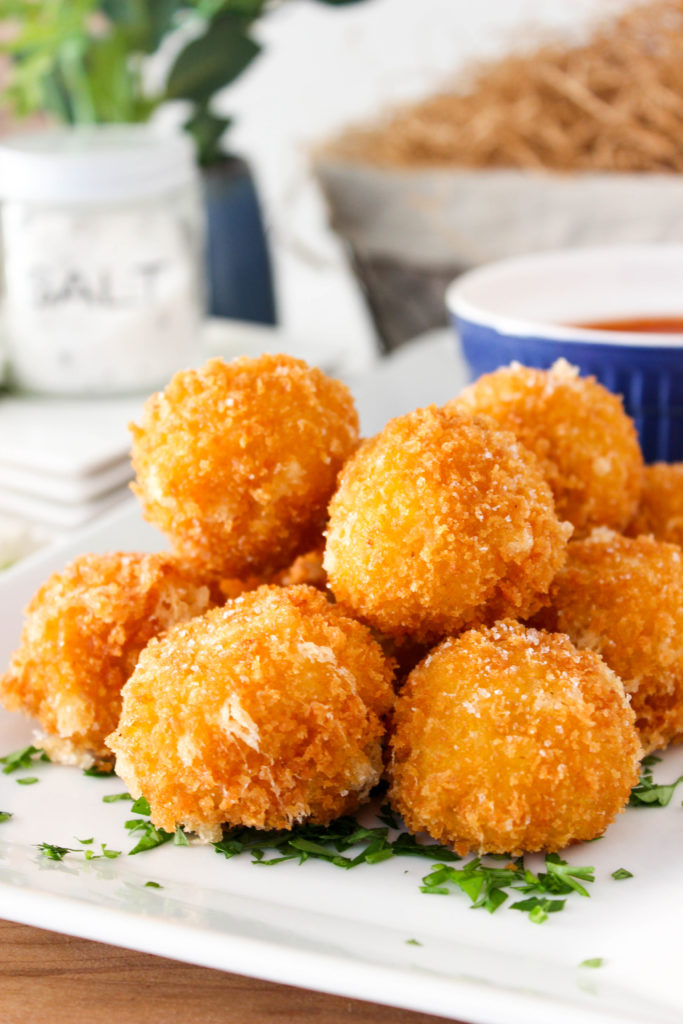 More famously known as arancini, these fried risotto balls are a magical food that everyone needs to make at least once in their life! They are quite time consuming, but it's well worth the effort.
I first made arancini in culinary school. It seemed so easy considering we had liquid nitrogen to freeze them and a rather large deep fryer for cooking, so I don't know why I thought doing it at home would be just as easy. Needless to say, it wasn't. However, it wasn't hard either! Just waiting around a lot for the balls to freeze, then waiting for oil to heat up. Otherwise, making the risotto is a breeze!
When I made these, my boyfriend was in absolute shock! We quickly ate them all without thinking about calories and then wished we had more to eat! They are crunchy, warm, cheesy, and so delicious that I can't imagine anything more comforting than 20 of these. I've even thought about making them for get together with friends to which my boyfriend replies "No, make them all for me!". I think it's safe to say that they are a winner!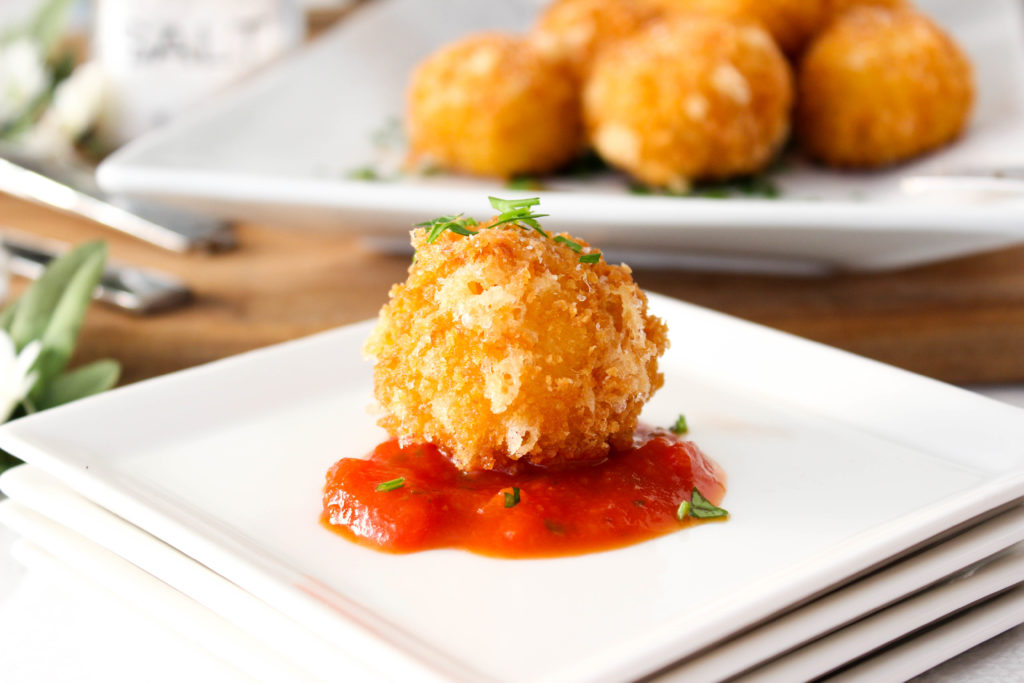 Vegan Fried Risotto Balls 
Makes 15-17 balls
Ingredients:
1/2 small white onion, finely chopped
1 garlic clove, finely minced
2 tablespoons olive oil
1/4 cup white wine
3/4 cup arborio rice
2 cups vegetable broth
3 cups water
1 cup vegan mozarella cheese
1 cup panko breadcrumbs
3 cups canola oil
truffle salt (optional)
marinara for dipping
Heat vegetable broth and water in a small pot. Does not need to be simmering, just hot
In a sauce pan, heat olive oil and saute onion until just transparent. Add the garlic and cook until fragrant.
Add in your rice and stir to coat in the oil. Let toast for about 1 minute
Add the white wine. Continue to stir until wine is absorbed into rice
Start adding the water/veg broth mixture by the 1/2 cup. Once you add 1/2 a cup, stir the rice until most of the liquid has been absorbed. Continue to add liquid and stir rice until the rice is cooked through.
You want the rice to be slightly overcooked and less 'liquidy'. Once you add the last amount of liquid, keep stirring the rice for about another 5 minutes. You want it to be somewhat 'sticky' and thick.
Spread rice mixture onto a sheet tray and place in the fridge until completely cooled
Place cooled rice in a bowl and mix with the cheese. Scoop into equal sized balls and roll into the panko. Freeze risotto balls completely (about 2 hourts)
Heat the oil to about 350 degrees (or put a little bit of panko in the oil and when it bubbles, it's ready!). Fry each risotto ball for about 5 minutes or until golden brown. Remove from oil onto a paper towel and sprinkle with truffle salt. Serve with marinara!