Walnut Chocolate Chip Blondies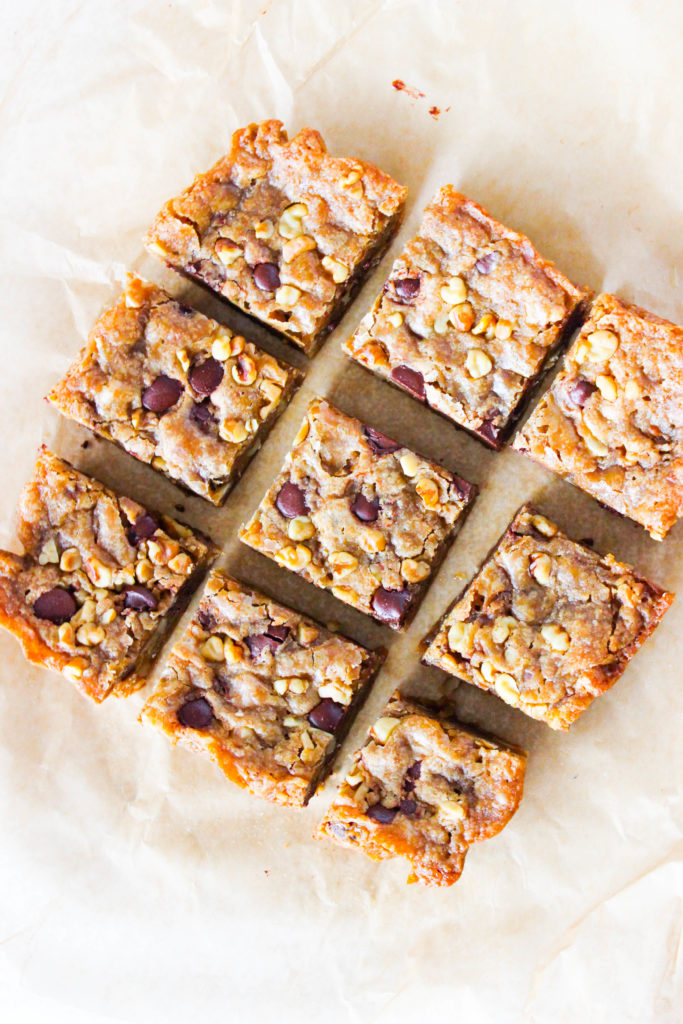 Sometimes you just want a gooey, buttery, chocolatey treat that is not good for you and you may or may not regret it in the morning but at the time it's the best idea in the world. I'm telling you, for those moments you need these blondies. Not only are they extremely easy to make, but they satisfy the ultimate sweet tooth.
The only thing you need to know about these blondies is that you need to make them ahead of time. They need time to cool and firm up which could take up to 1 hour… but the longer the better! They will still be soft and gooey, but at least they won't be falling apart in your hand. Don't let the wait time deter you though! They are so worth every minute you have to wait for them to cool. I promise.
Walnut Chocolate Chip Blondies 
Ingredients:
1 stick vegan butter – melted
1 cup packed brown sugar
2 teaspoons vanilla extract
1 flax egg
1 cup flour
1/2 teaspoon baking powder
1/4 teaspoon salt
1/2 cup chopped walnuts
1 cup chocolate chips
Preheat oven to 350.
Mix the brown sugar and butter until combined. Add in the vanilla and flax egg, mixing well until combined.
Add in the flour, baking powder, and salt, stirring gently until just combined.
Fold in your walnuts and chocolate chips
Press mixture into an 8×8 pan lined with parchment paper
Bake for 40-45 minutes until the edges and top are browned.
Let bars sit for at least 1 hour before cutting! This gives them time to set. (The longer you can leave them the better)