Wild Rice and Cranberry Stuffed Acorn Squash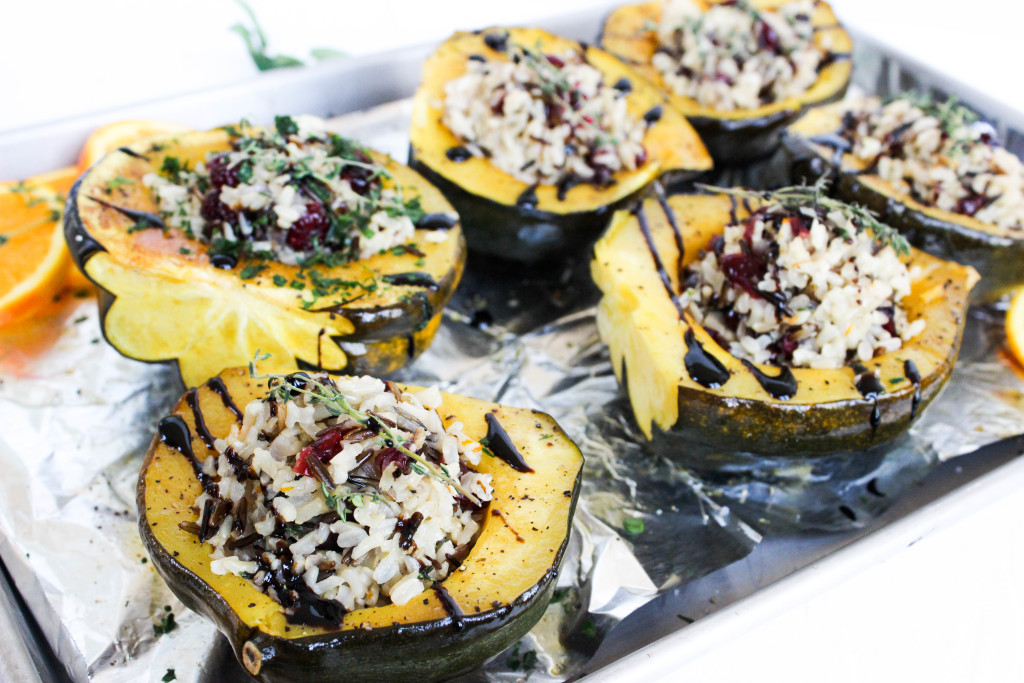 This is probably one of my all time favorite vegetarian recipes. I had originally wanted to make this for Thanksgiving, but for the sake of being "traditional", we didn't. However, it would have  been a FANTASTIC side (or main dish) all on it's own. In fact, I'm actually making this dish again this week! What a coincidence…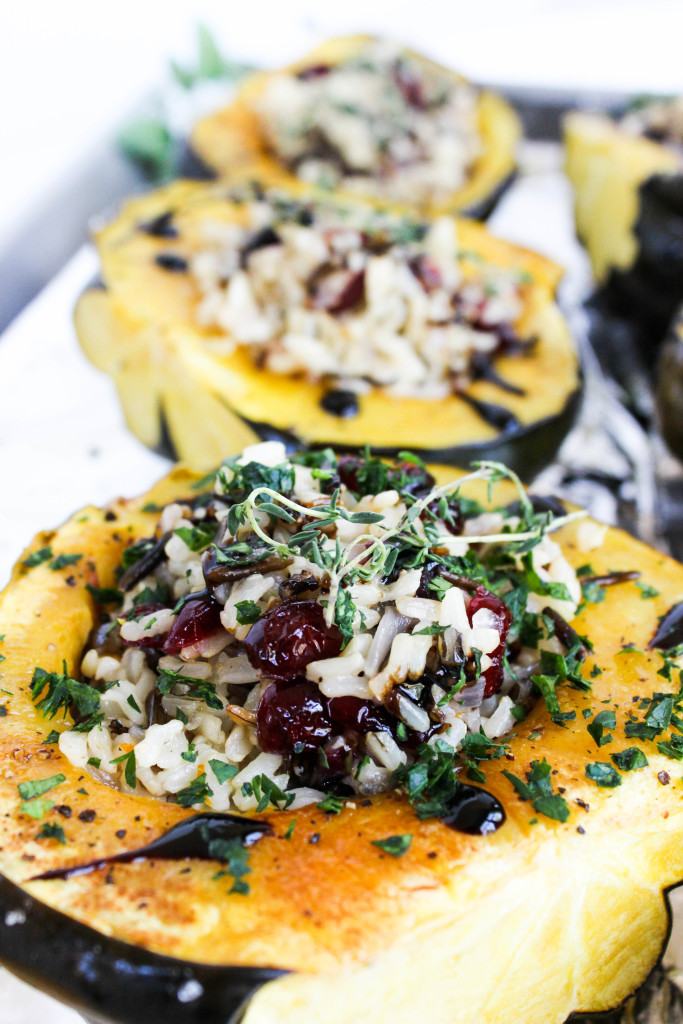 I got the idea for this recipe watching TV. It was a commercial or something short where I happened to look at the screen and saw an acorn squash stuffed with… well, something. Then, voila! It came to me — believe it or not, it definitely happened like that. When I served it, we had a salmon dinner with this as a side dish. It was so fresh and perfect with a salad on the side. A truly complete meal.
This recipe is also great (especially right now) because my boyfriend and I are going vegan (or should I saw plant based) for 1 month! We watched the documentary 'Forks over Knives' the other day and if you've ever seen it, then you'll know what I mean. I actually watched that documentary 3 years ago which resulted in me being a vegan/vegetarian for about 6 months until I moved home and started eating meat again. Whenever I watch it, it completely shocks me. It's also instantaneous to where I become disgusted with meat and can't even eat it the next day! We are excited because it allows us to be creative with what we eat and we are eating sooooo mucccchhhh.
Other vegan recipes that we are making (or have made already) include my carrot cake oatmeal, and coconut chia pudding! Both great options for breakfast or even snacks. Are you a vegan? HELP US OUT and tell me some of your favorite recipes :). I still have recipes that aren't vegan that I want to share, but will try to share as many of the creations that we made this next month!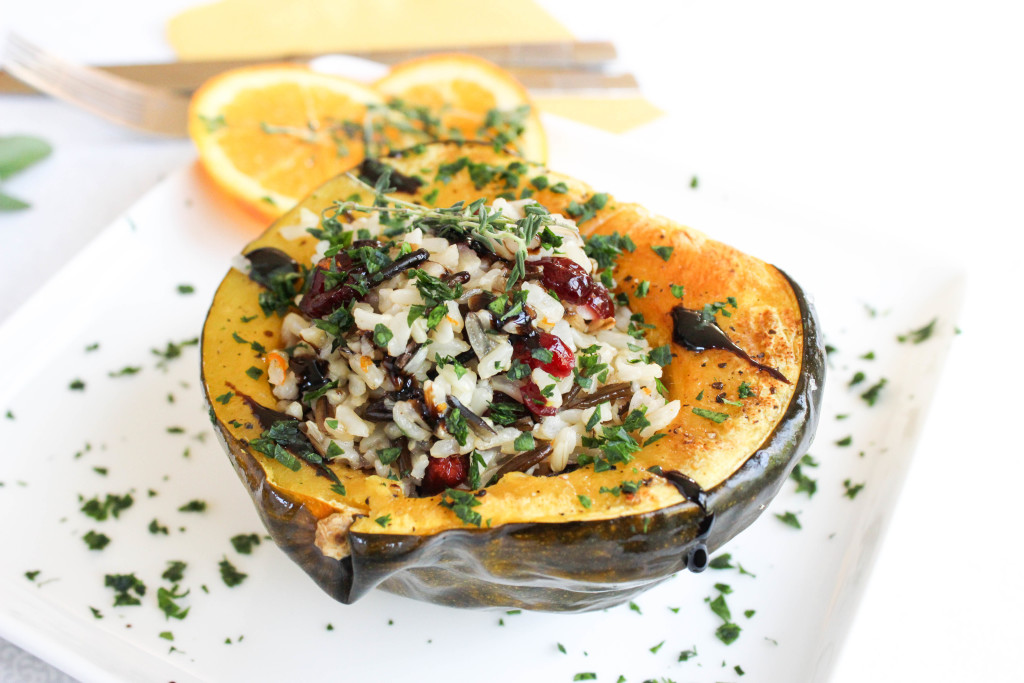 Wild Rice and Cranberry Stuffed Acorn Squash
Ingredients:
3 acorn squash- cut in half with seeds removed
3 cups cooked wild rice
2 tablespoons butter (omit for vegan option)
1 tablespoon olive oil
1 shallot – minced
3 garlic cloves – minced
zest of 1 orange
1 teaspoon fresh thyme
1/2 cup veggie stock
1/2 cup dried cranberries
salt and pepper to taste
1. Brush inside of squash with olive oil and sprinkle with salt and pepper. Place face down on a baking pan lined with foil and place in a 400 degree oven for 25 minutes or until tender
2. In a sauté pan, add the olive oil and butter. Saute with shallot until translucent. Add the garlic, thyme and sauté for about 2 minutes
3. Stir in the orange zest, rice, and cranberries. Cook, stirring constantly for about 3 minutes. Add the veggie stock and continue stirring until almost all the liquid is absorbed. Add salt and pepper to taste
4. Stuff about 1/2 cup of filling in each squash. You can serve immediately, or bake again, covered at 350 for about 15 minutes.
5. Optional- drizzle with balsamic glaze and top with chopped parsley