Apple Pie Wontons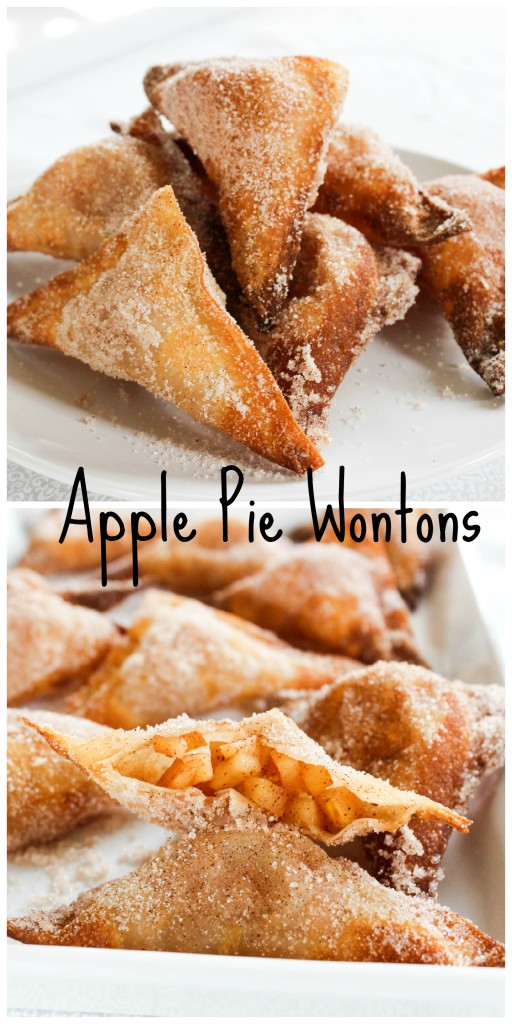 After I made my Chicken Avocado Bacon Egg Rolls, I had a lot of egg roll wrappers left over and didn't know what to do with them! I thought about just frying them up and dipping them in cinnamon sugar, but then I saw a poor, sad apple sitting all alone on the counter. I grabbed it, chopped it up, threw it in the wrappers, and fried them up.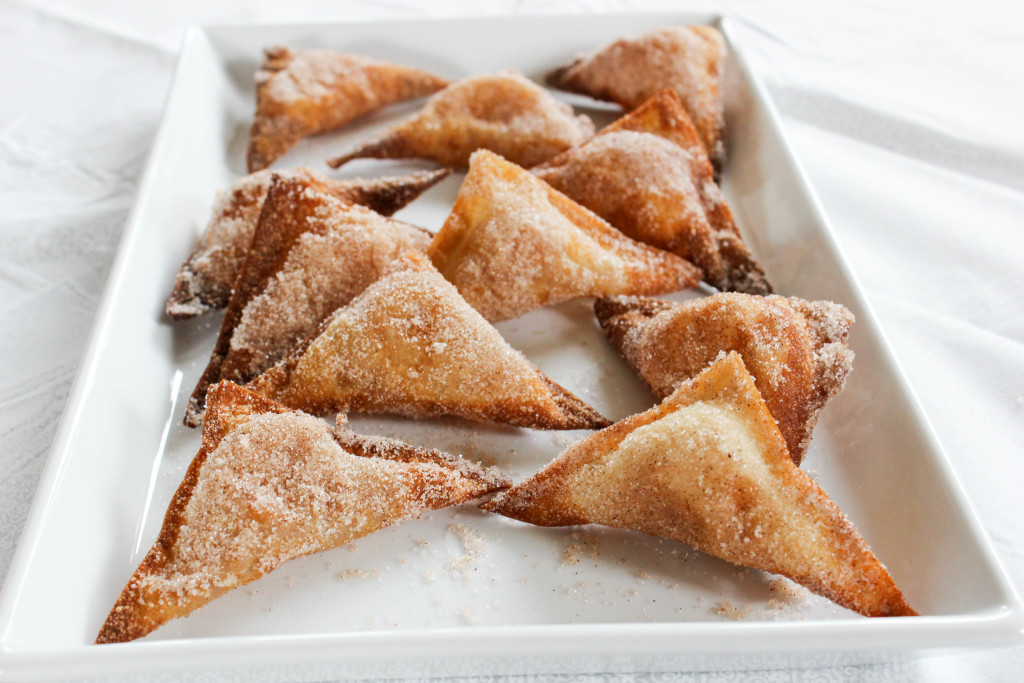 They are so sugary and cinnamony (<– yes that's a word) and just melt in your mouth! Not to mention, they look super cute and are unbelievably addicting to eat. Make sure you serve them right away so they keep their crisp but remember to warn people that they are hot!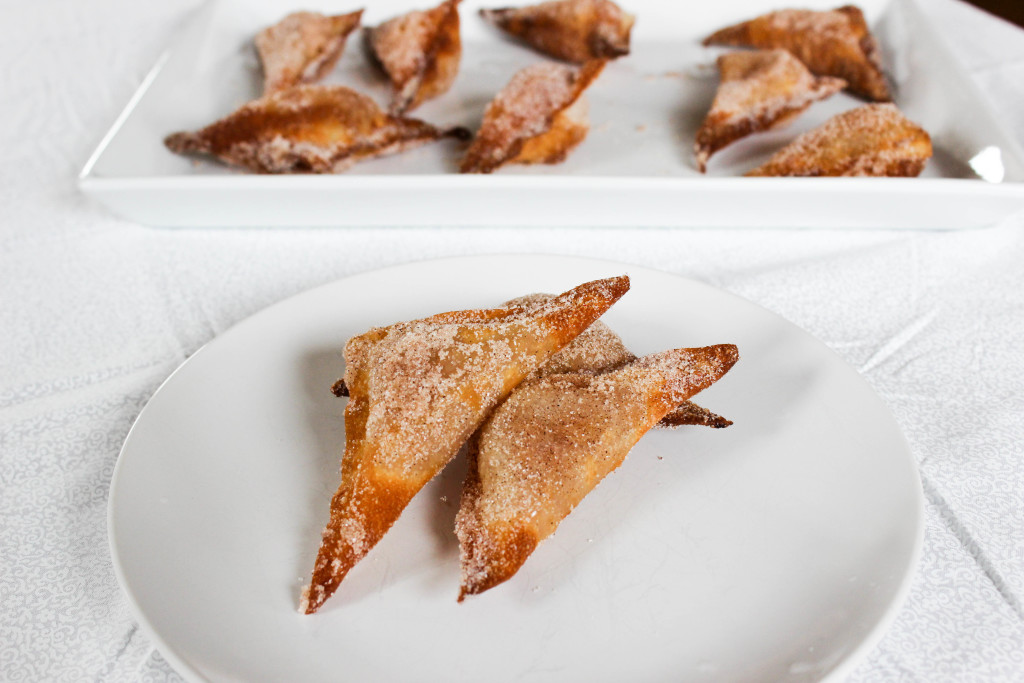 These come together in about 7 minutes which is the perfect amount of time if you need a quick dessert or maybe snack for tea time. Either way, these are super easy and will definitely be requested again.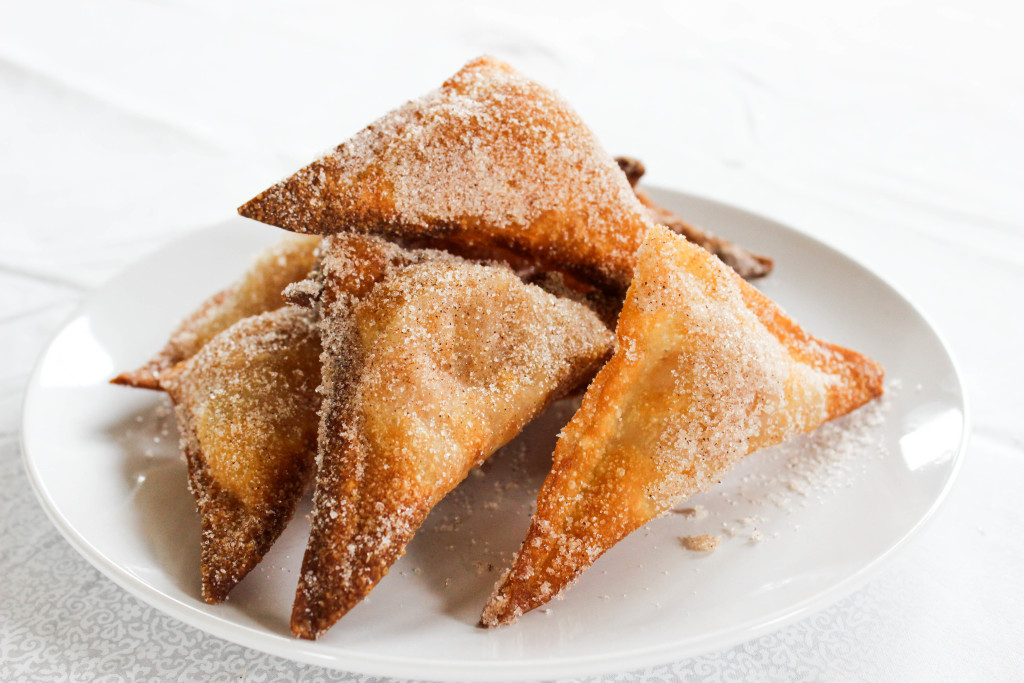 Apple Pie Wontons
Ingredients:
1 apple
1 teaspoon lemon juice
1 tablespoon sugar
1/2 teaspoon cinnamon
12 wonton skins
oil for frying
Plus: 1/2 cup sugar mixed with 1 teaspoon cinnamon (set aside)
1. Place oil in a pot that will fit about 3 wontons at a time
2. Peel and core apple. Dice into small pieces and add to a bowl with lemon juice, sugar, and cinnamon. Mix well and then microwave for 2 minutes, stirring every 30 seconds.
3. Take the wonton wrappers and lay them out. Place about 1 – 2 teaspoons of filling in the middle of each wonton skin. Fold the wonton over to make a triangle and seal the edges with water.
4. Heat oil- you'll know it's ready when you splash a little bit of water and it starts to boil. Place about 3 wontons in the oil at a time and fry for about 2 minutes on each side.
5. Once they are golden brown, remove from the oil and place directly in the sugar cinnamon mixture we set aside earlier. Coat both sides with cinnamon sugar and then set to dry on a paper towel. Repeat with each wonton.