Butternut Squash and Israeli Couscous Salad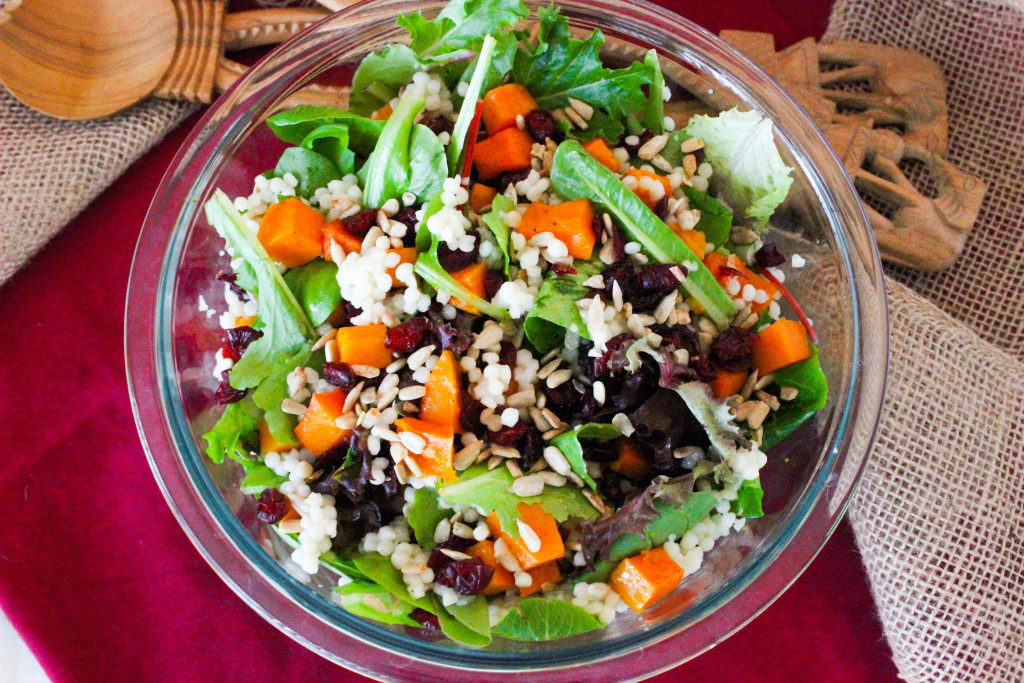 I've been craving salads lately. Maybe it's because I know that spring is coming so I just want some fresh greens, or maybe because I'm too lazy to cook more often than not it seems. Whatever it is, salads have become a staple in our weekly meal plan. We like to mix it up and choose interesting salad choices so that we don't get bored of the same old lettuce, cucumbers, and tomatoes.
This salad is so easy and SO delicious! I love the maple Dijon dressing that soaks into the Israeli couscous and squash to make them taste even better. It's a great salad served warm or cold and is so incredibly easy to make. If anything, you just need to make sure to have your squash prepared as well as your couscous. However, these can be done ahead of time and stored in the fridge for quick salad makings. I like to make them the day of because I like the warm squash against the cold lettuce. It's so tasty!
If you are in a salad rut, then this salad should be on your list of delicious healthiness to make!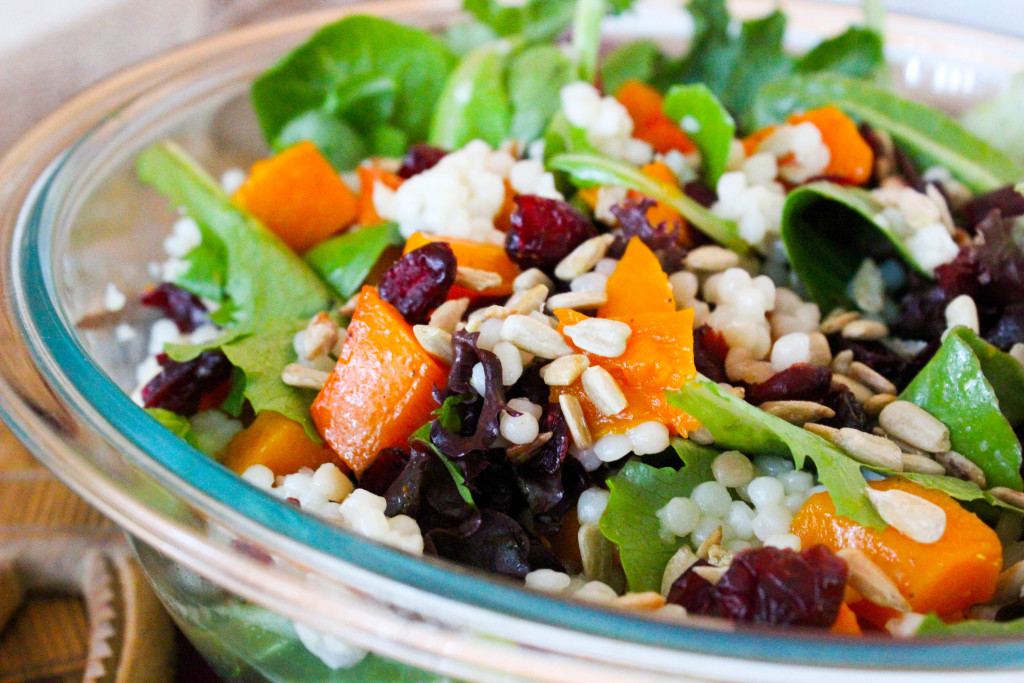 Butternut Squash and Israeli Couscous Salad
Ingredients:
2 cups butternut squash – cubed
1/2 cup Israeli couscous
1/3 cup dried cranberries
2 tablespoons sunflower seeds
1 bag (6 cups) mixed greens lettuce
For the Maple Dijon dressing:
2 garlic cloves
2 tablespoons Dijon mustard
1/4 cup apple cider vinegar
3/4 cup olive oil
3 tablespoons maple syrup
salt and pepper to taste
Make the dressing: combine all ingredients in a blender and blend until smooth and combined
Cook your Israeli couscous according to package directions
Cook your butternut squash – preheat oven to 375 degrees. Place squash on a baking pan with salt, pepper, and olive oil, and bake for about 20-25 minutes until squash is tender. Cool to room temperature
Assemble the salad! Start with the greens on the bottom, then layer the couscous, dried cranberries, squash, and sunflower seeds. Top with dressing and mix well!