Cherry Almond Cluster Granola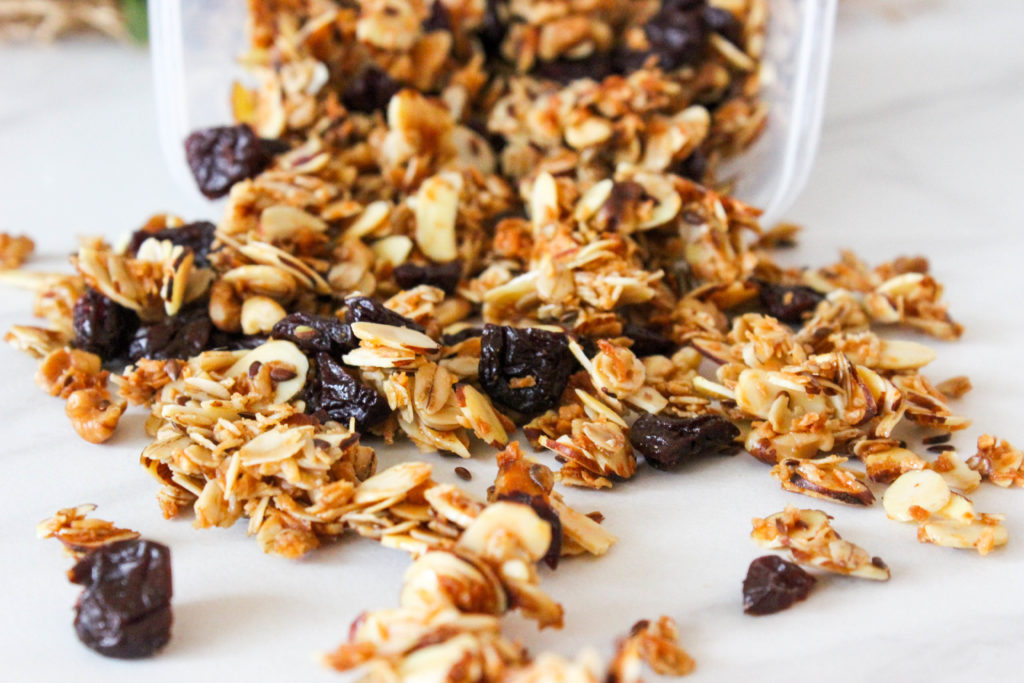 I need to rename this recipe to "crack-a-lack granola" because it's seriously amazing.
I'm always looking for new granola recipes but it seems like they are all the same. Oats, coconut oil, maple syrup, some flavor here and there but for the majority of them it's all oats. I was watching cooking channel (my new favorite thing to watch) and my favorite show Extra Virgin came on. Debi Mazar and her husband Gabrielle make really rustic Tuscan dishes that always look so amazing! Not to mention their show is extremely entertaining and their love for each other is admirable. In this specific episode I was watching, Gabrielle was making granola. So I opened my eyes a little wider to see what I could learn.
Genius, that's what I learned. The main ingredient in this granola is sliced almonds instead of oats!! I changed some of the ingredients to match more of my palette but it came out AMAZING nonetheless. What you get is almost like a nut brittle that just melts in your mouth when you eat it and becomes so addicting. I find that the granola sticks together better than oat heavy granola because the almond pieces are bigger and can grab on to more ingredients.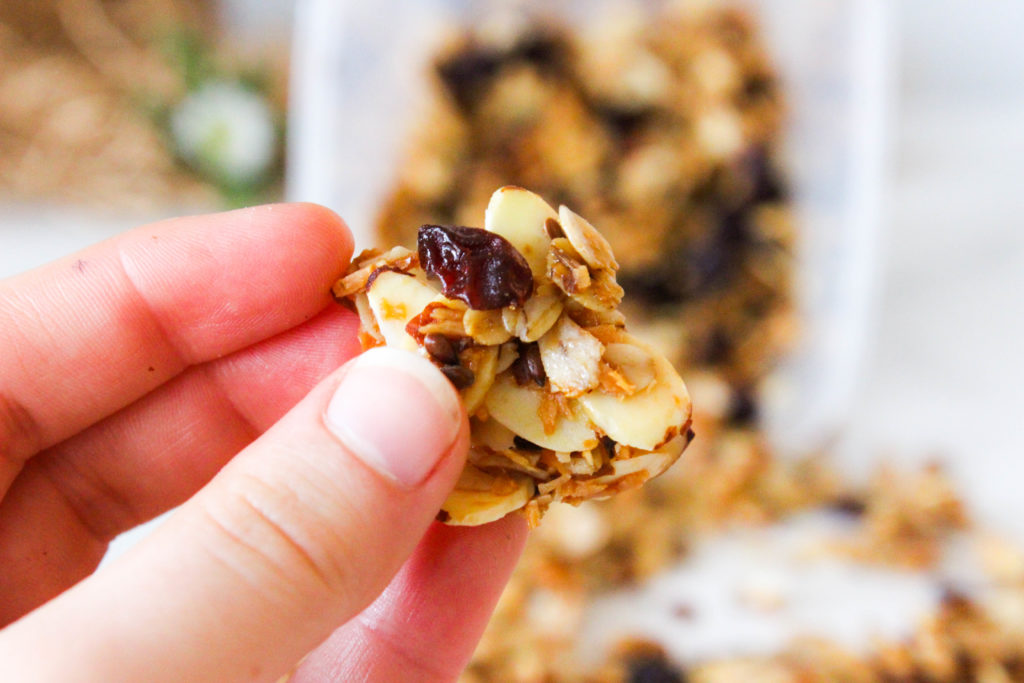 My favorite part about this recipe is the health factor. There is only a combined 3 tablespoons of added sugar ingredients which are agave and maple syrup! While it might not seem like a lot, the granola comes out perfectly sweet and delicious! Plus, you add cherries at the end which adds to the sweetness as well. The fact that there are more nuts than granola also means more protein from the nuts and more crunch as well! You might think that the granola will burn, but my cooking it at a low temperature, it gets perfectly toasted and crispy.
While I love eating this granola straight out of the Tupperware, I also love it a top some soy yogurt, doused in banana milk, and even on smoothie bowls! It's so versatile and delicious. I think I'll make all of my granola with less oats from now on. Try it out! The result is amazing!
*Adapted from Extra Virgin  TV Show
Cherry Almond Cluster Granola
Ingredients:
1 cup sliced almonds
1/2 cup rolled oats
1/3 cup unsweetened coconut
1/3 cup roughly chopped walnuts
1 tablespoon flax seeds
2 tablespoons agave (or honey if not vegan)
1 tablespoon maple syrup
2 tablespoons coconut oil
1/4 teaspoon almond extract (optional)
1/2 cup roughly chopped dried cherries
Pre-heat oven to 275 degrees
Heat agave, maple syrup, extract, and coconut oil together until melted and combined
In a bowl, mix together the almonds, oats, coconut, walnuts, and flax seeds
Pour agave mixture over nuts and oats and combine well.
Spread mixture on a pan lined with parchment paper and bake for 30 minutes. Let cool completely before breaking up. Add cherries and mix.