Cinnamon Crumble Coffee Cake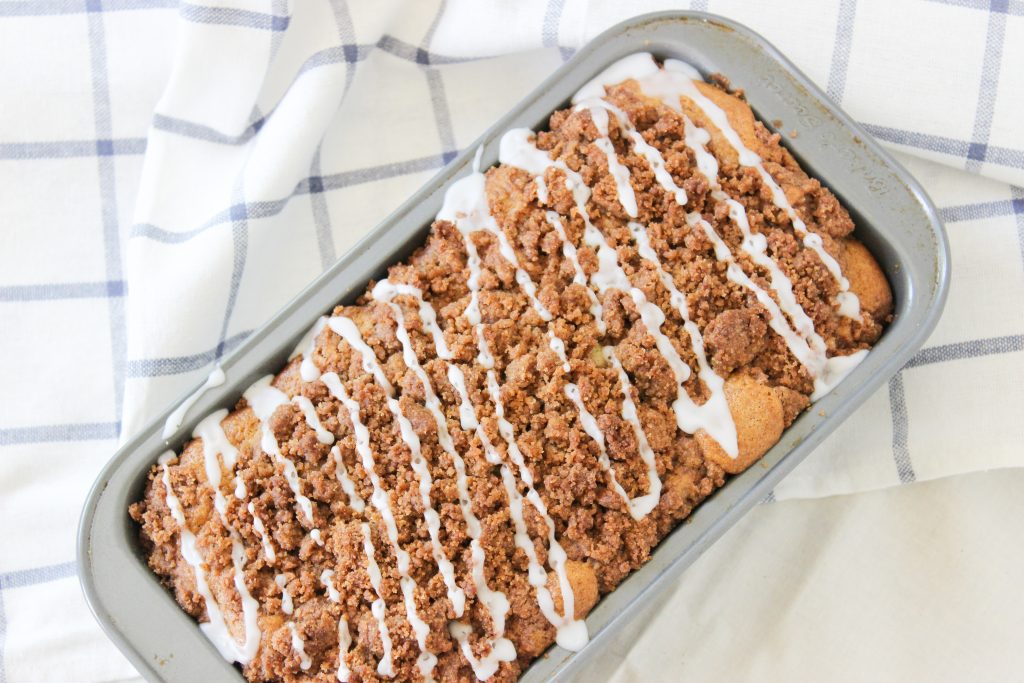 Listen….I LOVE coffee cake and I've loved coffee cake since I was a little girl. My first memories of coffee cake are at my grandma's kitchen table in New Jersey. My dad would wake up and head to the bakery around the corner (which surprisingly 25 years later is still there) to pick up some morning treats, one of which was always coffee cake. I was addicted to the crumble topping, the sugar, and the routine of coffee cake in the morning. Can you say, spoiled?  
Despite my love for coffee cake, I've never actually tried to make one as it always seems too complicated or time consuming. Not today cravings! Not today.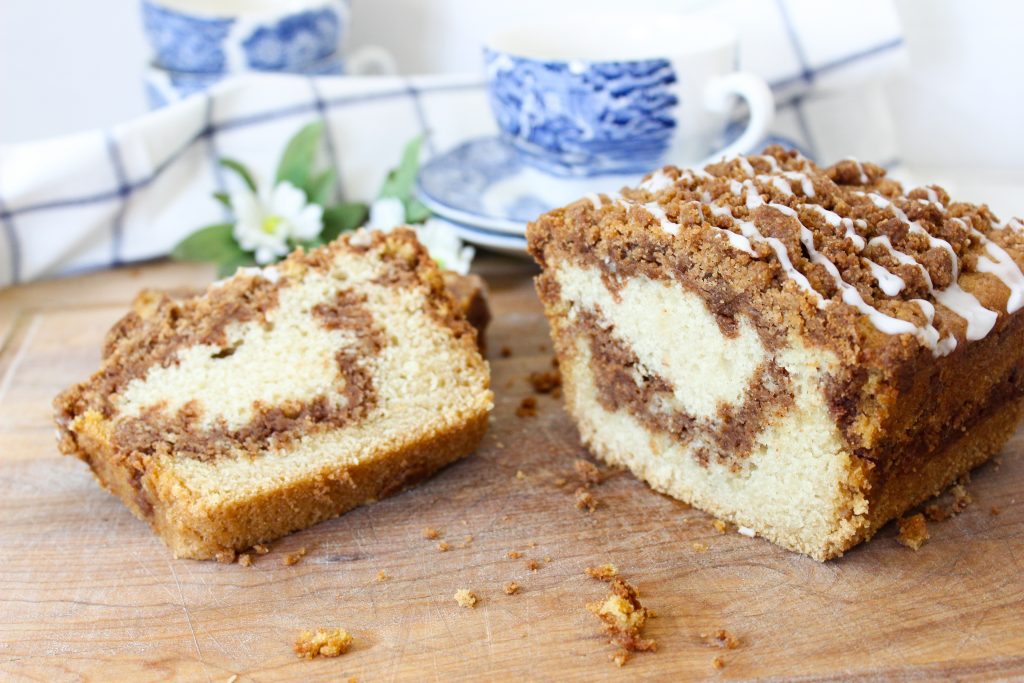 I used the cake recipe from my Orange Spice Cake (minus the spices) and then scoured the internet for all things "crumb layer" until I was able to piece together a couple of recipes that I hoped and prayed would work with no promises. But it worked – and it worked AMAZING!!!!! Not too dense, not too sweet, just the right touch of cinnamon, crumbly, and perfect for anytime of day. I was on my way to eating the whole thing before deciding to share the love and send some over to our neighbors. 
Needless to say, this will be my go-to "impress yo frands" brunch recipe! Can't wait. 

Cinnamon Crumble Coffee Cake 
Ingredients for the Cake:
1 cup almond milk
1 teaspoon apple cider vinegar
1/3 cup coconut oil
2 teaspoon vanilla
1 1/4 cup flour
2 tablespoons cornstarch
3/4 teaspoon baking powder
1/2 teaspoon baking soda
1/2 teaspoon salt
3/4 cup sugar
For the cinnamon crumble:
1 stick vegan butter, soft (8 tablespoons)
2 Tbsp. cinnamon
1 cup + 2 tablespoons flour
1 cup brown sugar
Pre-heat oven to 350. Prepare a loaf pan by greasing it with coconut oil

Make the cinnamon crumble: combine butter, sugar, and cinnamon together. Add in the flour and mix to combine. You'll want this to be crumbly!

Make your cake!

Mix your milk and vinegar and set aside while you prepare the other ingredients

Combine all your dry ingredients (from flour down to sugar) and set aside

Add coconut oil, vanilla, and zest to a mixer and beat together. Add milk and vinegar mixture and mix well.

Add dry ingredients and mix until no lumps *batter will be soupy*

Add 1/2 of your cake mixture into the pan (about 1 cup of batter). Bake for 5 minutes. Remove from the oven and sprinkle a little less than half of the crumb mixture onto the cake. Pour in the remaining cake batter and top with the remaining crumb.

Bake for 45-50 minutes or until a toothpick comes out clean.