Double Layer Chocolate Mousse Cake
I like to think that I have the best vegan chocolate cake recipe in the world. I also like to think that I have the best vegan chocolate cheesecake mouse recipe. So, why not put them together? My thoughts exactly.
I was craving a cold and decadent dessert so I decided to take 2 of my favorite chocolate recipes and put them together to make one mega chocolate mousse cake and it did NOT disappoint. A rich and moist chocolate cake filled with a creamy chocolate mousse, doused in chocolate ganache. You seriously can't go wrong.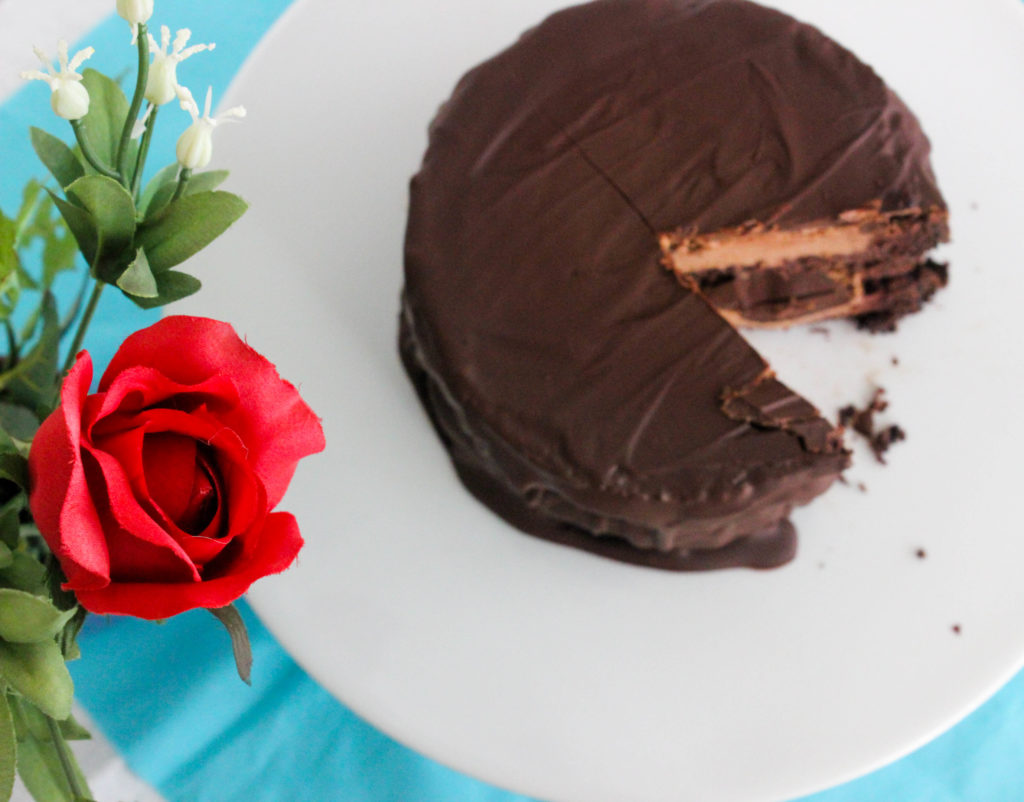 I remember after I made this cake, I thought to myself that if I didn't invite someone over that I was going to eat the whole thing. So, I called my sister and her friend TJ to come and help me indulge in the chocolatey mess of a cake. All I remember is TJ taking a bite and his first words were "WHOA". He paused for a minute and then said "This is DELICIOUS"! He wasn't wrong either ;). Take it from TJ, this is a cake you don't want to miss.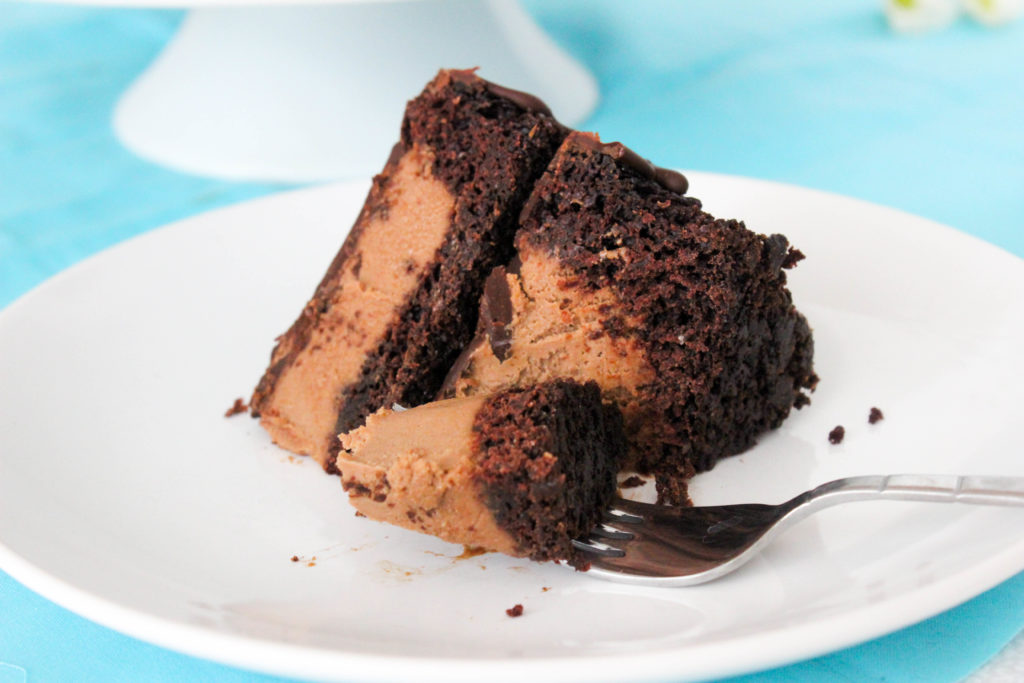 Double Layer Chocolate Mousse Cake
Ingredients:
For the cake:
1 1/2 cups water
1/2 cup coconut oil
1/2 tablespoon apple cider vinegar
1/2 tablespoon vanilla extract
1 3/4 cup sugar
2 cups flour
1/2 tablespoon baking soda
1/4 tablespoon salt
1/2 cup cocoa powder
Add dry ingredients to the mixer and mix until fully combined
Combine the wet ingredients in a separate bowl and add to the dry. Mix until completely smooth (about 3 minutes). Split batter into 2 6 inch cake pans
Bake at 350 for 25-30 minutes
For the Mousse:
1.5 cups cashews – soaked for 2 hours in hot water
1/2 cup coconut cream
1/4 cup maple syrup
1/4 cup melted coconut oil
1/4 cup melted chocolate
An extra 1/4 cup melted chocolate for topping
Combine cashews (drained), coconut cream, maple syrup, coconut oil, and chocolate in a blender until completely smooth.
ASSEMBLE YOUR CAKES!
Take the cooled cakes and hollow out the middle of each one. Split the mousse between the center of the cakes and freeze until set.
Melt 1 cup of vegan chocolate with 1/4 cup coconut milk and pour 1/2 on one cake, making sure to get on top of the edges so it will cascade over and help the top cake to stick. Place second cake on top and pour the rest of the chocolate over the cake. Spread so it goes over the sides. Let cake sit at room temperature for a couple of hours so the mousse can soften. Serve!!