Enchilada Lasagna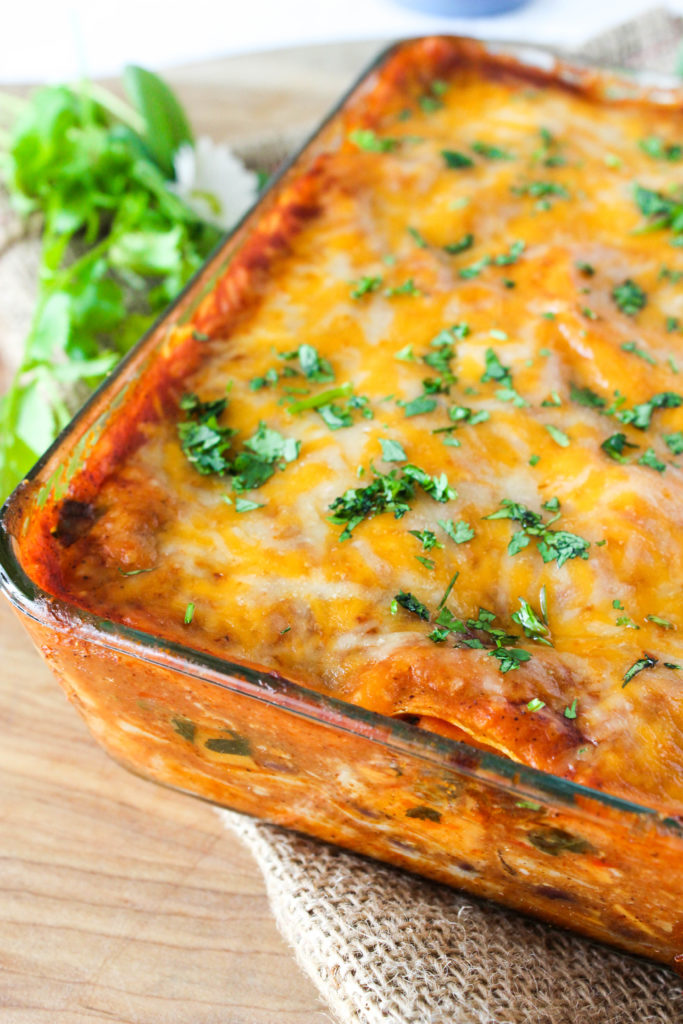 Ah yes, enchiladas.
I love enchilads — I hate rolling enchiladas. I tend to eat enchiladas more like bake burritos or stuff enchilada filling into peppers. However, this enchilada lasagna has now become my favorite. It's easy to assemble, easy to make, and even easier to make.
The best part about this lasagna is that you make the enchilada sauce yourself! It's too easy not to so please, skip the can and control the flavor yourself! It's well worth it! I also love how many delicious things are stuffed into this layered beauty. Sweet potatoes, black beans, spinach, cilantro… should I continue or leave the excitement to you to read in the ingredients? I'll leave it to you.
This also freezes EXTREMELY WELL! I always use 2 pyrex square containers and keep one in the fridge and one in the freezer for the following week. It's such a splendid thing to have on hand and it's so comforting! This is definitely one of our favorites and it will be yours soon too!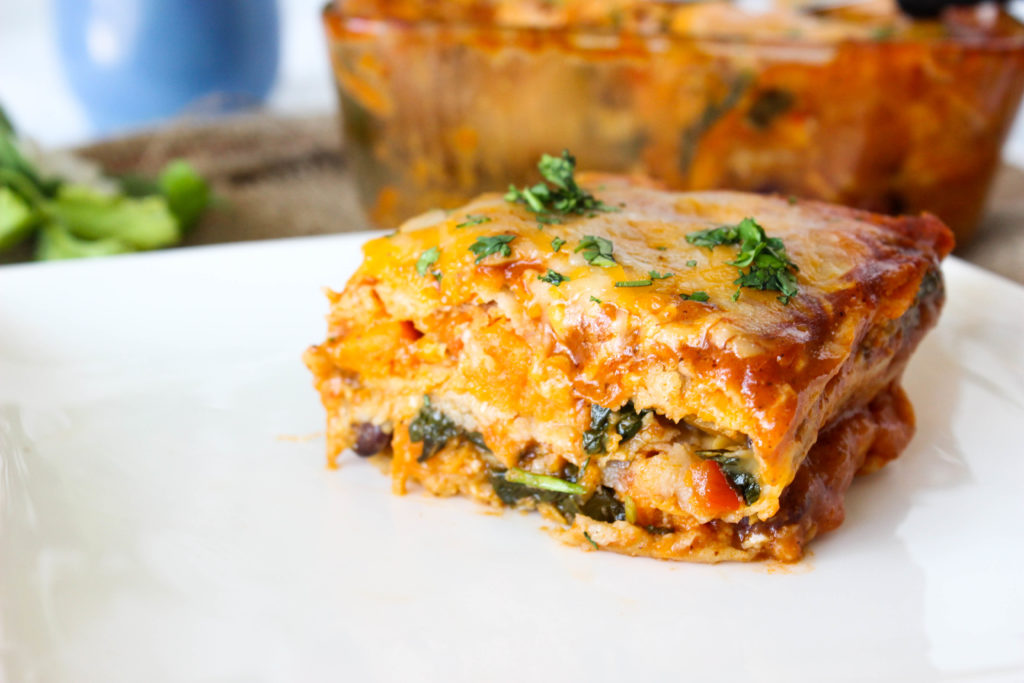 Enchilada Lasagna 
Makes 1 9×13 pan, or 2 pyrex of equal size
Ingredients:
3 medium sweet potatoes – small diced
1/2 large onion – small diced
1 red pepper – small diced
3 garlic cloves – minced
1 can black beans rinsed and drained
Juice 1 lime
2 green onions – sliced
1/2 teaspoon chili powder
1/2 teaspoon cumin
1 bag spinach, chopped
handful chopped cilantro
3 cups shredded vegan cheese
12-15 corn tortillas
Enchilada Sauce:
3 tablespoons olive oil
1/4 cup flour
1/4 cup tomato paste
2 tablespoons cumin
1 tablespoon chili powder
1/2 teaspoon coriander
1/2 teaspoon garlic powder
1/2 teaspoon onion powder
4 cups vegetable broth
Make the enchilada sauce: Heat olive oil. Add all spices and toast for about 1 minute. Whisk in the tomato paste. Finally, whisk in the flour. It will form a ball. Let cook for about 1 more minute. Slowly add broth, whisking as you add until you get a smooth consistency. Bring sauce to a boil until it thickens. Set aside.
Preheat oven to 375. Toss sweet potatoes in olive oil, salt and pepper and place on a baking sheet. Roast for about 20-25 minutes until done.
In a large pan, saute onion and pepper in a little bit of olive oil until soft. Add the garlic, 1/2 teaspoon chili powder and cumin. Cook for about 2 more minutes.
Add in the spinach and cook until just wilted. Remove from heat and place mixture in a bowl
Add the black beans, green onion, lime juice, and cilantro. Mix well. When sweet potatoes are done, add to this mixture as well and mix to combine.
Assemble the lasagna (instructions for using 9×13 pan)- Cut each corn tortilla in half. Add 1 cup of sauce to the pan and move around to cover the bottom. Place the flat side of the tortillas in the pan so they are flush with the sides of the pan (essentially creating a rectangle with 2 tortillas). Cover the bottom with tortillas. Add 1/2 of the sweet potato mixture, 1 cup of cheese, and 1 more cup of enchilada sauce. Start layer again with corn tortillas, the rest of the sweet potato mixture, cheese, and sauce. End with a layer of tortillas, cover with the rest of the sauce, and top with the rest of the cheese.
Bake lasagna for 20 minutes, then broil the top until golden brown. Let sit for 10 minutes before cutting.