Jalapeno Black Bean Patties with Mexican Coleslaw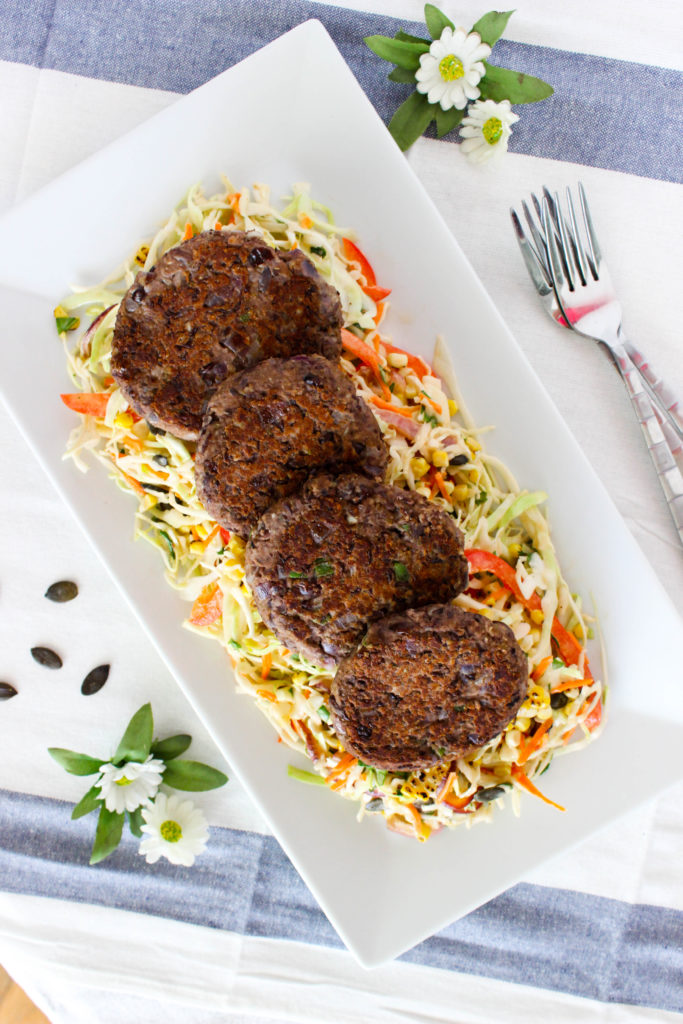 It's not often that I photograph and make complete meals but this recipe was just calling to me! I've always wanted to make a black bean burger/patty but was always too lazy to try to put one together. It wasn't until I went searching at the grocery store for a black bean burger and noticed all of the extra added ingredients that I said to myself — JUST MAKE ONE! So here we are with a DELICIOUS black bean patty that is so freaking easy to make and so freaking flavorful!
The first time I made these recipes, I ate 1/2 of it …. then the rest of it the next day, not even sharing with my boyfriend. The second time I made it, he pretty much ate all of it and let me tell you, I was disappointing. I guess food karma hit me hard.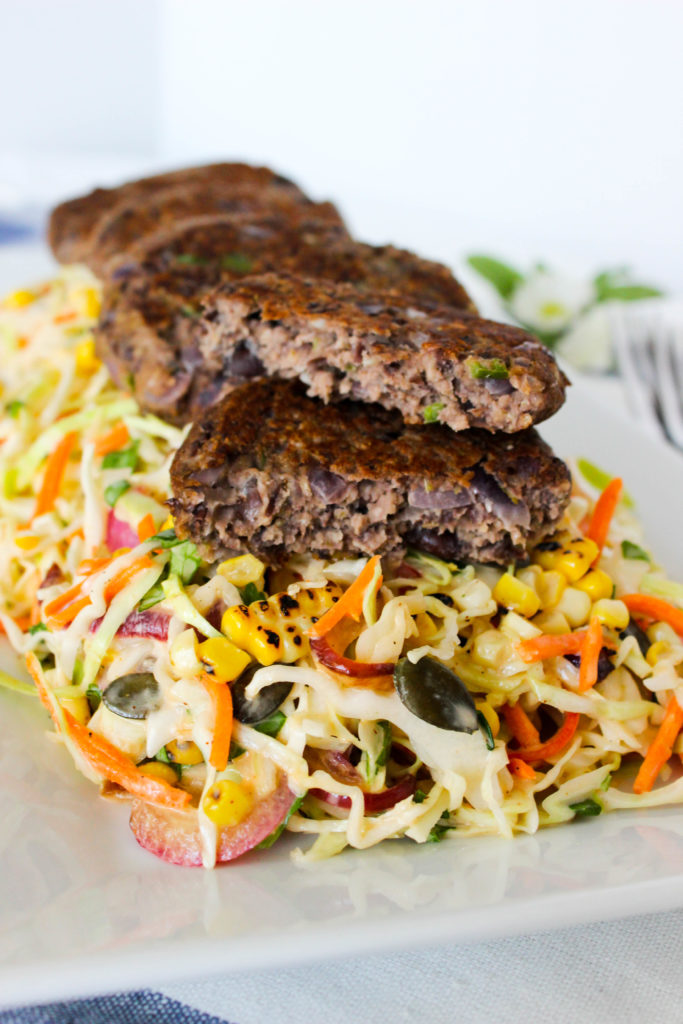 I love how the flavor of the black bean is so simple yet so delicious! Paired with this mexican coleslaw, you really have a winner. Spicy, smokey, citrus, tons of texture, and ultimately healthy for you! It's all I ever want in a meal. Not to mention, add a side of corn tortillas and turn this into tacos or grab some buns and make burgers. Summer might be over, but this recipe is a keeper all year round!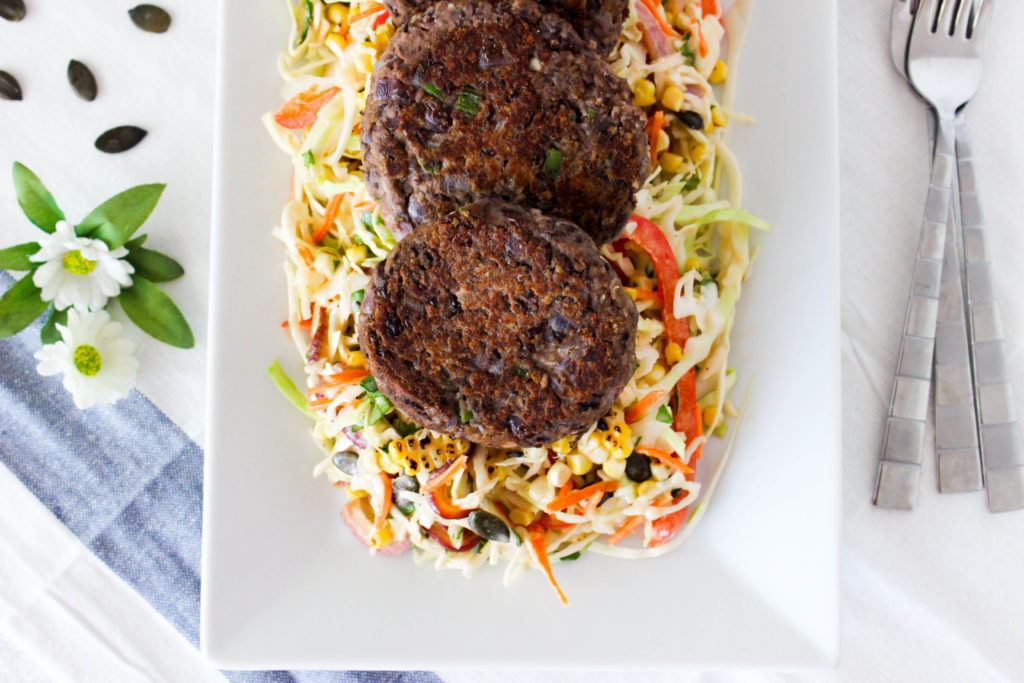 Jalapeno Black Bean Patties with Mexican Coleslaw 
Ingredients:
For the patties:
1 can black beans, rinsed and drained
1/2 jalapeno, de-seeded, rough chopped
1/2 cup diced red onion
2 garlic cloves
1/3 cup oats – pulsed into flour
1/2 teaspoon each of cumin, coriander, and oregano
1 1/2 teaspoons of salt (or to taste)
Place jalapeno, red onion, and garlic in a small skillet with 1 tablespoon oil. Cook until the onion begins to turn translucent (about 5 minutes) just to take the edge off of the flavors.
Dump all ingredients into a food processor and pulse until mostly smooth. Having some whole beans is totally fine!
Place mixture into a bowl and let set in fridge for about 15 minutes (can prep slaw during this time)
After mixture has set, divide into 4 patties and place on a lightly greased skillet to sear each side.
For the slaw:
3 cups thinly sliced green cabbage
1 cup shredded carrots
1/2 red pepper thinly sliced
1/2 red onion thinly sliced
2 ears corn – charred on grill
1/3 cup pumpkin seeds
1/4 cup chopped cilantro
1/2 cup vegan mayo
2-3 tablespoons chipotle adobo sauce (from a can)
1/4 teaspoon cumin and chili powder
juice of 1/2 lime
salt and pepper to taste
Make the dressing: mix the mayo, chipotle adobo sauce, spices, lime, and salt and pepper in a bowl. You can add a tablespoon of water if you want to dilute. Mix well and set aside
In a large bowl, combine the cabbage, carrots, red pepper, onion, corn, pumpkin seeds, and cilantro. Top with dressing and mix well! Adjust seasoning as needed.