Lemon Poppyseed Scones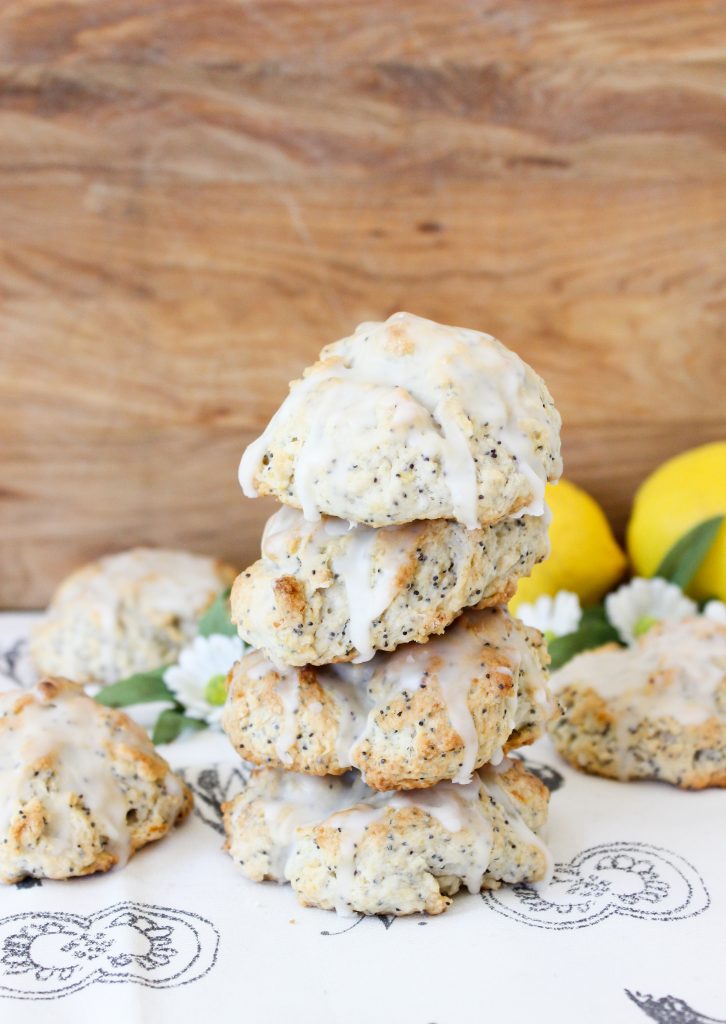 I didn't know I loved scones until I went to culinary school. I always thought of them as dry little "treats" with no flavor or sweetness. I mean, why would you eat a scone when you could have a piece of cake? However, during the bread making section of culinary school, I was introduced to scones on a whole other level and fell in love! I would come home and try different flavor combinations and then eat them ALL. When I went vegan, I thought I would never have a scone again and relinquished myself to the fact that scones could not be made without eggs (boy, was I wrong).
Then everything changed when I went to a coffee shop with some friends and the only vegan option was a ginger lemon scone. I was thrilled – It was AMAZING – and I immediately rushed home to see if I could recreate it! I had gotten Isa Chandra's "Vegan with a Vengeance" cookbook for Christmas and remembered that there was a scone recipe in there, so I went to work.
The scone doppelganger I created was incredible! I made them twice in 1 week, inevitably taking tons of extras into work. Thus began my reignited love for all things scones. I wanted to make a lemon poppyseed version as (of course) I LOVE lemon poppyseed anything! The flavor is light for spring / summer and they look oh so pretty. I love leaving scones in a circle shape as it's 1) less work to form them and 2) they have more nooks and cranny's for the glaze! Try them out — and then try not to eat them all at once.

Lemon Poppyseed Scones
Makes 12-15 scones
*Recipe adapted from Isa Chandra Moskowitz "Vegan with a Vengeance" scone recipe*
For the Scones:
1 cup + 2 tablespoons unsweetened almond milk
2 teaspoons apple cider vinegar
3 cups flour (AP)
2 tablespoons baking powder
5 tablespoons sugar
1/4 teaspoon salt
zest of 3 lemons
2 -3 tablespoons poppyseeds
1/4 cup coconut oil (solid)
1/4 cup canola oil
For the Glaze:
1 1/2 cups powdered sugar
2-3 tablespoons lemon juice
Pre-heat oven to 400 degrees
Make your glaze – combine the powdered sugar and lemon juice in a bowl and let sit (when you let it sit longer, the powdered sugar breaks down so you don't get clumps!)
In a small bowl, stir together the almond milk and apple cider vinegar and set aside
In a large bowl, combine the flour, baking powder, sugar, salt, lemon zest and poppyseeds.
Add in the coconut oil and "cut into the flour" using a fork (think of scrambling eggs. You'll want something that looks like dry sand — not sticky)
Mix  in the milk mixture and canola oil. You want to mix until just combined. It's ok if there is some clumps.
Drop by the 1/4 cup onto a lightly greased baking sheet (or silicon mat). Don't try to form them. The best thing about scones is the nooks and cranny's!
Bake for 15-18 minutes or until slightly browned on the top and firm. Cool for about 5 minutes before icing
Scoop a teaspoon of a time of the glaze and spoon over each scone. Go in order and keep doing this until all scones have a few layers of glaze. Let set completely.