Mixed Roasted Vegetable Bulgur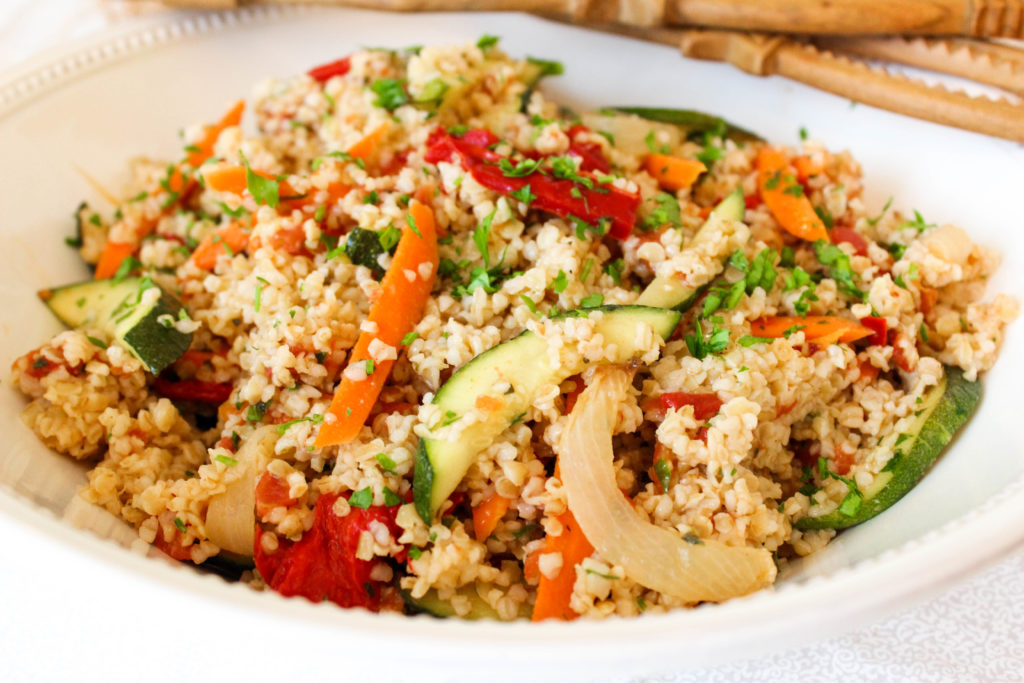 When I was in culinary school, I also worked at a catering company to help not only with experience in the industry, but also helping my wallet (if ya know what I mean). My parents loved that I had that experience and proceeded to tell everyone if they ever needed help, that I would be available. Hey, free marketing right? We had family friends whose daughter was getting married so when they needed help with the rehearsal dinner I thought, why not? Thankfully, they just wanted me to grill, make a pasta salad, and make a tabbouleh salad as well.
While I had the grill and pasta salad down, the tabbouleh was something that worried me. In the end, it turned out amazing, but I ended up buying about 4 pounds of bulgur since I had no idea how much I was going to need and needless to say, it was left with more than 1/2. Knowing that my boyfriend didn't like tabbouleh and I had to find some way to use it, I created this roasted vegetable bulgur which turned out to be a hit with both of us!
I love the fact that it's a grain that is not always commonly used in a vegetable salad, and I also love that this is so healthy for you! The colors are fabulous, the flavors are delicious, and it's great cold or warm! We ate it for lunch every day and it was gone in no time. While I still have some bulgur left in my pantry, I know that I can make this and it will be a win!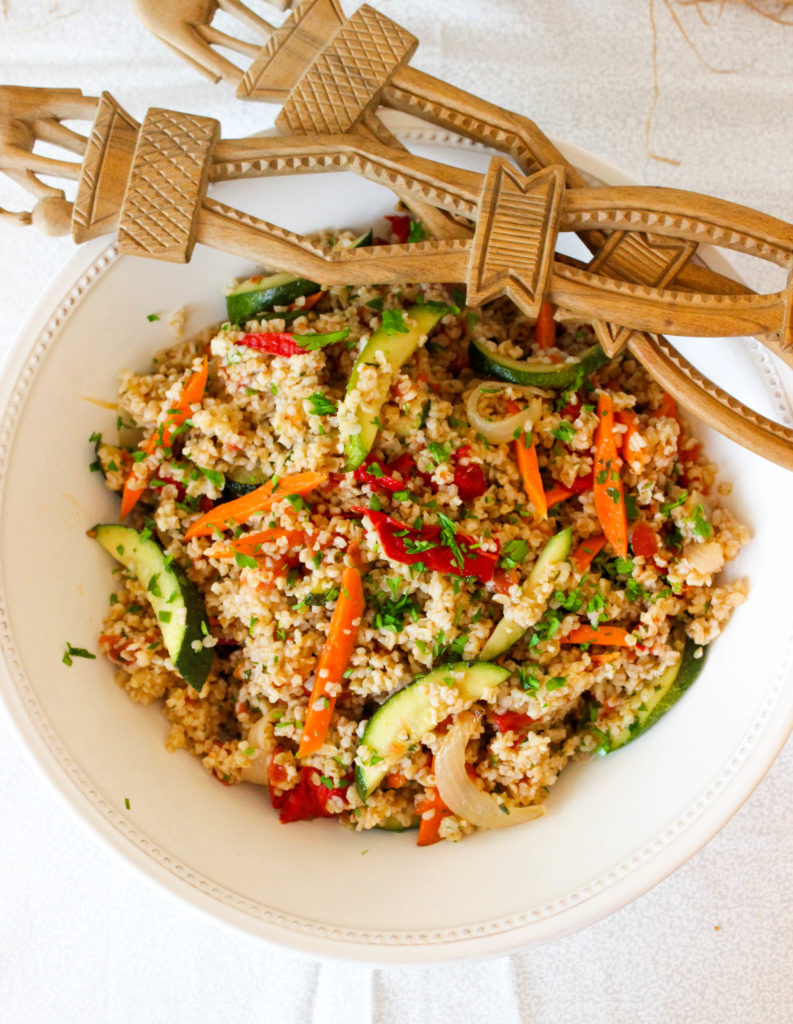 Mixed Roasted Vegetable Bulgur
Ingredients:
2 cups uncooked bulgur wheat
2 zucchini
4 carrots
1 white onion
1 red pepper
1 can petite diced tomato
3 cloves garlic – chopped
1 teaspoon cumin
1/2 teaspoon coriander
1/2 teaspoon dried oregano
2 tablespoons fresh parsley
olive oil
salt and pepper to taste
Preheat oven to 375. Slice the onion and red pepper, toss with a little bit of olive oil and roast in the oven for about 25 minutes (or until soft and starting to get caramelized)
Bring a large pot of water to a boil. Add the bulgur and cook until tender – about 15-20 minutes. Drain bulgur and add to a large bowl
Slice carrots and zucchini into strips and saute in a small saucepan with a little bit of olive oil until tender.
In the same sauce pan that you used for the zucchini and carrots, make the tomato sauce. Add a little bit more olive oil and saute the garlic until fragrant. Add the cumin, coriander, and oregano and toast for about 30 seconds. Add the diced tomatoes and simmer for about 5 minutes to heat through
Add all the vegetables and tomato sauce to the bulgur and mix well. Finally add fresh parsley and salt and pepper to taste! Serve hot, warm, or cold.