Rosemary Breakfast Potatoes
A hearty breakfast can't be complete without some tasty potatoes! Rosemary and potatoes is a classic combination that I find to be so tasty and takes no time at all to throw in a pan. These potatoes can be made on the stove or in the oven and they cook while you are preparing the rest of your breakfast. A very low maintenance side dish that adds a lot of flavor.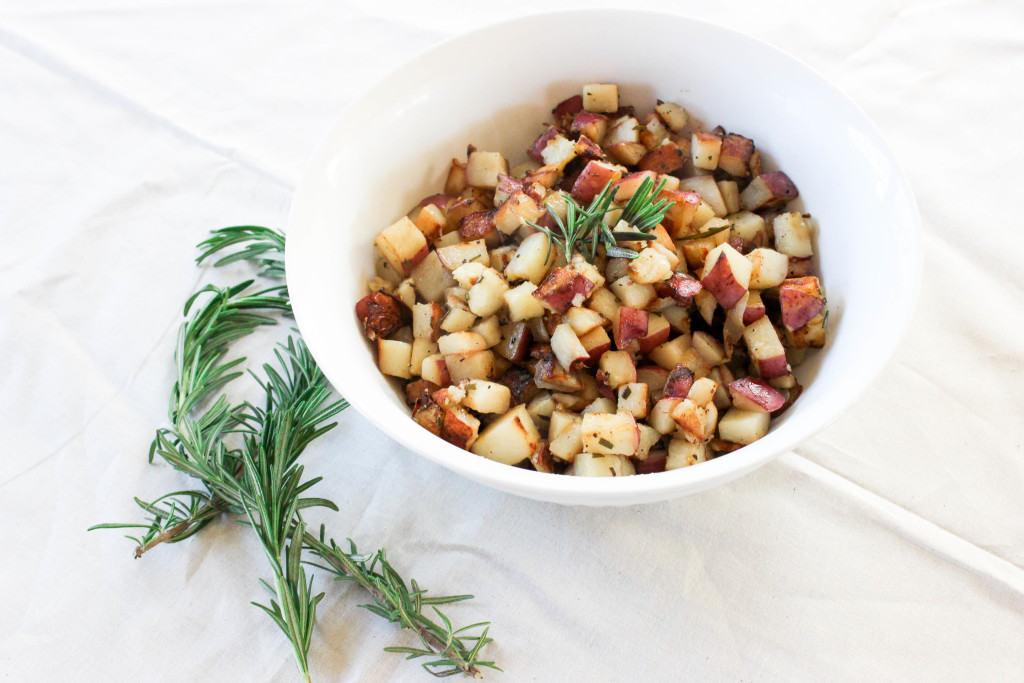 These potatoes go great with ham and cheese Mini Crustless Quiche or even as a side to a big omelet! The key it to use fresh rosemary, however you can use dried rosemary as well. I tend to find that if you use dried rosemary, sometimes it doesn't soften so you get these big hard pieces of rosemary throughout your potatoes that aren't so enjoyable when they get stuck between your teeth. However, if you only have dried rosemary on hand — use that! It's a whole lot tastier than no rosemary at all.
Rosemary Breakfast Potatoes
Ingredients:
4 large red potatoes – diced
1/4 cup onion – diced
1 tablespoon fresh rosemary- chopped
1 tablespoon olive oil
1 tablespoon butter
1 teaspoon salt
1 teaspoon pepper
1. Add butter and oil to sauté pan and warm slightly.
2. Add the potatoes, onion, rosemary, salt & pepper, and stir so all potatoes get coated
3. Cover and cook on medium heat, stirring often, for about 20 minutes