Shakshuka Dip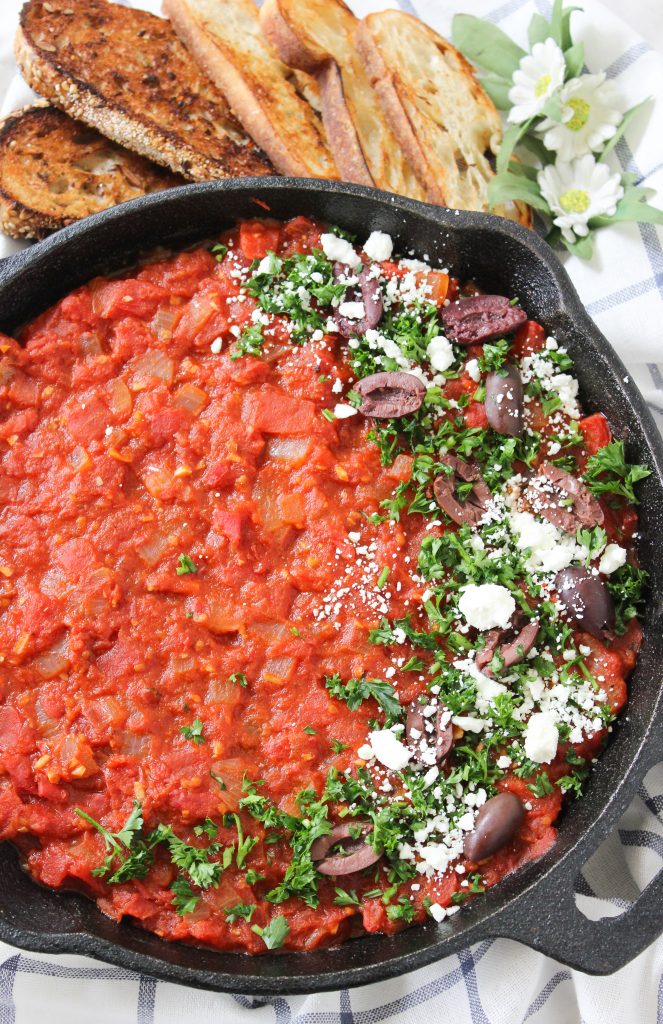 It's crazy to me to think that just a couple of years ago I had no idea what shakshuka was or harissa for that matter! Now, it's a flavor combination that I crave (not to mention that fact that I also love tomatoes). I've made shakshuka multiple times in the past with roasted cauliflower instead of eggs, and it's my usual go to impressive brunch food when we have people over.
However, I wanted to make shakshuka more than just a main entree! I've dreamt of making it into a dip for quite some time and have really thought about what I'd want in it — the layers, the flavors, the textures, you get the idea.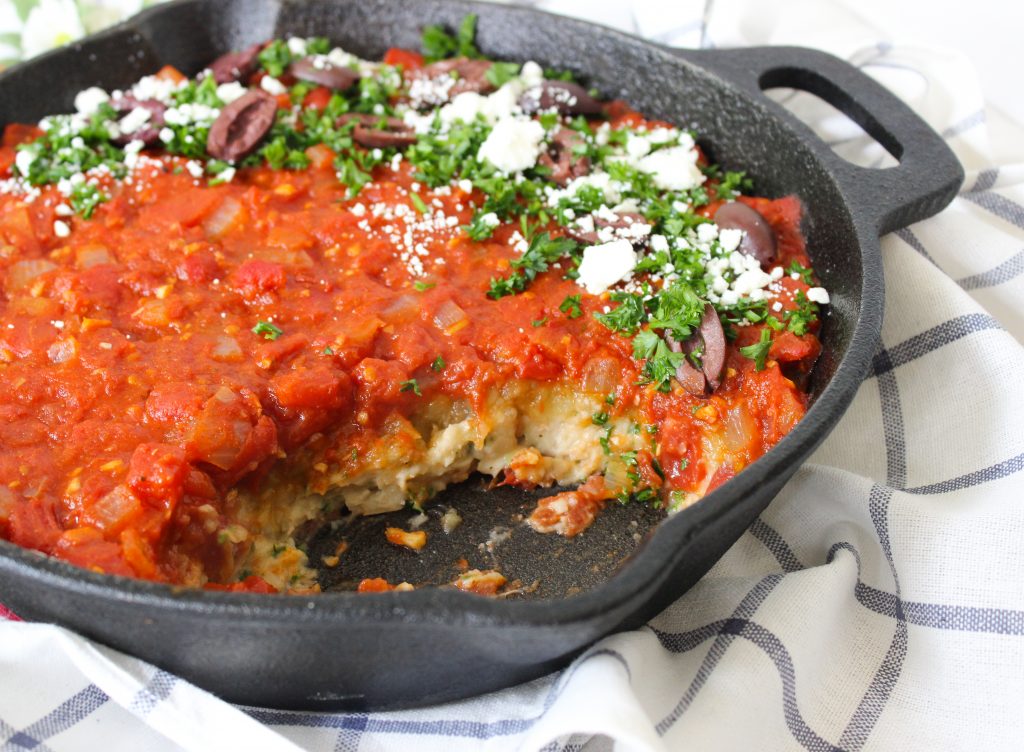 I absolutely LOVE how this came together! Garlicky, savory, a bit of smoke and spice, and overall pure satisfaction. My mom drooled as I took the pictures of this dish, waiting for the moment that she could dip a piece of bread into it. We ate 1/2 of the skillet immediately… #noshame.
I'm so looking forward to making this for a happy hour, friend get together, or just for myself again! Definitely worth it :).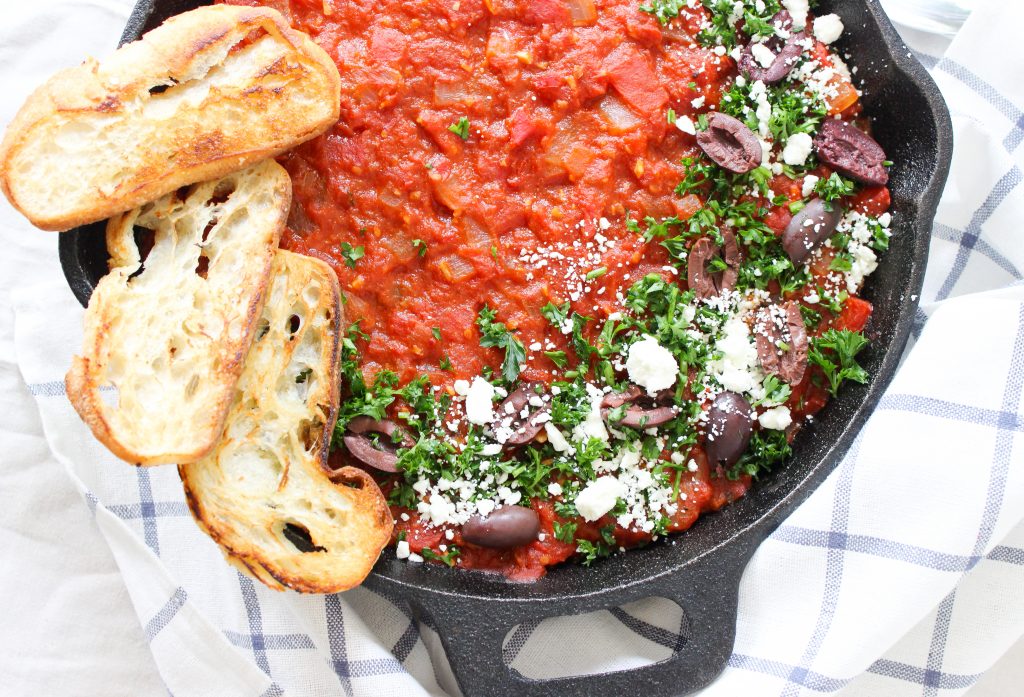 Shakshuka Dip 
For the Eggplant Layer:
2 large eggplants 
2 large garlic cloves (with peels on)
salt and pepper to taste 
For the Bean Layer:
2 15oz cans white beans – drained and rinsed
1 tablespoon olive oil 
1 clove garlic – minced
2 tablespoons fresh parsley
salt and pepper to taste
For the Tomato Layer: 
2 tablespoons olive oil
1/2 medium onion- small diced
4 garlic cloves- minced
1 heaping tablespoon cumin
2 tablespoons mild harissa (or more to taste)
1 teaspoon smoked paprika
2 15 oz cans petite diced tomatoes
salt and pepper to taste
To Serve:
1/2 cup vegan feta
2 tablespoons fresh parsley – chopped
1/4 cup kalamata olives
crusty baguette / pita (or pita chips) / sliced veggies 
Make the eggplant layer: Preheat the oven to 375 degrees. Slice eggplant in half and place face down on a greased baking sheet (can also use foil or silicon mat) with the 2 garlic cloves that have the peels. Bake for 45 min to 1 hour until complete soft. Cool until you are able to handle it. Put eggplant in a colander and strain for about 15 minutes. Place eggplant and roasted garlic in a bowl and mash with a fork until combined. Set aside 

Make the bean layer: pulse all ingredients in a food processor until combined. Set aside. 

Make the tomato layer: 

In a large saucepan, saute onion until translucent. Add the garlic, cumin, harissa, and smoke paprika. Cook until fragrant. Add tomato paste and diced tomatoes. Stir to combine. 

Layer the dip! Start with a little bit of the tomato layer on the bottom of a baking dish. Add the bean layer, then the eggplant layer, then finally top with the tomato layer. Bake for 15-20 minutes until all flavors are combined and dip is hot! 

Remove from oven and top with parsley and vegan feta (can also add some avocado if you like!)