Steak Kabobs with Chimichurri Sauce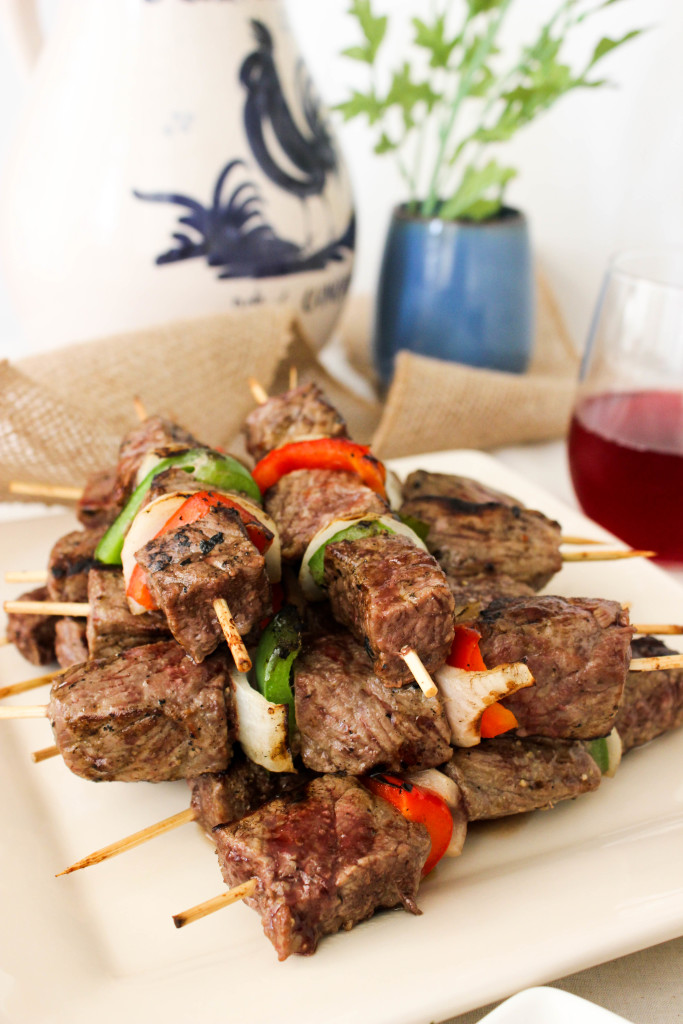 Posting a meat recipe while being a vegan?!?!?!? Unheard of! I do have a confession to make though — I ate a small piece of salmon for lunch today. At work, we get fed a family meal and while I usually make myself a salad or some pasta on the side, today I was way too tired to even think about making something else. So I cheated. Sorry I'm not sorry. Since I cheated in real life, I figured I would cheat on my blog as well.
We made these steak kabobs a couple weeks ago and ate them all up! They are a quick and easy summer meal that goes great with almost any side! We ate it with a salad and some potatoes (#classicamericans) and it was really delicious. The sauce can also be used on chicken if you aren't a big meat eater or even on shrimp for seafood for all the pescatarians out there! Since we live in an apartment, we aren't allowed to have a grill, but I do have a nifty grill pan that we used and then finished the meat in the oven and it worked just fine ;).
Steak Kabobs with Chimichurri Sauce 
Ingredients:
1 pound steak – cut into cubes
Green and red bell pepper – cut into squares (about 10 each)
Onion – cut into squares (about 20 pieces)
1/2 cup olive oil
salt and pepper to taste
2 cups fresh parsley
4 medium garlic cloves
1/2 teaspoon red pepper flakes
1/2 teaspoon salt
1 cup olive oil
1/2 cup red wine vinegar
1. Marinate steak in olive oil, salt and pepper while you make the chimichurri sauce
2. Combine parsley, garlic, red pepper flakes, salt, HALF the olive oil, and red wine vinegar in a blender until all combined. Stir in the remaining olive oil
3. Skewer steak alternating with peppers and onions. Cook on the grill until desired doneness
4. Serve with sauce!