Warm Kale and Wild Rice Salad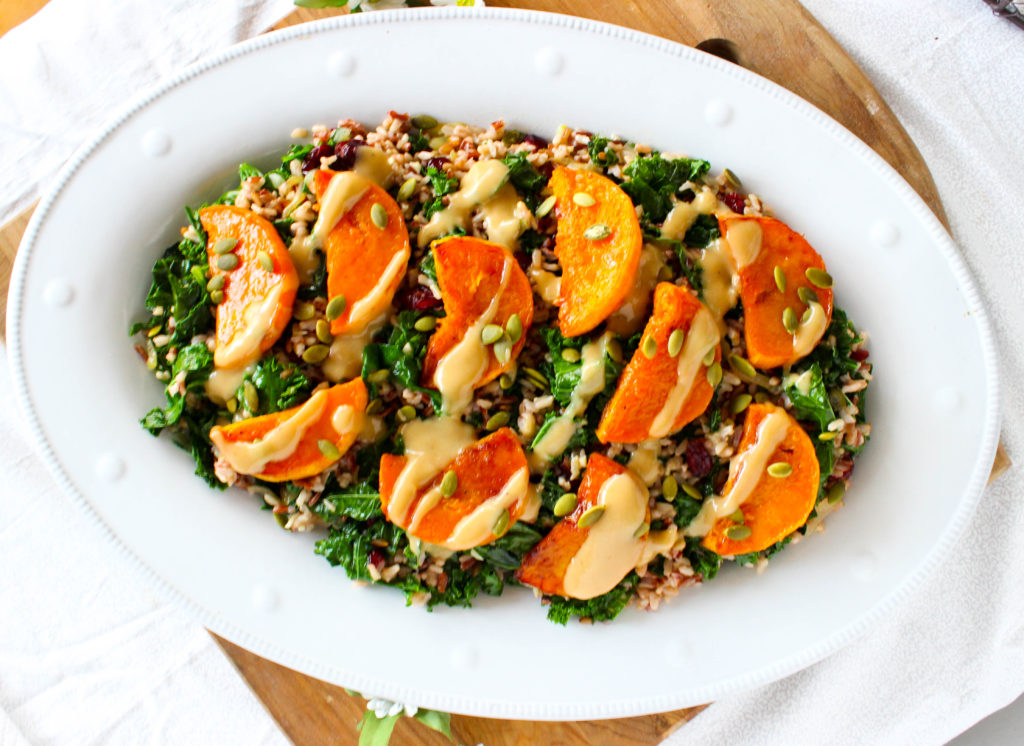 This.
This is the recipe that I choose to make when I have people coming over for dinner. This is the recipe that I make when I want to meal prep for the week. This is the recipe that I make when I want something filling and healthy. This recipe is everything.
I made this for Christmas this past year and was so upset when there were no leftovers! I then proceeded to make it for about 3 weeks straight and devour it within the first 2 days of it being in the fridge.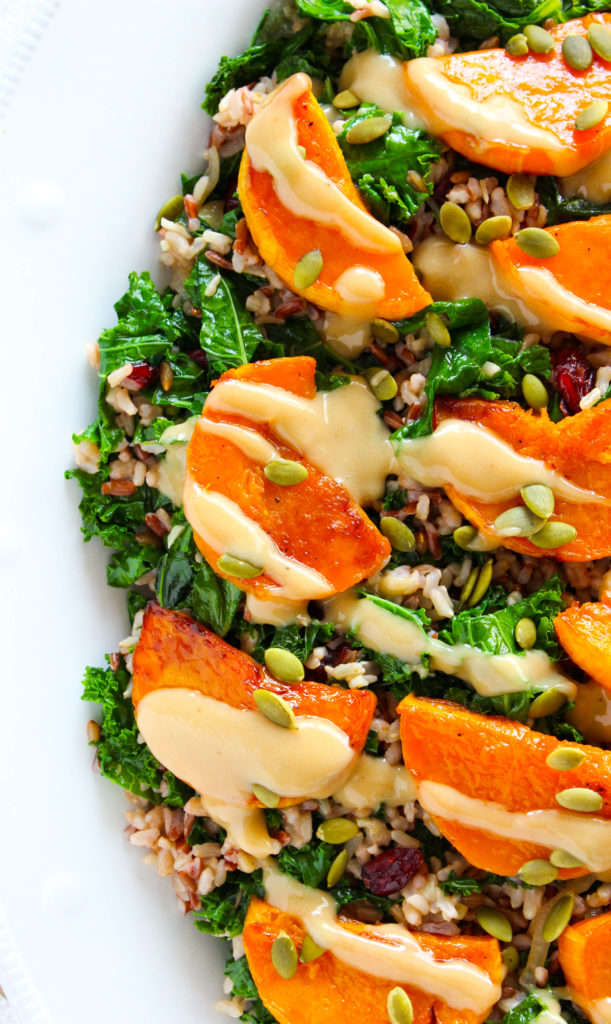 The thought of a warm salad was really intriguing to me. I wanted something that wasn't the usual salad but rather a warm side dish that could still pass at a salad if I wanted it to. The combination of shallots, garlic, kale, wild rice, and butternut squash is seriously an amazing flavor combination that only gets better with a tahini and maple drizzle. Top with pumpkin seeds for crunch, this is seriously the best combination ever.
Not to mention, kale is so healthy for you! Besides being a cancer fighter, and helping regualate blood pressure, it's also filled with tons of nutrients. Interested in more health benefits of kale? Check out this awesome website that can tell you more! Now you definitely want to eat this guilt free salad, don't you?
Warm Kale and Wild Rice Salad
Ingredients:
1 bunch kale – deveined and rough chopped
1 cup wild rice (dry)
1 small butternut squash
2 tablespoons olive oil
3 tablespoons maple syrup
2 shallots – sliced
4 garlic cloves – minced
1/3 cup dried cranberries
1 tablespoon vegan butter
salt and pepper to taste
For the 'dressing'
1/2 cup tahini
3 tablespoons maple syrup
warm water to thin
salt and pepper to taste
Mix all dressing ingredients together and set aside
pre heat your oven to 375. Peel and slice your butternut squash. Combine with 3 tablespoons maple syrup and 2 tablespoons olive oil. Coat well then season with salt and pepper. Bake for 20 minutes, then flip squash and bake for another 15 minutes
Cook your rice – bring 1 cup wild rice and 2 cups water to a boil. Reduce to a simmer and cover until the water has absorbed. Remove rice and mix with 1 tablespoon vegan butter and the cranberries. Let sit covered until ready to use.
Saute your shallots in 2 tablespoons olive oil until caramelized. Add in your garlic and cook for another 2 minutes until fragrant. Add your kale and cover, letting steam for about  3 minutes, just until kale begins to turn bright green. Uncover and stir all together.
Add rice mixture to kale and mix well. Top mixture with butternut squash and tahini maple dressing!